11 Incredible RV Farmhouse Style Decor
As an RV farmhouse lover, I can tell you that the style of an RV is very important to me.
These designs are perfect for those of us who love the open feel of the RV but also appreciate the rustic charm of a home style.
The farmhouse-style design gives your RV a farmhouse vibe that is so appealing and the bonus is that this design is customizable.
No matter what kind of RV you own, you can easily change the colors and patterns to match your home decor.
Here are some of the best Farmhouse style decors for your RV. Have a look at it.
Incredible RV Farmhouse Style Decors
Amy Smith
Amy and her husband sold their 1,700-square-foot home to living in a travel trailer.
Peel-and-stick tile backsplashes, painted cabinets, a drop-leaf table from Ikea, and peel-and-stick wallpaper on the refrigerator are some of the modifications Amy has been making.
The white plank wall used in this RV is made from textured shiplap wallpaper.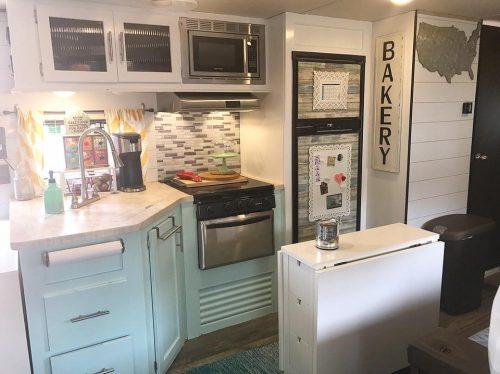 Brooke Seaman
Their travel trailer has undergone several phases of decor, including this farmhouse look which featured white cabinets and peel-and-stick wallpaper.
After having to remove a wall from their bathroom due to a suspected water leak, Brooke and Jon decided to replace the wall with corrugated metal, which gave it even more of a country feel.
Cherice Perkins
After selling their house, Cherice and her husband purchased a fifth wheel to live in.
Clean gray and white paint with bright blue and white curtains make the kitchen feel fresh and modern.
White trim and one white wall help keep the dark colors from overpowering the rich wood headboard original to the camper.
Cherice and her husband replaced the built-in dining booth and sofa with a sofa with hidden storage under the seat and a storage cart and created a faux wood accent wall in the living room slide.
Jessica Byers
When Jessica and her husband bought a fifth wheel to live in full time, she added her style to make it feel like a home.
In addition to painting the walls white and the cabinets dark gray, they replaced the molding around the slideouts with stained boards for a more rustic look, replaced the light fixture, and added details like faux shiplap and subway tile in the kitchen for extra storage.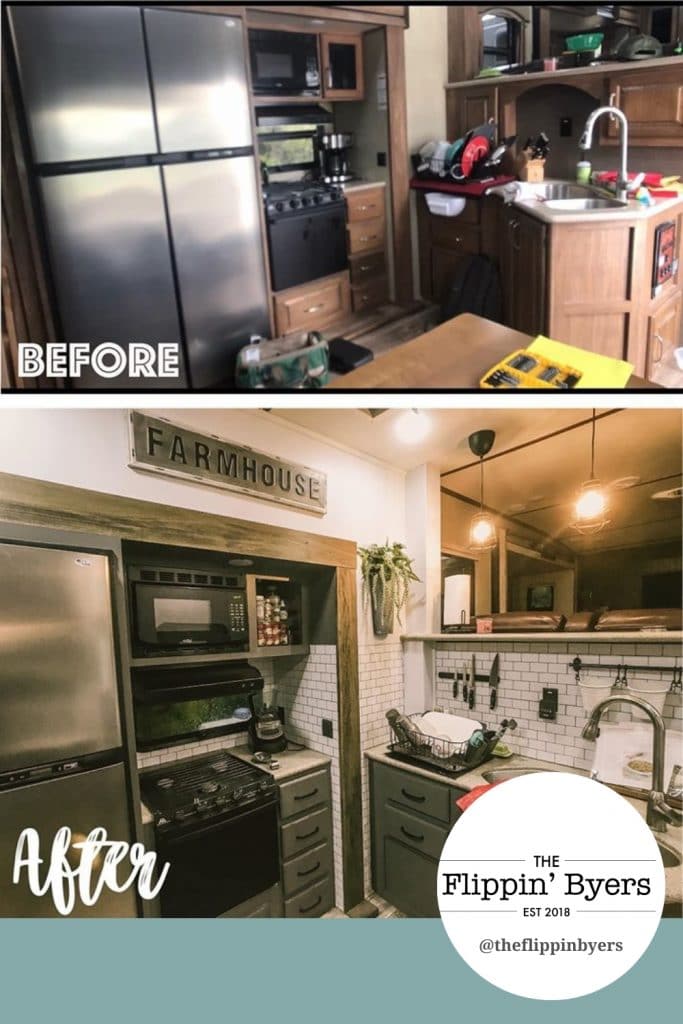 Christina LaPlaca
Christina and her husband bought a fifth wheel to live in full time so they could keep their home no matter where in the US they lived.
She then used antiquing wax to create the illusion of depth and to give her white-painted furniture an aged look.
Christina used peel and stick flooring to make a faux wood wall in her kitchen, as well.
Kelly O'Brien
Kelly turned the Coachmen class into a farmhouse on wheels. The dining booth was painted with the help of some paint and distressed wood wallpaper.
A comfortable-looking day bed is being used in Kelly's dining booth. The peel-and-stick subway tiles that Kelly used were the same as the ones that Jennifer used in her RV.
Jennifer Reid
Having the RV set up in a permanent location gave them a bit more freedom with their decor and furniture choices.
A drop-leaf table can be expanded to seat more people or use less space with the leaves down
To make it look more realistic, she used faux brick panels from Home Depot or Lowe's and spackling to make it look like it was real.
The cover for the stove top was built by her fiancé. The black and white color scheme of the RV gives it a Farmhouse feel.
Melissa Escobar
She made her curtain rods out of pipe spray painted to look like copper and her windows are framed with peel-and-stick shiplap wood.
The decorative iron detail in the corners of the slide-out trim is made from shelf brackets.
Kimberlyn McFadden
The RV's trim was painted but left the original wallpaper, and it looks awesome! There is a cover on the factory-original sofa.
The distressed wood wallpaper was used by Kim to make an accent wall behind her bed and as an inset for her cabinet doors.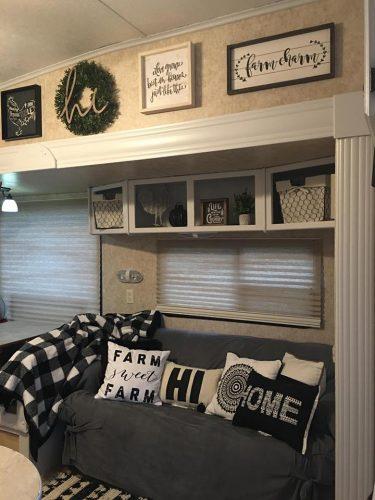 Jennings Paige
The green color of the kitchen cabinets and faux wood wallpaper contrast with the modern farmhouse vibe of the 2012 Keystone Cougar travel trailer.
White linen curtains, a natural fiber rug, a farmhouse-style coffee table, and a rose velvet couch are just some of the details that complete the look.
Robyn Crowhurst
The photos show some of the Farmhouse style decors that were installed during the renovation of the toy hauler.
It was no problem for Robyn's husband to build a real plank wall for their bathroom because he does construction for a living.
They created a separate bedroom for their daughters with the addition of a wood wall and sliding door.
Vintage Farmhouse items such as a rake head and a cheese grater are used by Robyn to add storage to her kitchen.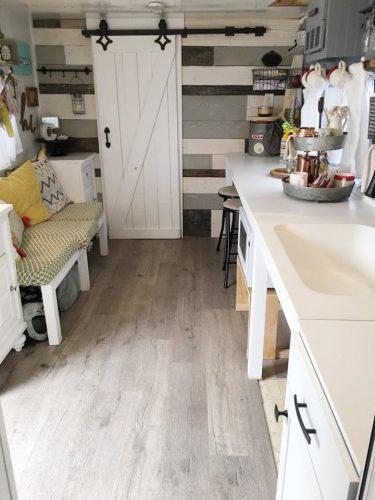 Michelle Sharp
The bright and cheery Farmhouse look in her RV's kitchen was achieved through fresh paint and cute farm decor, as well as a tin backsplash.
These baskets were mounted on the kitchen cabinets.
The bedroom was used as an accent wall with the distressed wood wallpaper and an aging technique.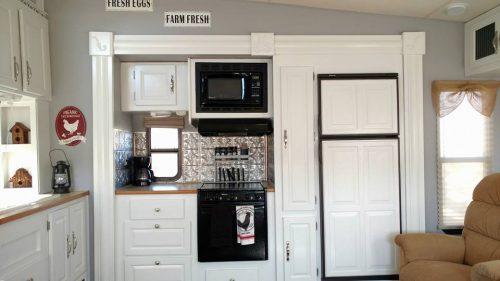 Eric and Bri Cortes
I have seen a lot of cute RV renovations, but it's not often one that comes along that makes my jaw drop. The floral fabrics, the distressed wood, and the vintage artwork are all perfect.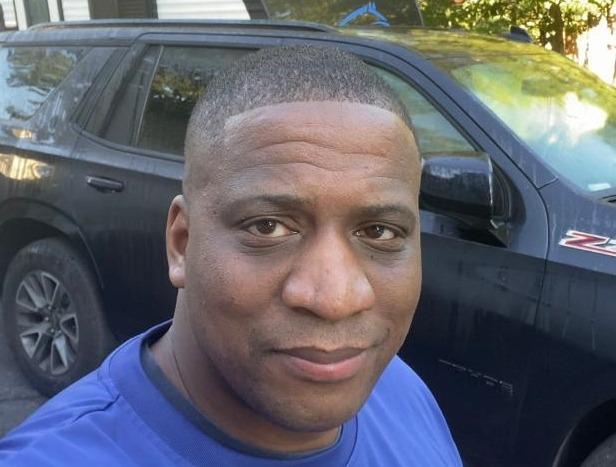 I`m a current Law Enforcement Officer working within the Counterterrorism Bureau in New York State. I have been Camping for over 20 years. My styles of camping include tent, car, truck, van, and RV travel trailer. I have a YouTube channel where I teach all types of camping with an entertaining method: https://youtube.com/@TheSmallsRVAdventures