Learn How To Travel And Camp Easily With An Electric Bike
Camping is one of the healthiest, most fun activities to do outdoors either with friends or with new groups of people with a view to making new friends.
It's a great way to take a break from staring at your phone screen for hours, chatting, or checking social media.
Besides getting in touch with nature, enjoying the fresh air, and getting physically active, there's a certain amazing adrenalin rush to camping.
The reason for that is that exploring new places and learning about them is more fun than it seems on paper.
A great way to enjoy camping, be active, and save some extra effort along the way is using electric bikes.
They're pretty much the same as normal bikes, yet they help you enjoy your trip much more. Here are some of the coolest ways to travel and camp with an electric bike.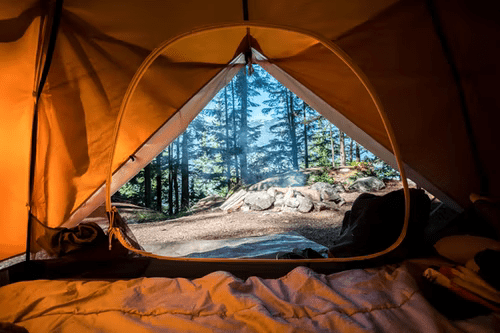 Master Your Riding Skills
The first thing you need to do before you start camping or traveling with your e-bike is to learn how to use it properly.
You must be well prepared and able to use all the amazing features it offers. As previously mentioned, the only difference between them and any normal one is that they're powered by batteries.
What you need to focus on is familiarizing yourself with the options the battery offers, which include more speed, seamless climbing, and much more.
Give yourself the time to master these skills, so you can depend on your electric bicycle throughout your whole trip.
Keep Your Batteries Charged
Before you start your trip, you must fully charge your bike's battery.
Depending on how long you ride it and how smooth or rough the roads are, you may need to recharge your battery during the trip.
Make sure you pack your charger with you. You may not need it, but it's best to always be prepared
You'll also need to consider whether there are places around your destination where you can connect to electricity to recharge if needed.
Many travelers have written reviews on rechargedrides.com advising people to make sure their batteries are always charged.
They also mention that you shouldn't wait until the battery level is too low to charge it as this will maintain its health for as long as possible.
Do Thorough Research About Different Sites
Before you make the decision to travel to a certain place or camp there, make sure you understand this place first. You need to do adequate research and learn about the best places where you can ride your bicycle and enjoy the ride.
You also need to learn about the activities you can do there, whether the roads are smooth or rocky, and whether you should be prepared for hill climbing or not. This will help you make the best use of your time.
Don't Over or Underpack
It can be a bit challenging to decide what to pack and what not to, especially when you're traveling on your bike. You don't want to carry heavy bags, but you also need to make sure you're fully prepared with all your gear.
The great thing about e-bikes is that they're perfectly reliable in the sense that your bag will never be too heavy for the bike to handle.
Bikes are best for camping or traveling during warm weather, which means you probably only need to pack light clothes, but since the weather can change at different times, always pack a waterproof jacket that can keep you warm in case it gets cold or it rains.
Stay Alert While Riding
When you're in a car, you're protected by its body and can avoid getting injured in case simple accidents happen. Biking, on the other hand, is a lot more dangerous, which means you need to take extra safety measures.
You should never set off on your bike without wearing a protective helmet. They can save your life in the unfortunate case of an accident. You also need to always be extra careful while riding, for example, and avoid riding in the middle of the road.
When planning your trip, try to avoid roads that many cars traverse.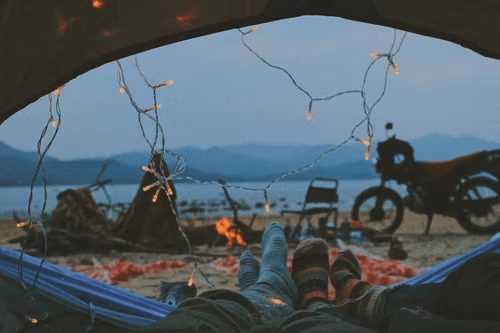 The most important part of traveling and/or camping is taking a break, having a blast, and always staying safe. Traveling and camping are also some of the best ways to bond with people, whether they're lifelong friends or people you only just met on this trip.
Many riders believe that simply getting on your bike and enjoying the fresh air as you paddle is one of the best feelings ever, so hit the road and enjoy a marvelous adventure while you paddle.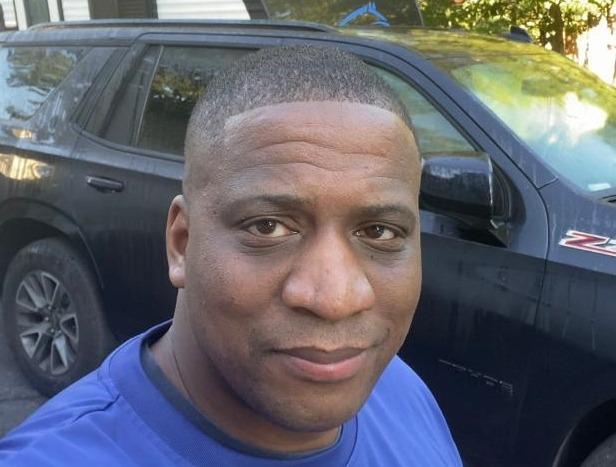 I`m a current Law Enforcement Officer working within the Counterterrorism Bureau in New York State. I have been Camping for over 20 years. My styles of camping include tent, car, truck, van, and RV travel trailer. I have a YouTube channel where I teach all types of camping with an entertaining method: https://youtube.com/@TheSmallsRVAdventures