Propride Hitch Problems: 4 Issues Detected with Possible Outcomes
Are you experiencing Propride hitch problems? Most people prefer towable RVs as they are affordable, spacious, and independent. However, you may encounter issues with the Propride that may cause setbacks in your travel plans.
Read on to discover what you can use to a tow vehicle, some of the detectable malfunctions in hitches, possible outcomes, and how to solve them. Let's get it started!
An Overview of Propride Hitch
Propride is known as the best and most reliable trailer sway control hitch. There are several types of hitches, including:
Equalizer hitch
Hensley hitch
Conventional Hitch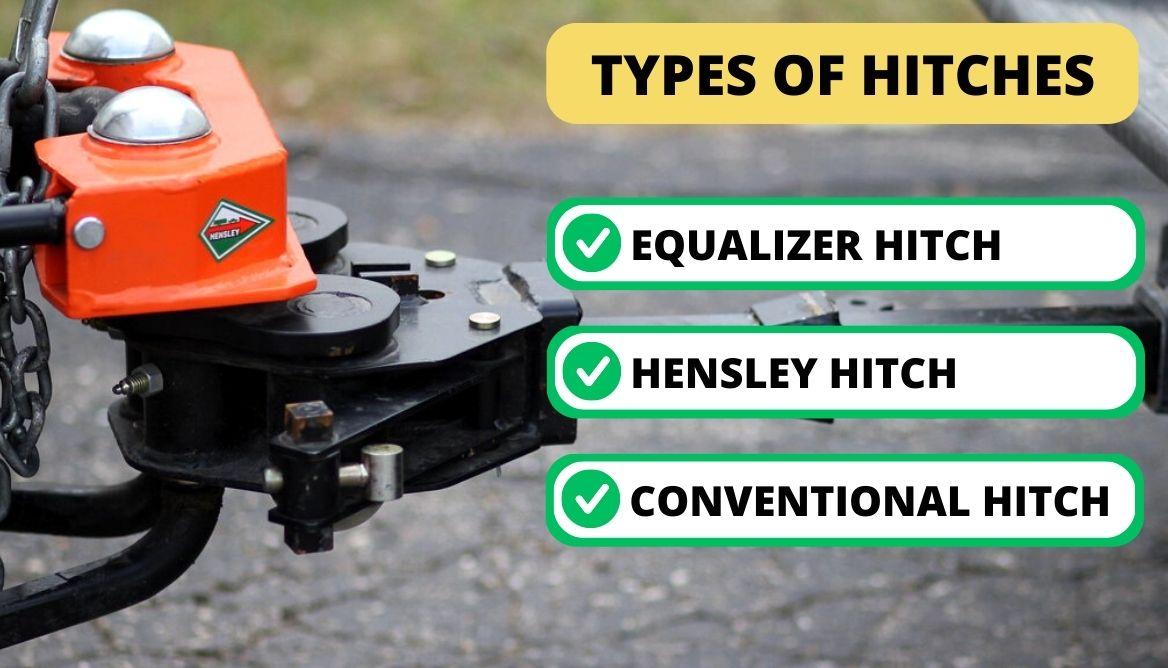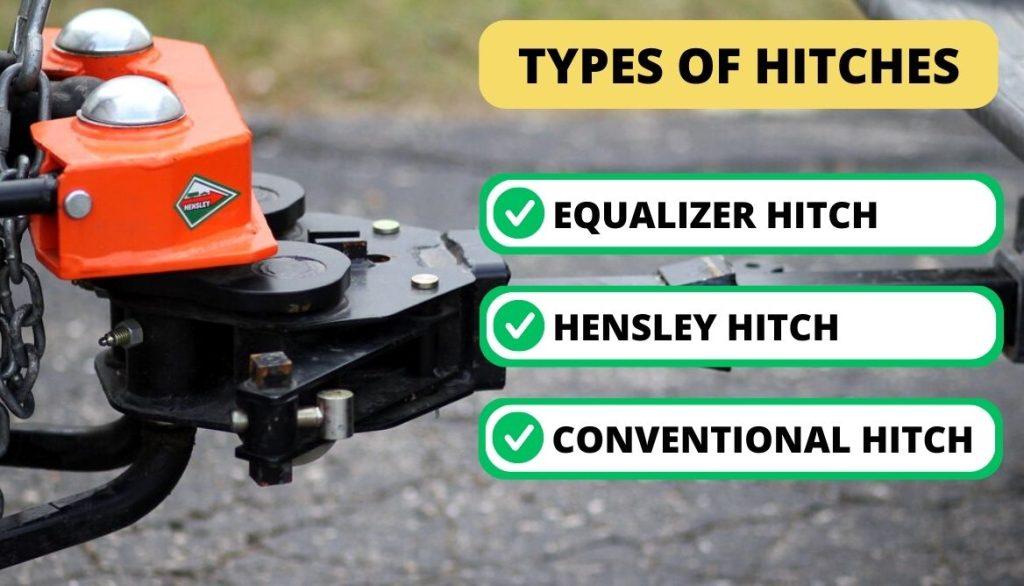 All you have to do is find out the issue with the Hitches and try to solve them. Propride is an updated version of the Hensley Arrow. So, what features make Propride a good option for a tow vehicle compared to other hitches like Hensley Hitch?
Is this Hitch box a good choice between the two hitches considering they were both designed by Jim Hensley? Here are some of its features.
1. 3-Point Pivot Design
Being an updated version of the Hensley Arrow, this design is essential as:
It makes it possible for the Hitch to pivot and travel in any direction, regardless of the orientation of the towing vehicle.
Towing is much more pleasant, especially on long trips or when driving over rough terrain, by dampening the road vibrations and shocks.
2. It Has a Self-Centering Design
This feature contributes to its eye-catching characteristics:
The Hitch will readjust when the trailer swings, keeping it balanced behind the towing car.
This makes it a less risky option for people who haul bulky objects, lowering the possibility of jackknifing and similar accidents.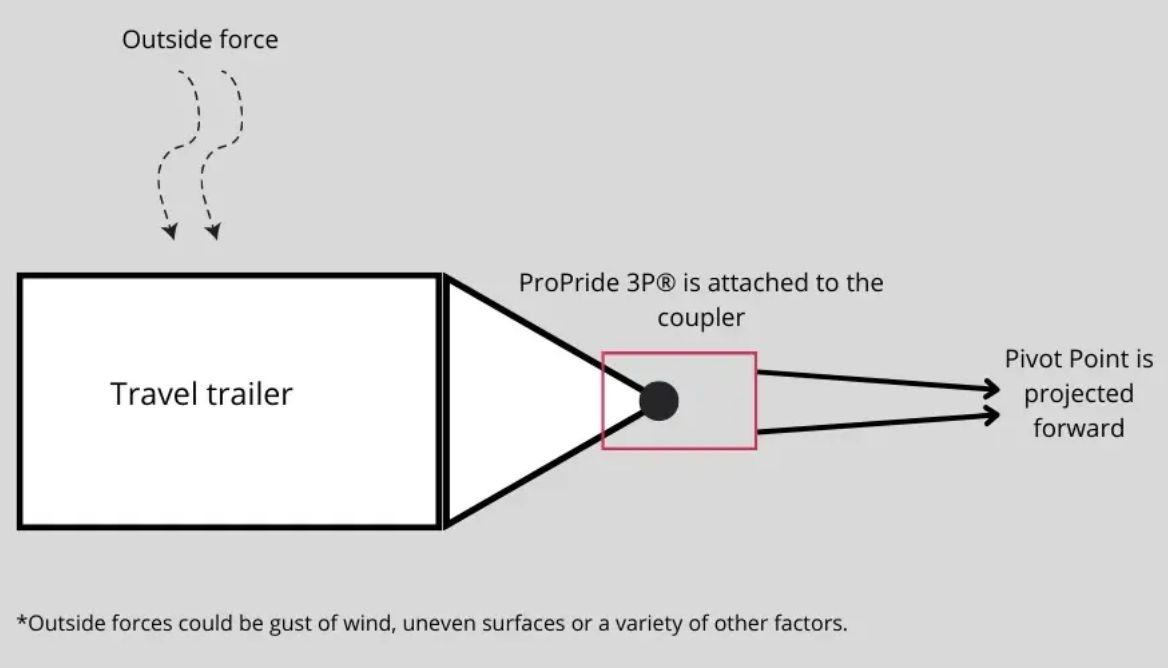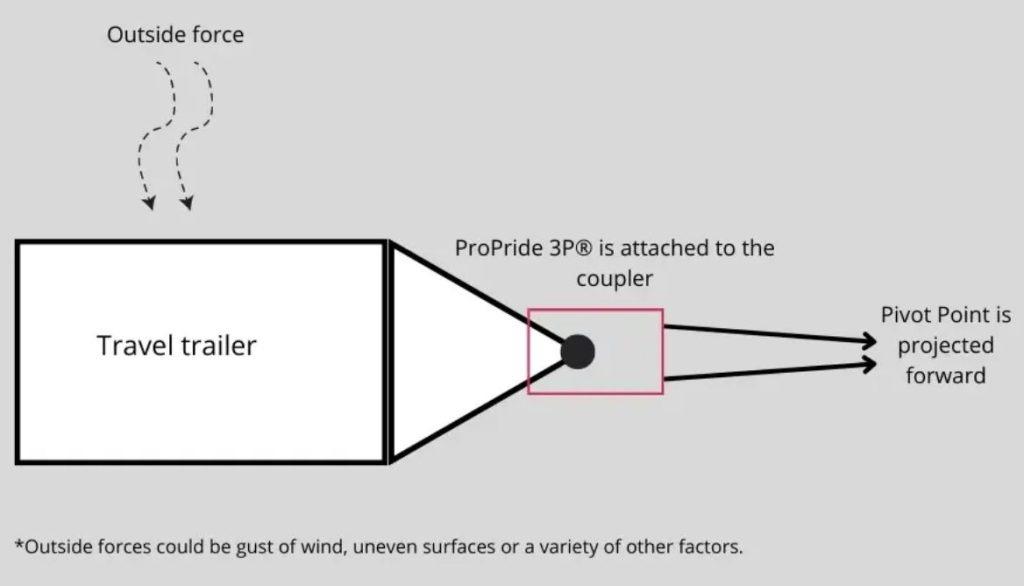 3. Easy and Safe to Use
The Hitch is known for being both secure and easy to operate:
It's simple to hitch up and unhitch from the tow vehicle.
It needs very little upkeep. Also, this gadget works with many different styles of travel trailers, such as RVs, toy haulers, and fifth wheels.
The popularity of a tow vehicles has increased significantly. Here is why.
Why Do People Prefer to Tow Vehicles?
Most people prefer using RVs and, most significantly, towable RVs when traveling long distances. Travel trailers have many advantages, which include the following:
Affordable: Coaches and motorhomes cost more than fifth wheels and travel trailers. A heavier trailer can't pull its mass. When you buy one, you only get the house parts, not the motor, transmission, or anything else that goes into a vehicle.
Larger In Size: The interior of a travel trailer is dedicated to living quarters because it lacks a cab, control room, and engine. Plenty of spacious and plush trailers can accommodate ten people and even have space for ATVs, motorcycles, and bicycles.
Several Movable Partitions: More slide-out space is possible in a travel trailer than in a conventional RV because there is no dedicated space for the vehicle's mechanical systems. But that's subject to the proportions of the trailer. Some of them have a pointy tip, making it hard to use them as slide-outs.
Independent travel: When you stop and level your RV, you can't use it as a means of transportation anymore, which is one of its drawbacks. On the other hand, a travel trailer can function as both a home and a mobile office because it is detached from the towing vehicle.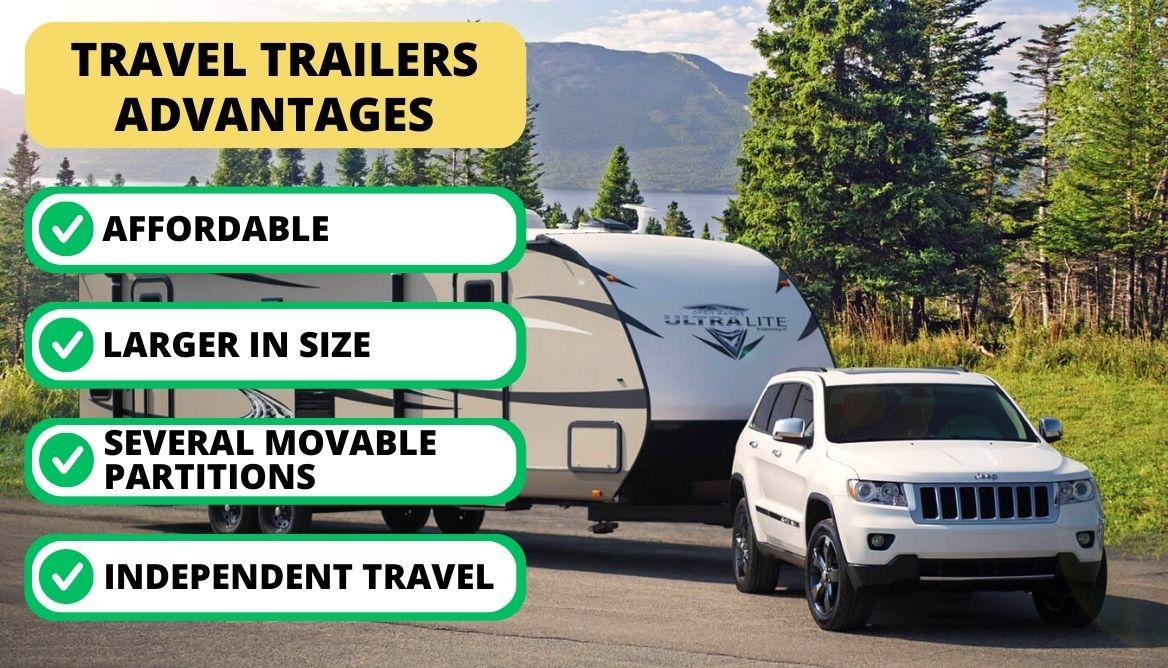 You don't have to choose between transportation and shelter. When you run out of something and need to replace it, hitch up your tow vehicle and head to the closest town. This is because of the features that come with the hitch, highlighted below.
Closer Look of the Tow Hitch
A tow hitch is a connecting point between your vehicle and your trailer. It's not like a tow connection designed to join two cars. Connectors are available in the form of:
A hook
Pin
Ball coupler
Loop
They are used to secure this component to your car's chassis. Tow hitches can be divided into three types, which are:
Hitch That Carries Weight
The RV owner can rely on these to bear the load of the RV when it's on the road. They are more affordable and simpler to install but aren't great for towing RVs exceeding 3,500 pounds or going very far.
Weight Distributing Hitches 
These will help to keep your tow vehicle from swaying too much under the strain of your recreational vehicle. It distributes the weight to the front axle.
If you plan on towing a sizeable recreational vehicle or going long distances, use this type as a safer and more stable option. Weight-distributing hitches are costly and might need to be installed by a specialist.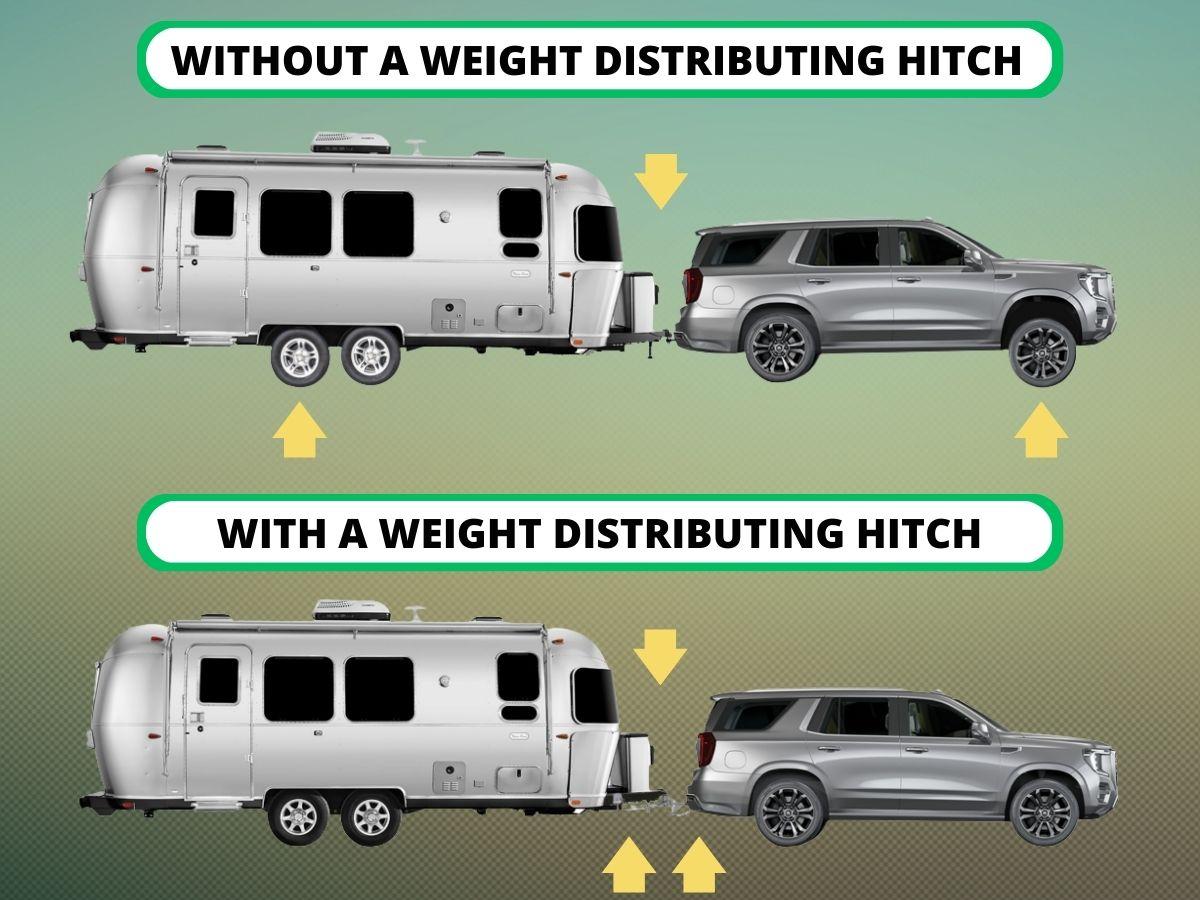 Fifth-Wheel Hitches
The special tow hooks are made for larger recreational vehicles pulled by pickups. Due to their increased stability and security, they are frequently chosen by RV enthusiasts. You'll need to have your truck's bed modified to use a fifth-wheel hitch, and this will increase the cost.
Over time your Propride may start developing problems, and you should be equipped with the necessary knowledge.
Common Issues With the Propride Hitch and How to Fix Them
Like other mechanical components, the Propride can develop inconvenient problems for RV owners. Learning the causes of these problems can help you save money on expensive maintenance services. Here are some of the common issues.
1. Fluctuating or Wobbling
If you find your Hitch fluctuating or wobbling and cannot regain the sway control, there is a reason behind it. Some of the causes include the following: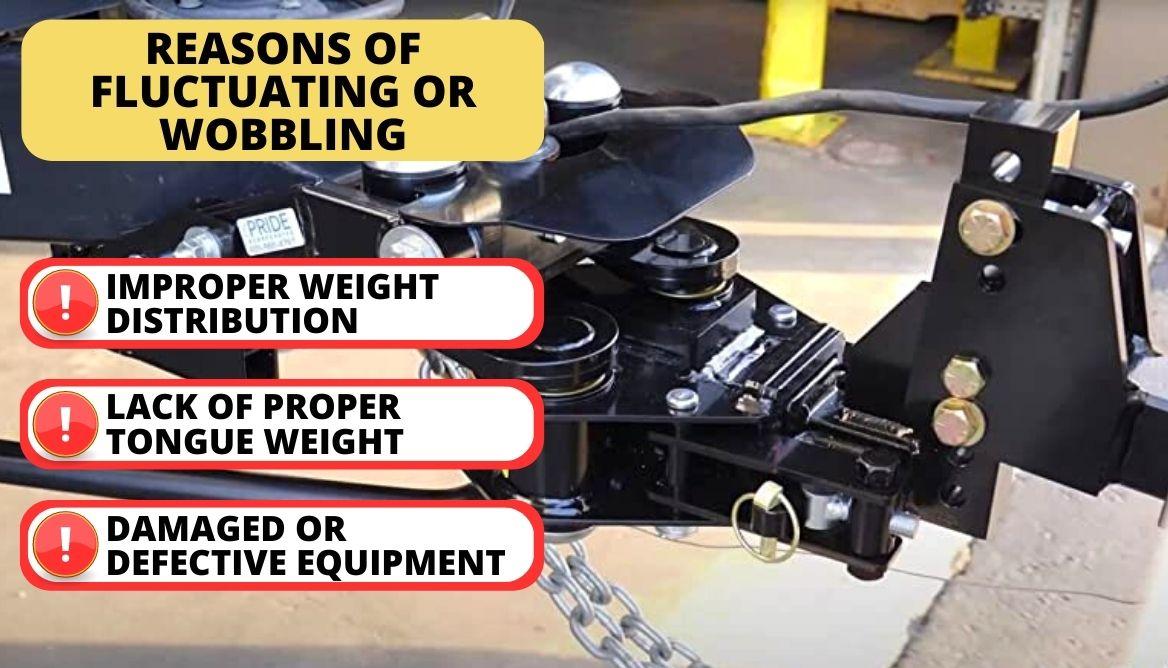 Improper Weight Distribution
Before starting your trip, it is crucial to ensure that your luggage and belongings are distributed uniformly throughout the trailer. This means that if there are 100 kgs on the right side, the left side should also have 100 kgs and no more weight. It is also important so as not to wear out the tires.
Lack of Proper Tongue Weight
When a trailer is hitched up, its tongue exerts a downward force called tongue weight. Lack of the correct tongue weight will cause the Hitch to wobble.
Tongue weight should be between ten and fifteen percent of the trailer's overall weight for optimal performance with your Propride. It helps to eliminate sway and regain friction control. This will also prevent accidents with passing vehicles.
Damaged or Defective Equipment
If Hitch's tongue weight and distribution are correct, the problem may lie in damaged or defective equipment. Check all bolts and screws and replace any that are loose or worn.
2. Unusual Sounds
Your Propride should not make funny or strange noises while in transit. If the sounds are there, it means that there are: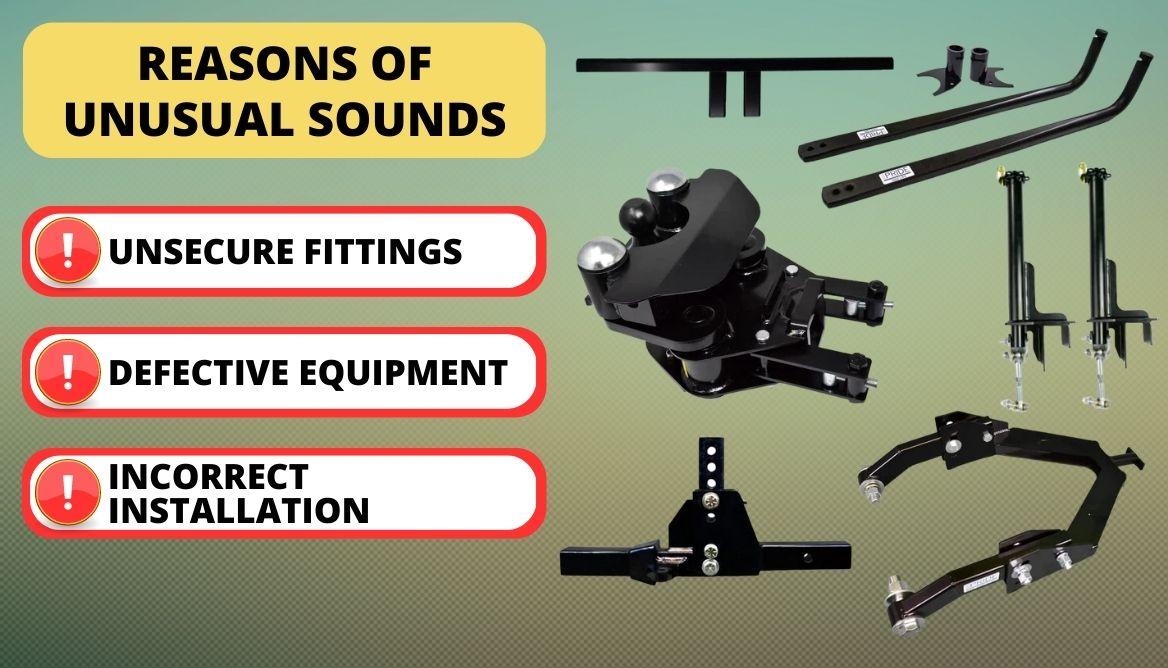 Unsecure Fittings
The tow hitch's parts need to be securely fastened. Disturbing noises and tangled components result from loose plates and connectors.
Defective Equipment
With time the parts of the Hitch get old, rusty, and loose and, as a result, produce strange noises. These old parts should be replaced before your trip as they can cause accidents with passing vehicles.
Incorrect Installation
Installation of the Propride should be avoided unless you are a trained mechanic with extensive automobile assembly experience. It only takes a small error to cause the vehicle to sway, among other issues.
3. Difficulty in Appropriately Engage or Disengage
Engaging and disengaging the Hitch should be an easy process. If you are having problems doing so, then the following might be the reason: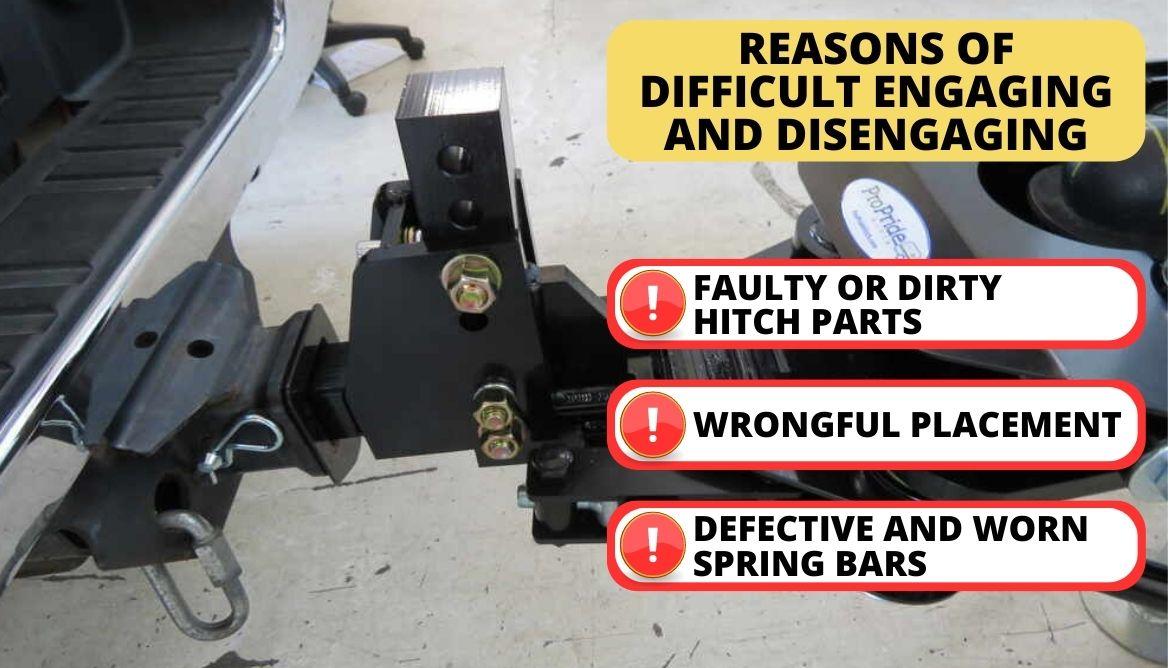 Faulty or Dirty Hitch Parts
The Hitch won't work if it's unclean or if any of its parts are broken. Before attaching it to the trailer, ensure the tow hitch has been adequately cleaned and inspected for damage.
Wrongful placement
The inability to engage or disengage the Hitch may result from misalignment between the Hitch and the trailer coupler. Check the connection through the screen to ensure proper coupler installation.
Defective and Worn Spring Bars
The Hitch may rotate and absorb impact thanks to the spring bars. If these parts are worn or broken, the tow hitch may have problems controlling the trailer's movement, resulting in sway.
4. The Wrong Amount of Tightness
Here are some potential reasons why you could be having problems setting the Hitch at the correct tension while you are trying to tow: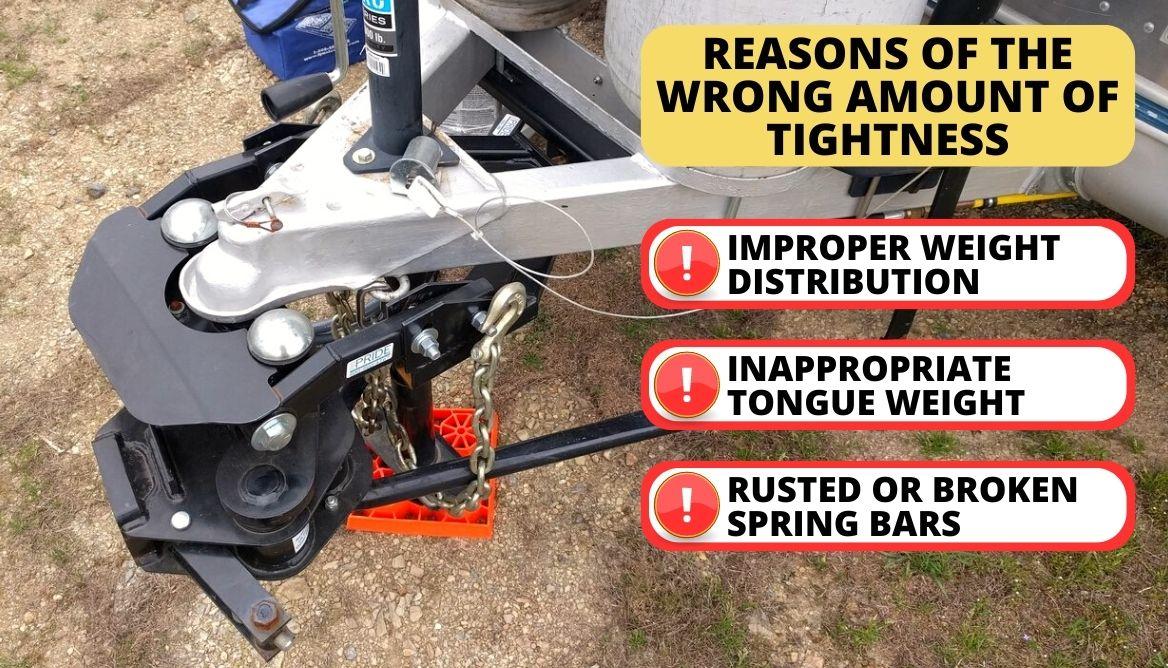 Improper weight distribution
The stability of the Hitch can be improved by evenly redistributing the load and luggage. Because of the potential to sway, proceed cautiously when dispersing interior weight, as it could save your life.
Inappropriate tongue weight
Remember that the tongue weight cannot exceed 15% of the overall trailer weight. Exceeding this could cause irreparable damage to the coupling and even an accident after being unable to regain sway control.
Rusted or Broken Spring Bars
When the spring bars rust or break, they will affect the tension of the Hitch. You will not be able to achieve the right amount of tightness, and this can cause the trailer to sway and other problems. You should change the broken or rusted spring bars, or else you cannot tow them.
Is It a Good Idea to Use Propride Hitch to Tow Vehicle?
It is a good idea to use a Propride to tow vehicles. It is one of the best hitches we have in the market. Some of the benefits that come with using the Hitch include:
Easy to set up as it comes with clear instruction manuals.
Good customer service who are ready to help anytime they are contacted.
Easy to disengage.
You can move as much or as little of your trailer's weight as you need to the rear of your tow vehicle by adjusting the weight distribution jacks.
It does not sway.
Good quality component (heavy duty).
Lifetime warranty.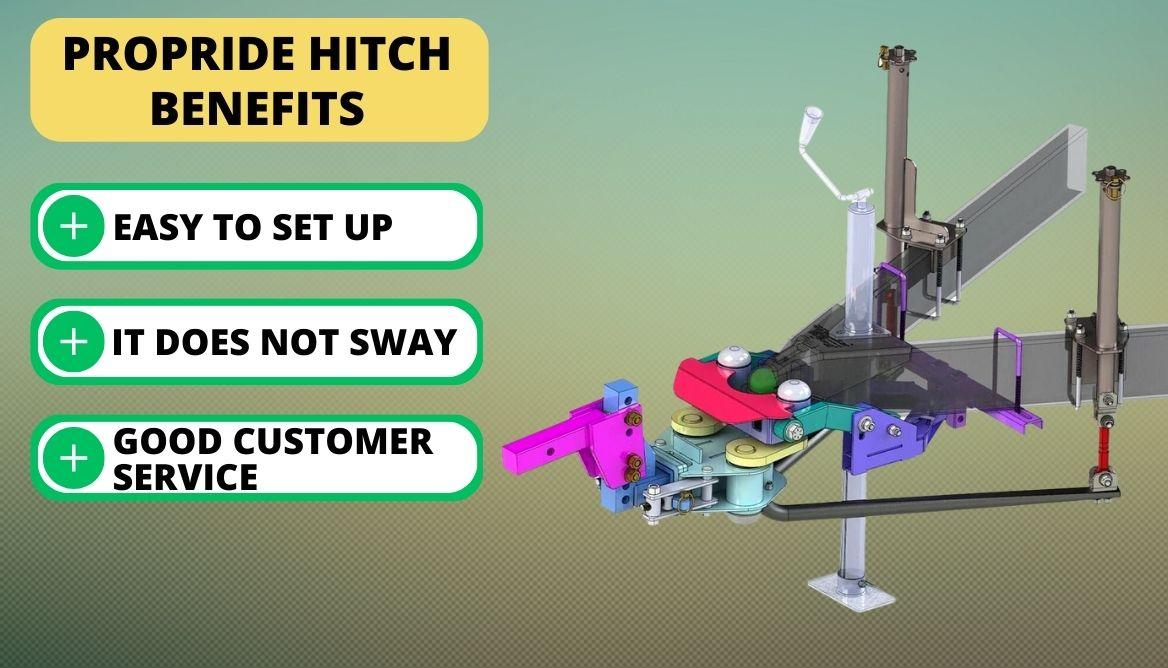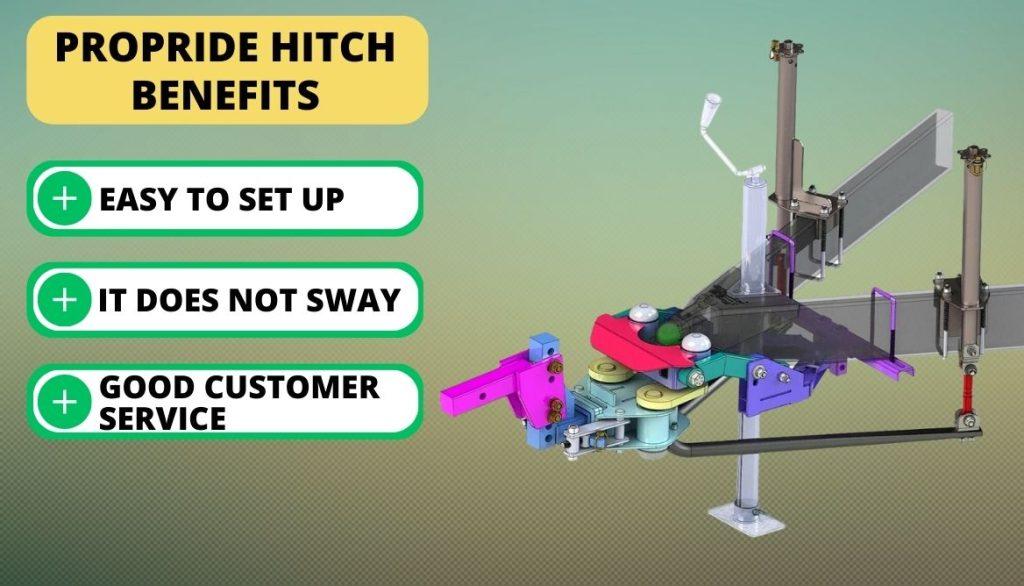 Despite the many advantages that come with Propride, it also has a few disadvantages,
Propride Hitch Problems
Propride also has its fair share of cons which include:
It's heavy
Can be complicated to install them to travel trailers the first time
Expensive compared to other hitches on the Hensley website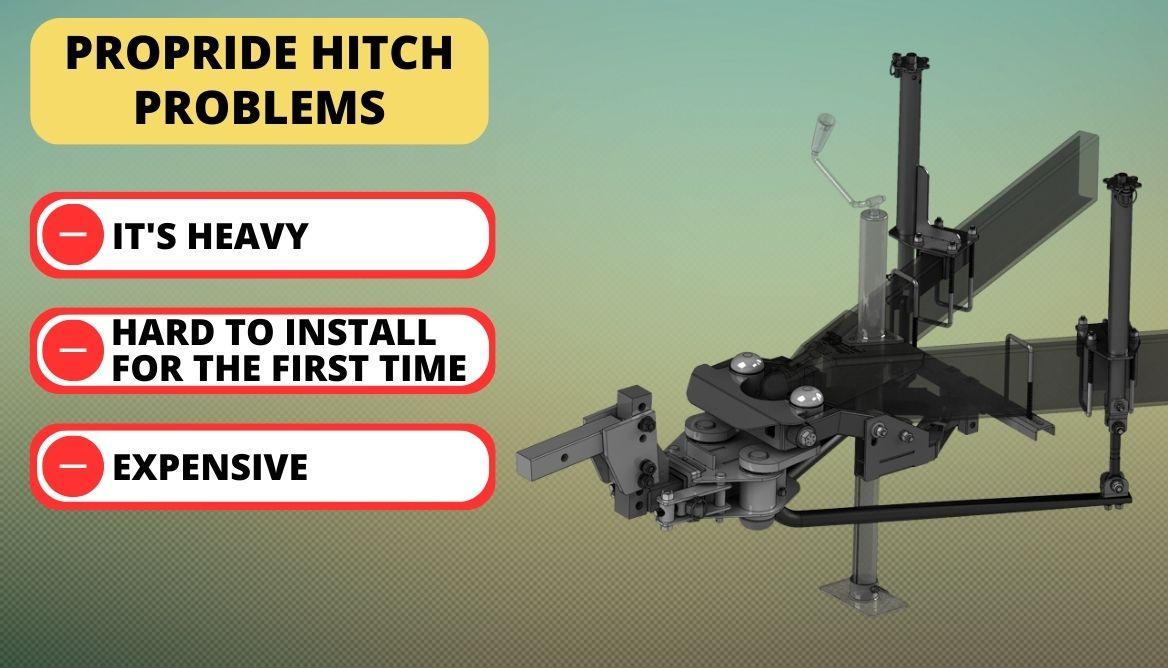 Now that we have highlighted the benefits and drawbacks of Propride, how should one care for it?
Caring for Your Propride Hitch: What You Need to Know
The first step is to buy the maintenance kit. In the kit, you can find the following:
Hitch covers
3-in-1 oil
Lube gun
Two weight distribution jack covers
Black spray paint (1 can)
However, there are no clear instructions on maintaining your Hitch. In this case, it is advisable to engage the services of an experienced mechanic or dealer, or better yet, ask the company directly by writing to them. 
FAQ
Can I Back Up With a Propride Hitch?
Yes, you can back up with a ProPride Hitch. Backing up with Propride is as simple as using the regular Hitch. However, when backing up at an angle, you may feel a slight sideways shift which is normal due to the improved design.
Does Propride Hitch Add to Tongue Weight?
Propride Hitch adds a small weight to the tongue weight. The stinger increases 180 pounds to your Airstream tongue but lengthens the distance between the truck receiver and the trailer axles. The ProPride thus adds some weight to the trailer tongue towed by the tow vehicle due to its strength.
Does Propride Hitch Distribute Weight?
Yes, Propride hitch does distribute weight. The number displayed on ProPride 3P models indicates a model's weight distribution capacity. A 3P-1000, for instance, can evenly distribute hitch weights of up to 1,000 pounds.
What Is the Disadvantage of a Weight Distribution Hitch?
The disadvantage of a weight distribution hitch is that it exerts pressure on the towbar, chassis, and A-frame of the tow vehicle. While many vehicles can handle it, the forces involved grow dramatically when the van is fully articulated in both directions.
How Does Propride Hitch Work?
Propride Hitch places a virtual pivot point close to the trailer's front axle. When a force is applied to the towed trailer, 3P or Pivot Point Projection, technology causes the trailer's functional pivot point to move away from the hitch ball and toward the main hitch head.
Conclusion
It's no secret that you are bound to encounter problems as you use Propride to tow your 4-wheel vehicle. However, if you know the causes of the issues, it will be easy to devise a solution.
Without the proper knowledge, you will spend a lot of mechanical expenses on a tow vehicle, something you can quickly fix. Will you try the Propride Hitch to tow your RV the next time you take a trip? Comment below on what you liked most about this tow-truck product.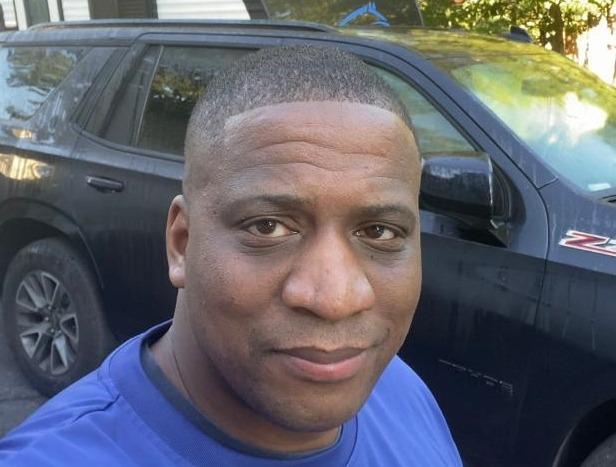 I`m a current Law Enforcement Officer working within the Counterterrorism Bureau in New York State. I have been Camping for over 20 years. My styles of camping include tent, car, truck, van, and RV travel trailer. I have a YouTube channel where I teach all types of camping with an entertaining method: https://youtube.com/@TheSmallsRVAdventures