Problems With Cedar Creek Cottages: 10 Easy Fixes Listed!
Have you been facing problems with Cedar Creek Cottages? You are on the right blog post. Cedar Creek Cottage is a great RV providing convenience, but it can also encounter issues like malfunctioning furnace fans, slide arms, and battery failure.
But, don't worry! Continue reading as I'll provide 10 easy solutions for your RV's common problems. So, without any delay, let's get into details!
An Insight Into The Cedar Creek Cottages
Here is an overview of the Cedar Creek Cottages RVs and their different associated packages. Let's check them out: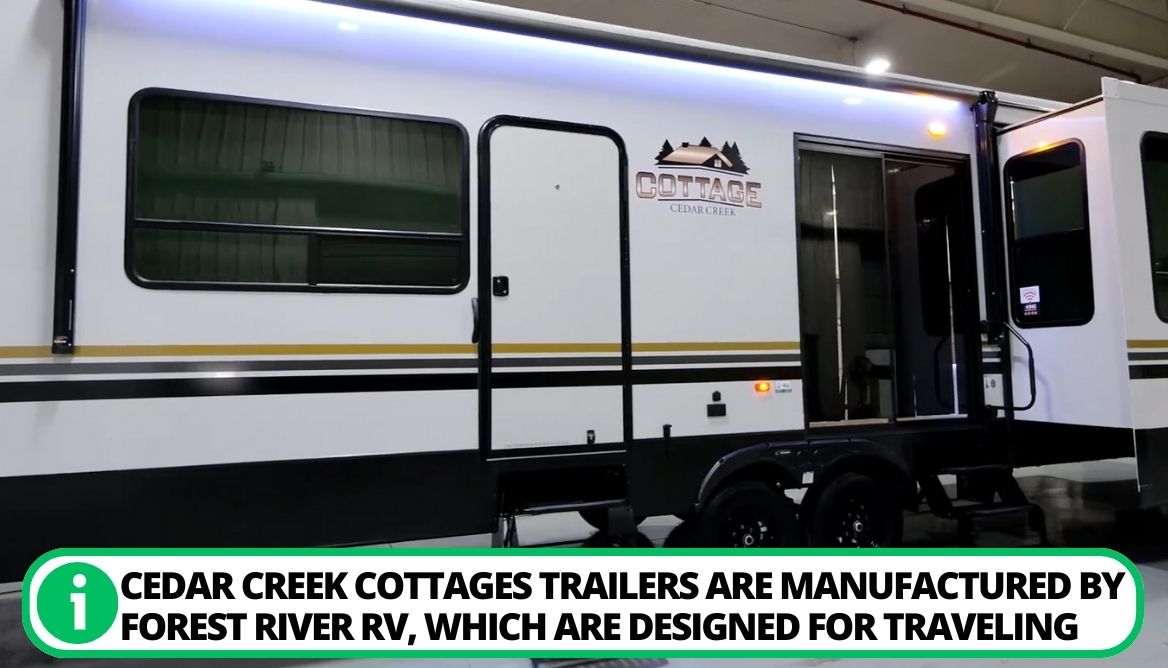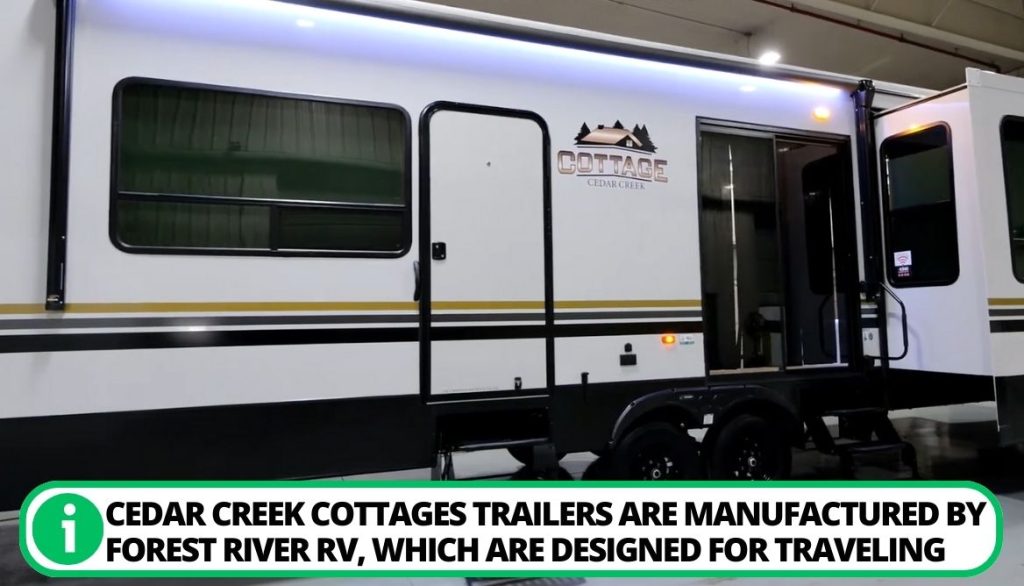 A Brief History: Cedar Creek Cottages are destination trailers manufactured by Forest River RV. They are designed to provide residential comfort and convenience while enhancing the joy of the outdoors.
Build and Dimensions: They have a vast 101″ body, 50 AMP service, decorative front cap, porch lighting, electric awning, quick LP gas connect, and dual pane doors.
Advantage Package: The Advantage Package includes high-quality aluminum material, a bonded exterior, underbelly panels, a wide entry door, heated tanks, solid counters, stainless appliances, and a king bed.
Convenience Package: The Convenience Package adds a 20-gallon water heater tank, dual ACs, wifi, smart TV, bedroom fan, bathroom sink, theater seating, vacuum, vent fan, bedroom TV, and USB ports.
Floor Plans: There are different floorplans, such as 40CBK, 40CCK, 40CDL, and 40CFK2 – each with unique layouts. The 40CBK has a bunkhouse and loft, the 40CCK and 40CDL have a rear bedroom, and the 40CFK2 has a front bedroom. All have a slideout closet, full bathroom sink, fireplace, theater seating, and entertainment center.
Extra features: Popular models include abundant storage, large showers, kitchen islands, free-standing dinette, hide-a-bed sofas, and washer/dryer prep.
Now, let's get into the common problems with Cedar Creek Cottages.
Problems With Cedar Creek Cottages and Solutions at a Glance
The following table quickly describes the common problems with the vehicle and their solutions:
| | |
| --- | --- |
| Problems with Cedar Creek Cottages | |
| | Replace the anode rod or use vinegar solution |
| The furnace Fan is not working: | |
| The dining table is near the window: | Replace or remove the table |
| Slide arm malfunctioning: | |
| Air conditioning system not working properly: | |
| | |
| | Wrap stitches in plastic film |
| The stove is not installed properly: | |
| | |
| Thermal windows contain moisture: | |
Keep reading this guide to learn about these problems in detail.
10 Common Problems with Cedar Creek Cottages and Their Solutions
After going through the quick overview of the solutions, now I will explore every problem and its solution in detail. Let's head on!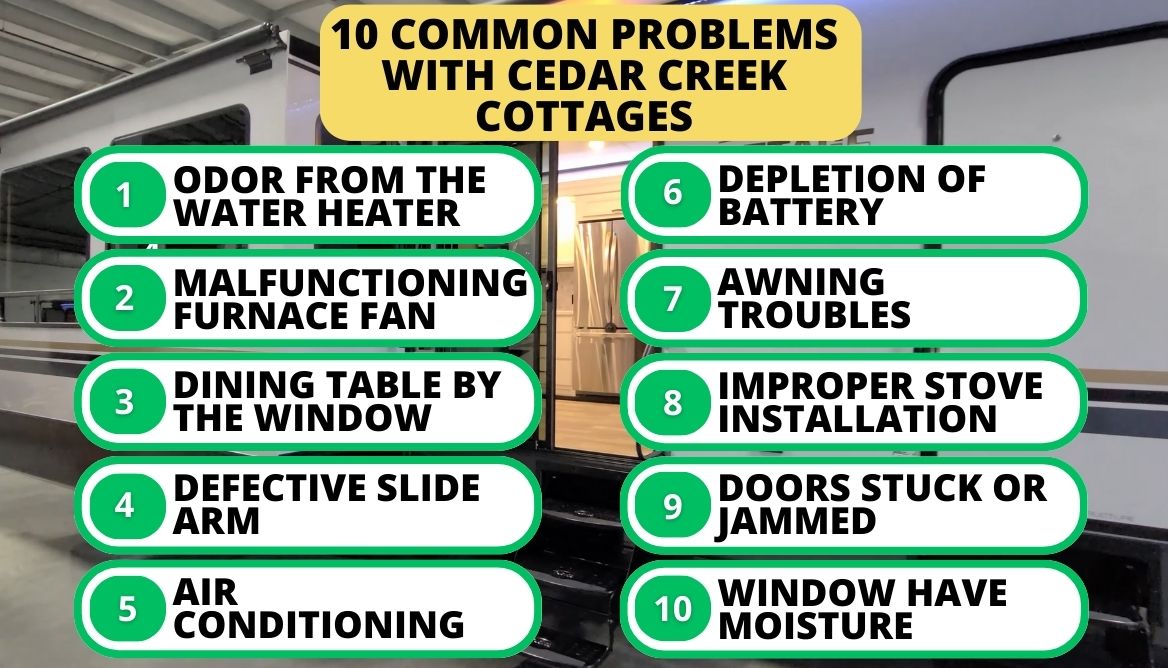 1. Unpleasant Odor from Heater Water
Having an electric water heater in an RV is a blessing in winter. However, if the water from the heaters smells foul, you should avoid using it. The main reasons for this smelly heater water are:
Contamination or leakage from the water heater along the shower wall;
The magnesium anodes of the heater can react with stagnant water and produce a rotten egg smell.
Solution
The following are the recommended solutions to tackle this problem:
Step 1: Flush the tank to eliminate any sediment accumulation that might be the source of the smell.
Step 2: Use a vinegar solution (fill the whole tank after emptying) to temporarily remove the rotten smell.
Step 3: Get a new anode and replace it. Locate and remove the plastic cap on the top lid of the tank, unscrew the old anode, and place the new one.
To get a detailed guide on replacing the anode, look at this video.
2. Malfunctioning Furnace Fan
The furnace keeps your RV warm and comfortable during cold weather. However, if the furnace fan suddenly stops working, the furnace will not turn on. The following reasons can contribute to malfunctioning furnace fans:
Clogged air filters which can cause the airflow to slow down.
Abnormal contact between the blade and the covers can lead to noise.
Solution
The following are the recommended solutions for the faulty furnace fan:
Inspect the fuel of your RV in case of no heat, even if the fan is working.
Make sure the battery has enough power.
Clean the air vents and remove any obstructions or leaves.
Pay close attention to the cables and coverings when your furnace fan is making a noise.
Pro Note: If none of the methods are working, you have to replace the furnace air filter.
This video provides a detailed guide on swapping out the furnace's air filter. 
3. The Dining Table is in Proximity to the Window
Sometimes, the dining table in a vehicle gets too close to the RV's sides, which is inconvenient for many RV users. This problem is because of a design flaw in the window coverings, which don't let them fully lowered, leaving a noticeable gap at the bottom. As a result, you can't sit in the chairs because you need to move the recliner to make a place for sitting.
Solution
You can get rid of this issue by following these possible solutions:
An obvious solution is to get a smaller table for your coach.
Moreover, you can change the position of the table and place it in an open place. Try to keep a distance between the window.
Also, check the broken TV cable as it can also come in between the window and the table.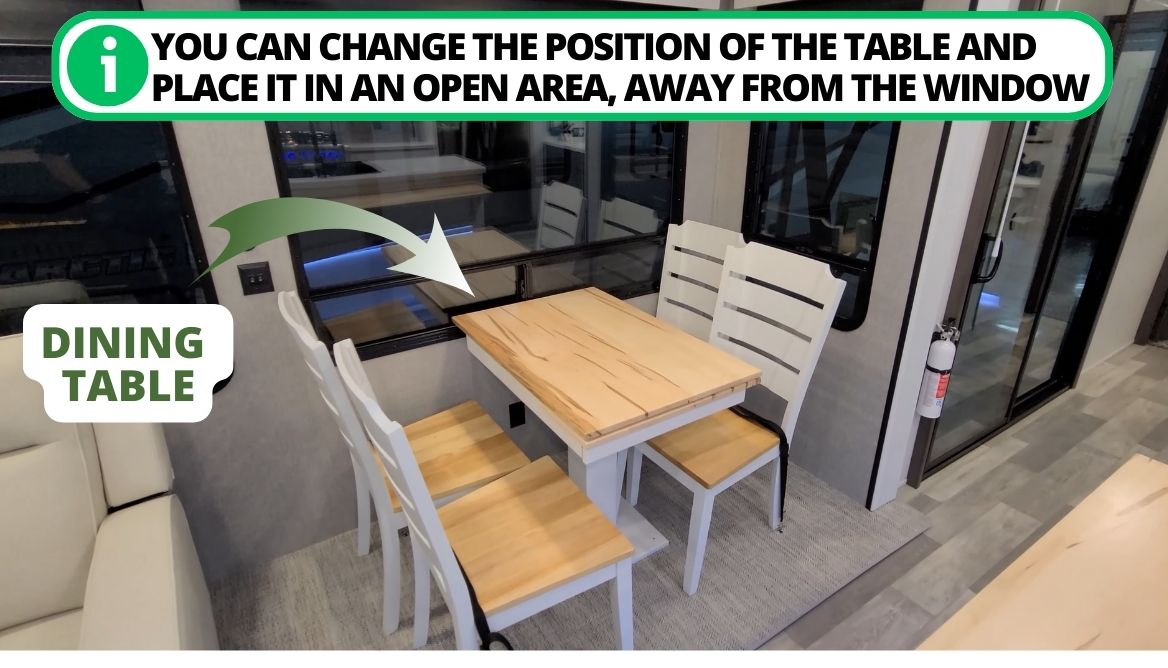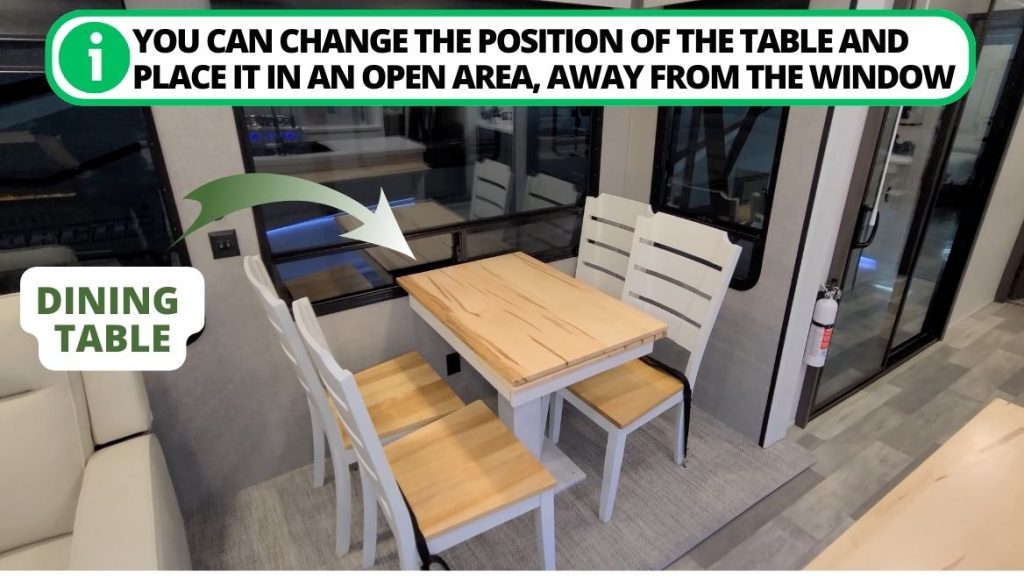 Pro note: You can even remove the table if you are not using it. This will also spare some place for you.
4. Defective Slide Arm
A broken slide arm is another issue that RV users frequently need to improve on. This might happen due to excessive pressure on sliders, inadequate hanger welding, or both. As a result, you may experience difficulty in using the slider smoothly.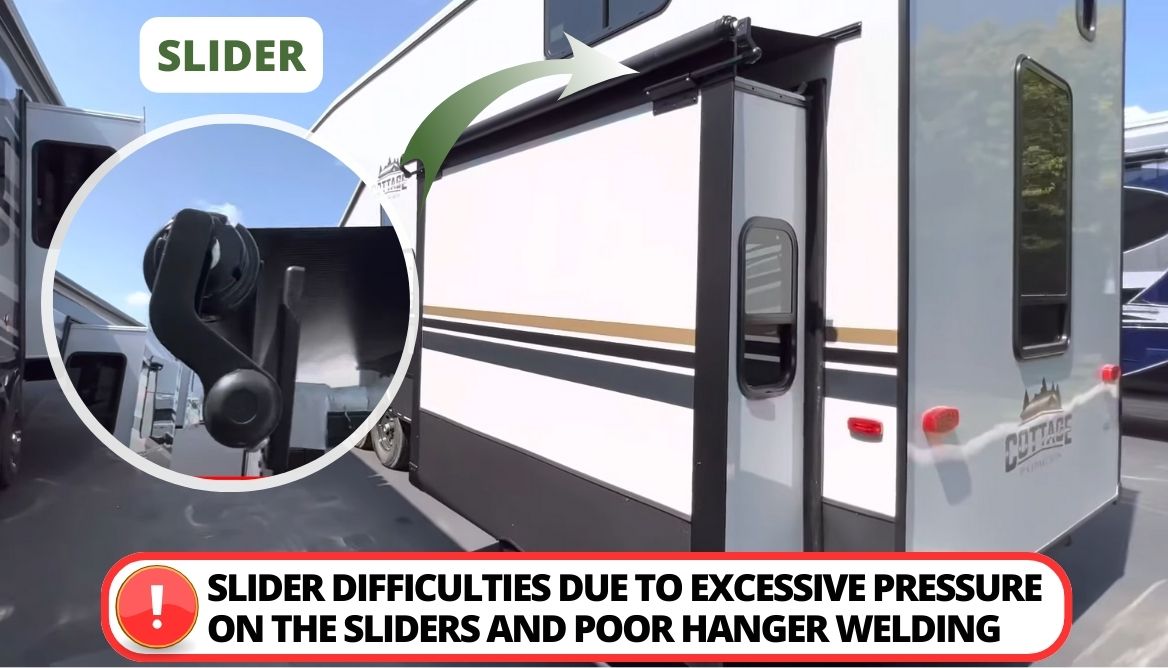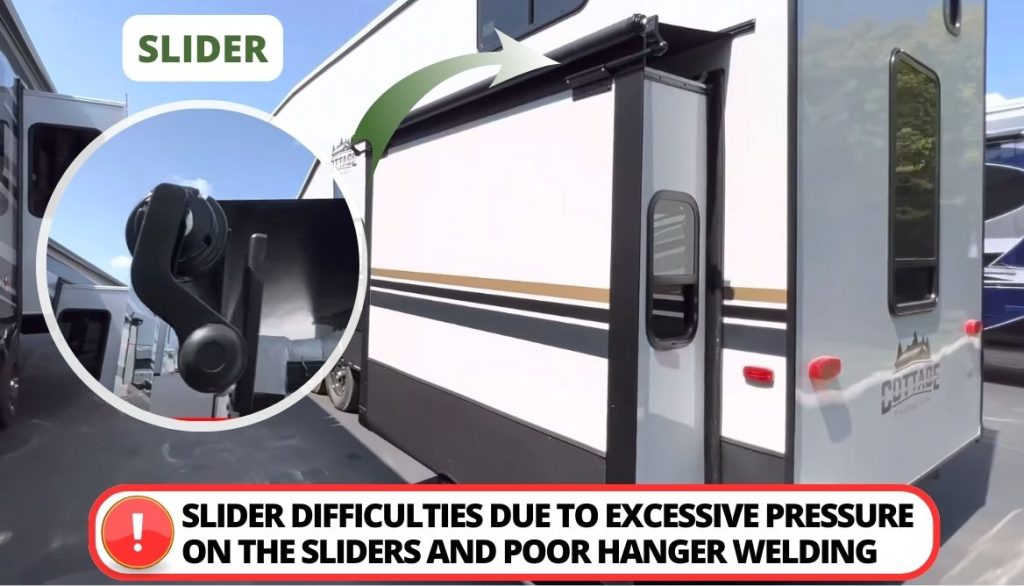 Solution
These given solutions might help you resolve the issue:
Don't place heavy objects on the slider to minimize the risk.
Try to fix the bent slider by straightening it slightly.
If the slide arm is broken, try replacing it. The cost of a slide arm varies between $100 to $500.
5. Air Conditioning Problems
Cedar Cottage trailers have a central air conditioning system. Its purpose is to maintain the cooling in the entire coach. However, this AC system can also fail due to common problems with Cedar like;
Leakage of water;
Problems with the thermostat;
Fan-related issues.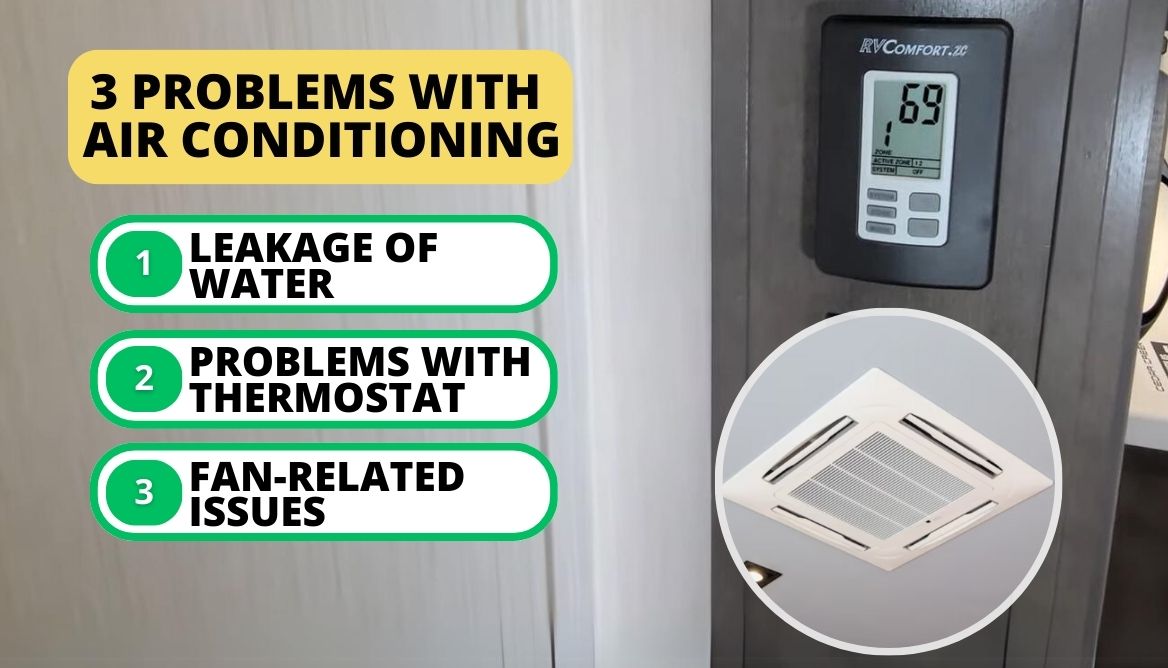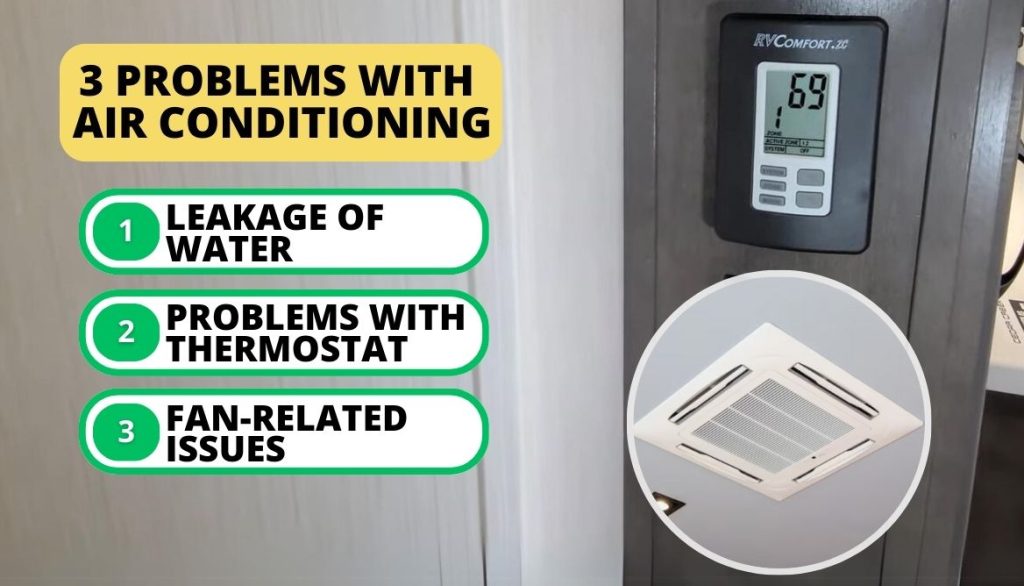 Solution
Here are some tips to deal with AC:
Shut the vents of a particular area you don't want to cool down to prevent cooling loss.
Use fans to blow the cool air throughout your vehicle.
If the problem is with the thermostat and can't be fixed, I would recommend installing a new AC unit, such as ASA Electronics ACM135, to increase cooling.
6. Depletion of Battery
Battery is one of those areas in the Cedar Creek Cottages to suffer from problems more often. This is because the batteries in the vehicle are not grounded. Therefore, you can encounter problems like:
Electrical current leakages;
Failure of current supply in the coach;
Engine failure.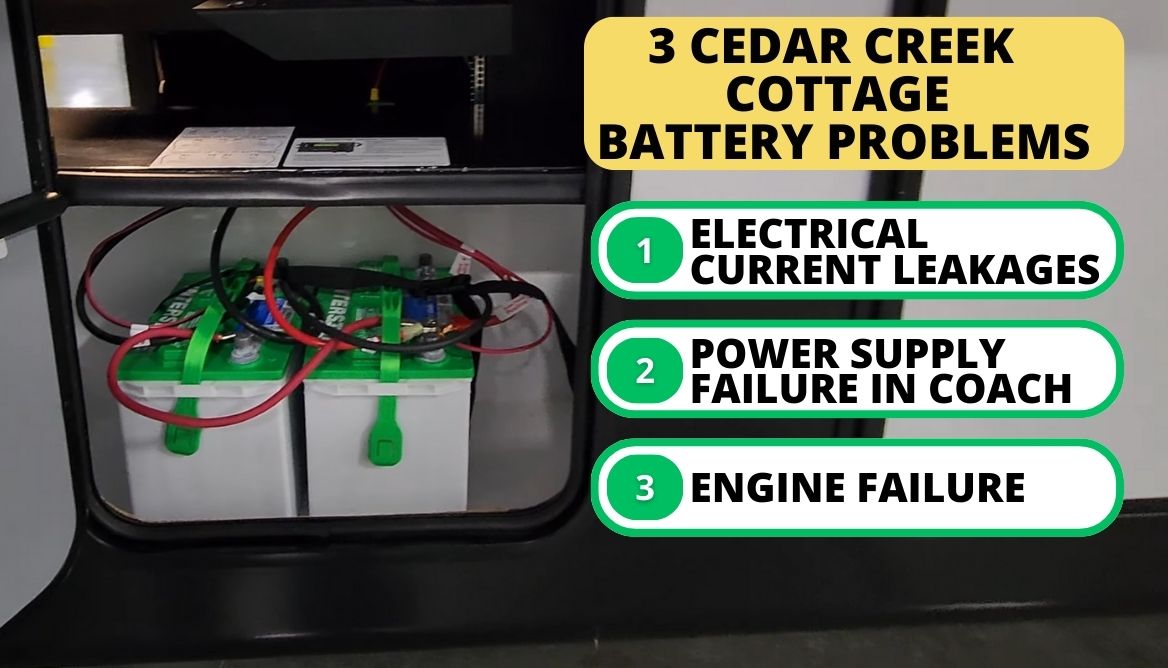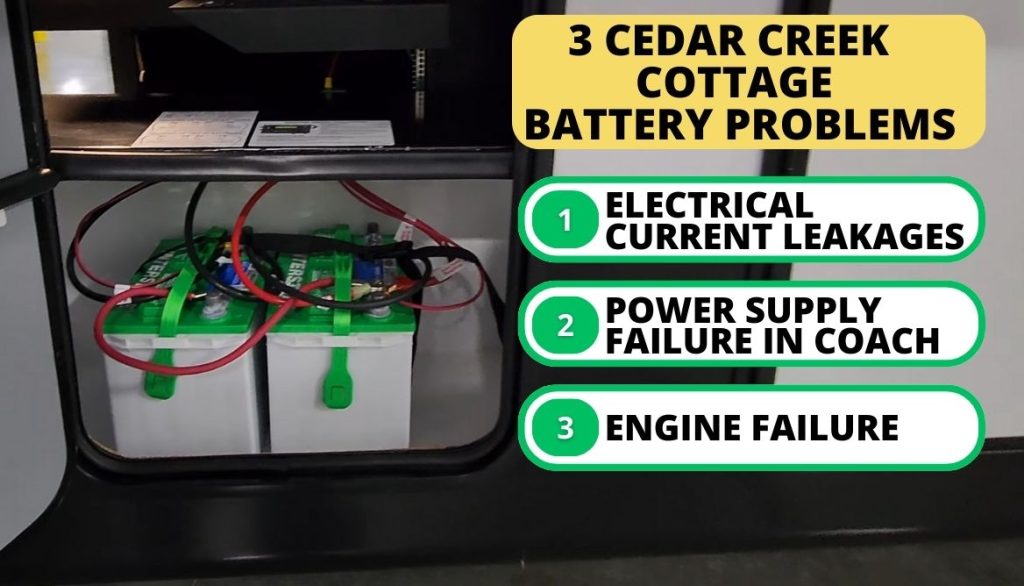 Solution
Enlisted below are some solutions to tackle battery problems:
The best practice is to get shore power if you are parked or camping to save battery charge.
Ground your battery. Get the help of the electrician for this purpose.
Replace dead batteries with new ones such as Eco-worthy Lithium Battery.
7. Awning Troubles
Every model of the Cedar Creek Cottages has an 18′ awning, which you can extend for an outside setting. This awning has a shield sewn into it. Whenever it rains, a shield covers the awning from moisture damage. However, the awning's stitching can leak a lot of rainfall, which could lead to issues like getting your RV doorway wet when it rains.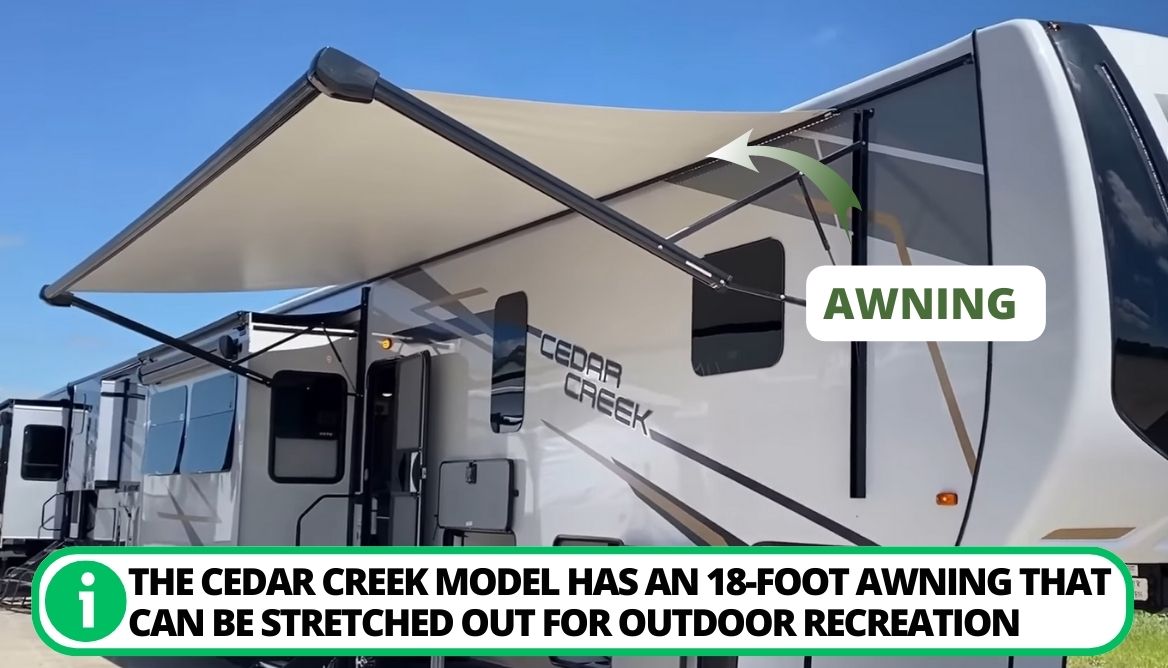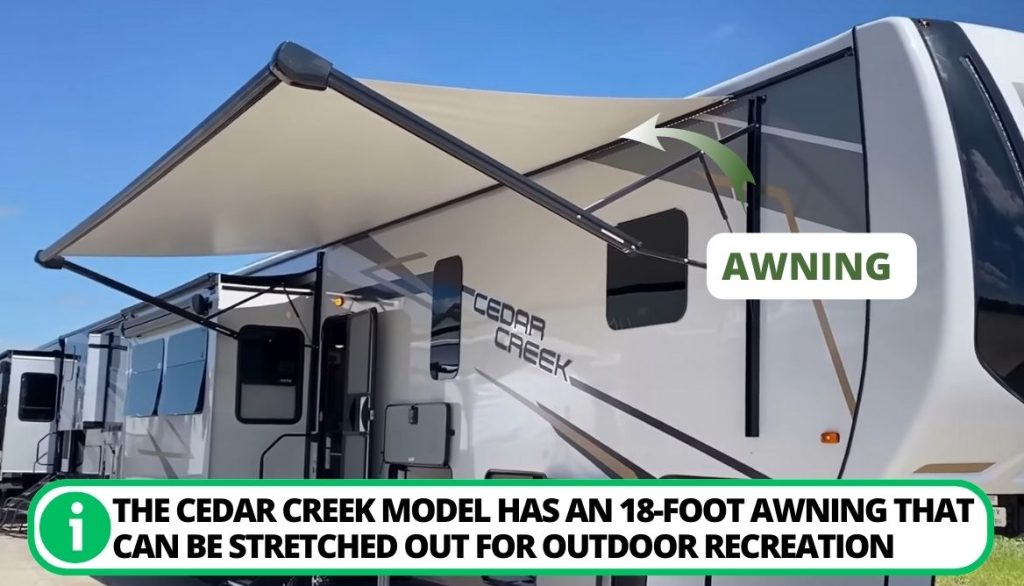 Solution
Here are a couple of points that can help you with awning:
Sew an extra layer of cloth or plastic on the awning stitches.
Keep a rag close at hand to wipe off any water that may enter due to the awning's leaky seam.
8. Improper Stove Installation
Poor stove installation is also one of this vehicle's most frequent issues. Since the cooker is often set close to the interior space, there is a greater chance of fire and less air movement when cooking.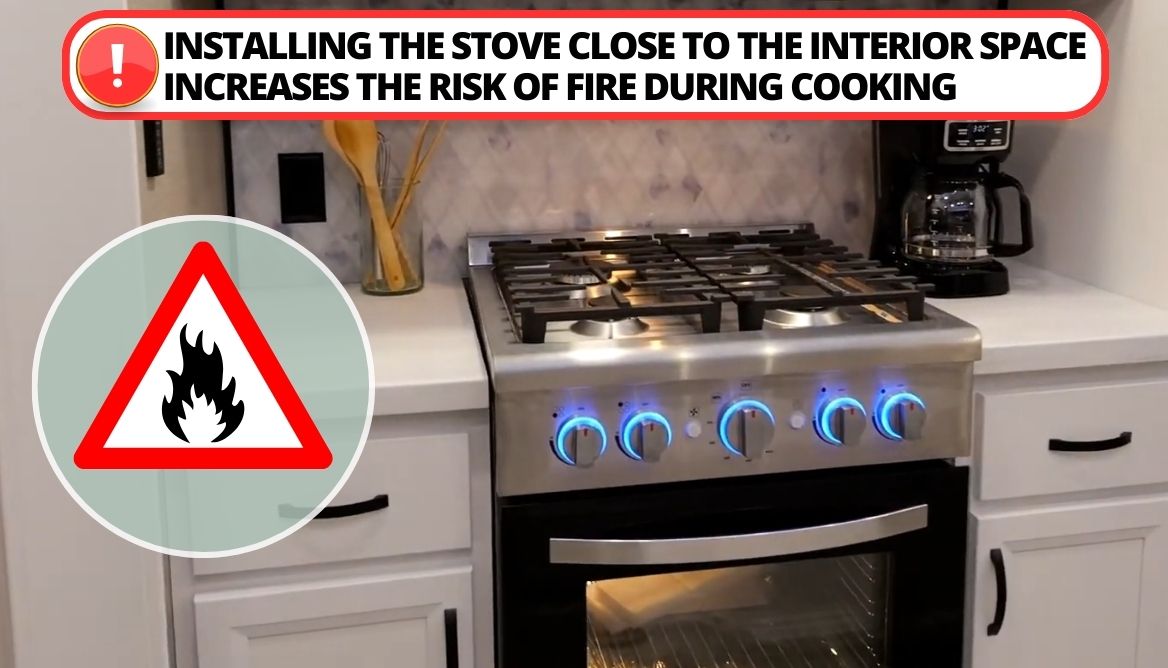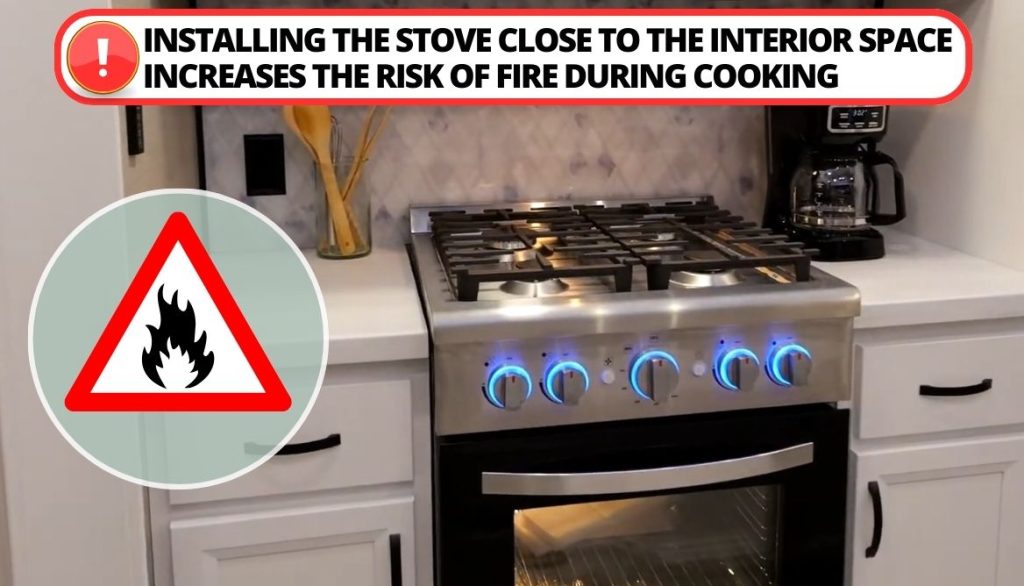 Solution
You can fix this issue by following solutions:
Opt for an oven for cooking and heating your food instead of the stove.
Keep the flame at a low level so that it won't annoy you with its burning scent.
Consider cooking outside using fireworks, which is a fun substitute, especially in winter.
9. Doors Stuck or Jammed
Stuck or jammed doors are a common problem with this recreational vehicle. The doors get stuck after a few months, making it hard to open and close them. You have to put more effort into opening those doors; if you pull on the knobs, they could break.
The problem with jamming is caused by cheap hardwood material, which expands in response to variations in temperature and humidity levels.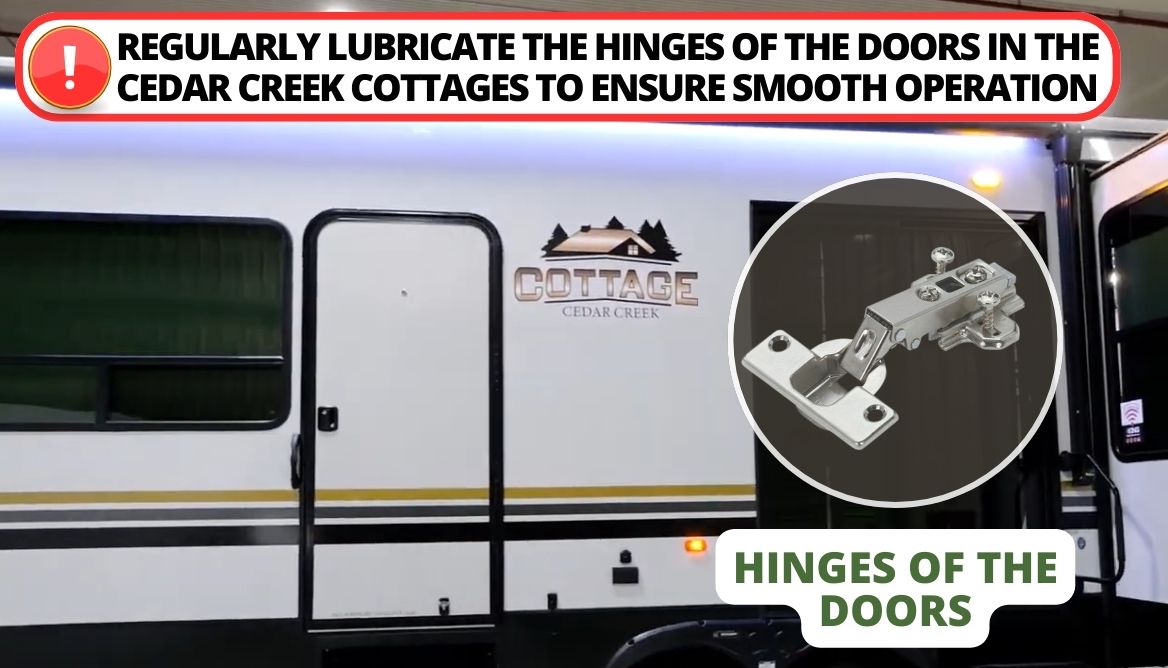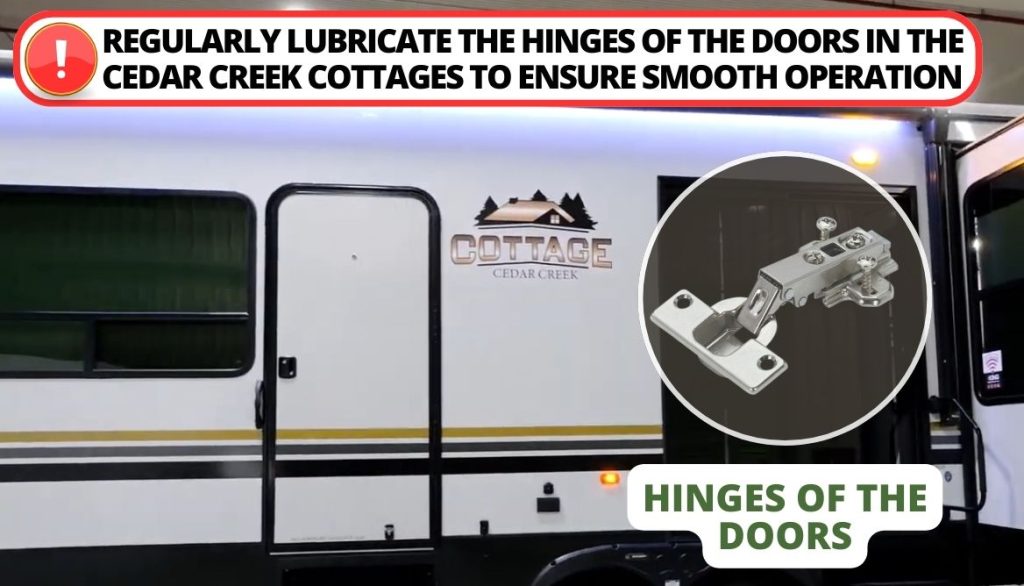 Solution
Here are some solutions to deal with stuck doors:
Lubricate the hinges of the doors to ensure smooth operation.
Rub the sides of the door with sandpaper-like HSYMQ Sand Paper until the shiny coats disappear to fit the door in the frame.
On the other hand, if the door is too small for the frame, you can add weatherstripping like Yotache Foam Tape to make it a larger and better fit.
10. Thermal Windows have Moisture
Creek Cottage has thermal windows containing a double layer of glass to minimize heat loss from the interior. Sometimes, the moisture accumulates between the layers of glass material.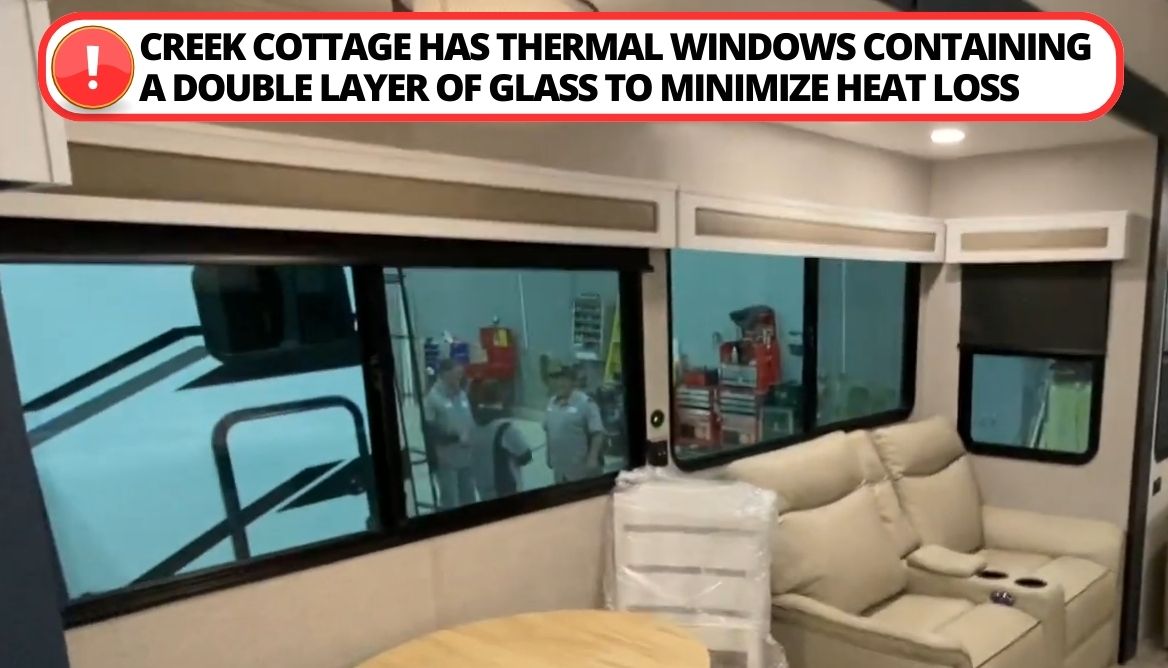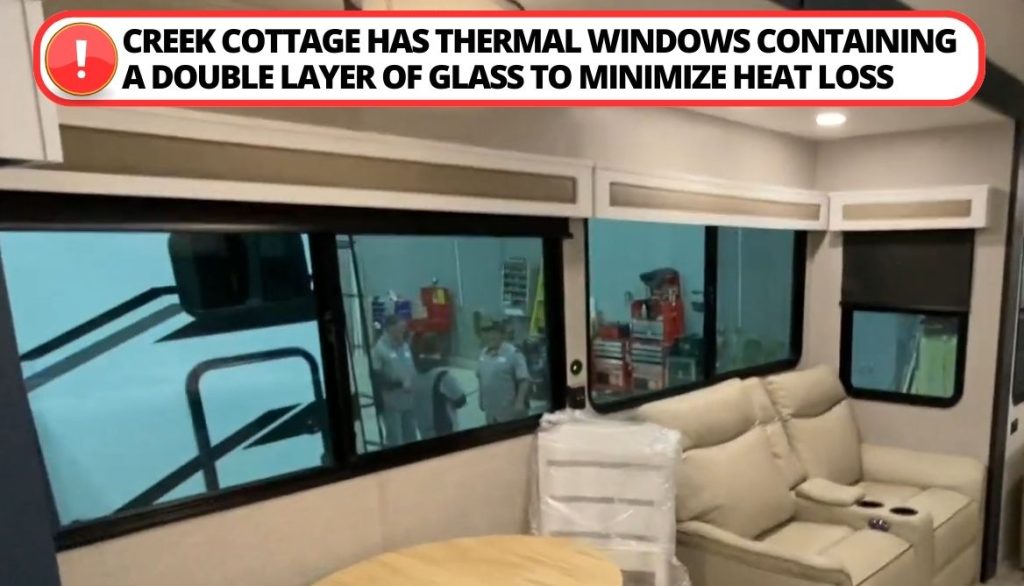 This usually happens in the winter because of the condensation reaction and temperature variations, which cause water droplets to accumulate between the layers.
Solution
The solutions to this issue are as follows:
Use dehumidifiers to prevent moisture accumulation. Such devices are portable and also have an auto-off mechanism.
Blowing the air vents at high speed can also resolve the issue. However, it can cost electricity.
If the issue is due to a poor seal. Replace the insulated glass panel by contacting the company.
How Do Most Users Feel About Cedar Creek Cottage RV?
When I checked with many people owners of Creek Cottage RV, they gave mixed reviews. Some were positive about their vehicle and praised it:
One of the users said that the RV's interior and exterior exceeded his expectations.
The other one said there was sufficient space and storage in the RV.
On the other hand, there were unhappy customers mentioning the following:
It has a loose rubber roof which results in leakage.
The electrical appliances are of low quality.
Nonetheless, Cedar Creek Cottage RV is a good concept for many people who love traveling and camping. It is more like a home on the road for you. If you can maintain it properly, the vehicle will pay for a long time.
FAQs
How can I prevent problems with my Cedar Creek Cottage?
You can prevent problems by regularly checking and maintaining your Cedar Creek Cottage, and taking care of any problems right away. Drive with caution and stick to the manufacturer's instructions to increase the lifespan of your cottage.
What should I do if I have a problem with my Cedar Creek Cottage?
If you need help with your Cedar Creek Cottage, contact the manufacturer's customer service and consider looking into the product warranty for potential solutions.
Conclusion
Simply put, resolving all the Cedar Creek Cottage problems on time can be very helpful. These can boost your RV experience in a much more engaging way. For example, you should ground your battery if you have battery issues.
On the other hand, if you are having slide-out malfunctioning, try to fix it by straightening them. Similarly, use lubricants for smooth working if your RV doors are stuck or jammed.  If the issue persists after trying multiple solutions, I recommend you contact the company.
Have you ever faced an issue with your Cedar RV? Share your experience with me in the comments.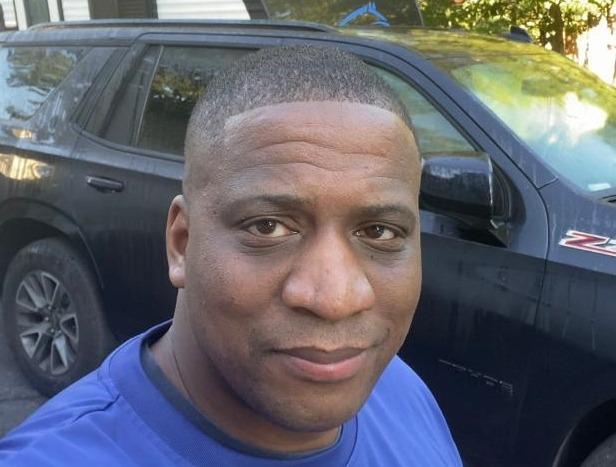 I`m a current Law Enforcement Officer working within the Counterterrorism Bureau in New York State. I have been Camping for over 20 years. My styles of camping include tent, car, truck, van, and RV travel trailer. I have a YouTube channel where I teach all types of camping with an entertaining method: https://youtube.com/@TheSmallsRVAdventures