Best Campervan Interior Design Ideas [+Gallery]
There is a lot of camper van interior ideas that you can see on the internet. Some of them are good, some of them not so much.
That's why we compiled a list of the best campervan interior ideas.
Read on to learn more.
Small Camper Van Interior Ideas
Install rear kitchen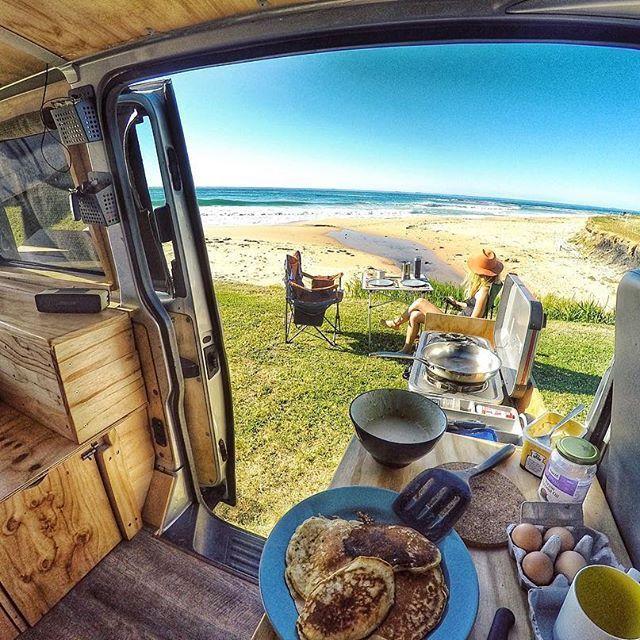 One of the most popular storage-saving hacks for any small campervan conversion is installing a rear kitchen.
It is definitely a great idea but it has its minuses as well.
You can expect your rear kitchen to get a little wet when it rains outside.
However, it is worth it on sunny summer days when you can cook and enjoy the food outside.
Hanging Closet Storage Box
Have too many appliances or clothes and not enough drawers or space in your cabinets?
A lot of RVers don't have much storage space and luckily we have the best solution for it – hanging storage boxes!
Use them to quickly and easily organize your clothes or kitchen supplies. You can check similar hanging storage boxes on Amazon by clicking here.
Rack/Fridge Organizers
These proved to be very useful when I tried them in my RV. It really does add up extra space and it's a convenient place for storing all kinds of jars, small bottles, spices, etc.
Especially if you're living the full-time van life.
You can buy similar food organizers for relatively cheap on Amazon – click here to go to Amazon.
Utilize Refrigerator Bars
These little gadgets can be of great use when you're traveling on some bumpy roads.
They ensure that your items stay in place and they are super affordable – you can buy them for less than 10$ on Amazon by clicking here.
Hang Suspension Rods in the Bathroom
This is a great hack for creating even more space in your RV(which often isn't enough anyway). The clothes can dry while you are not using the bathroom.
Shower Pocket Organizer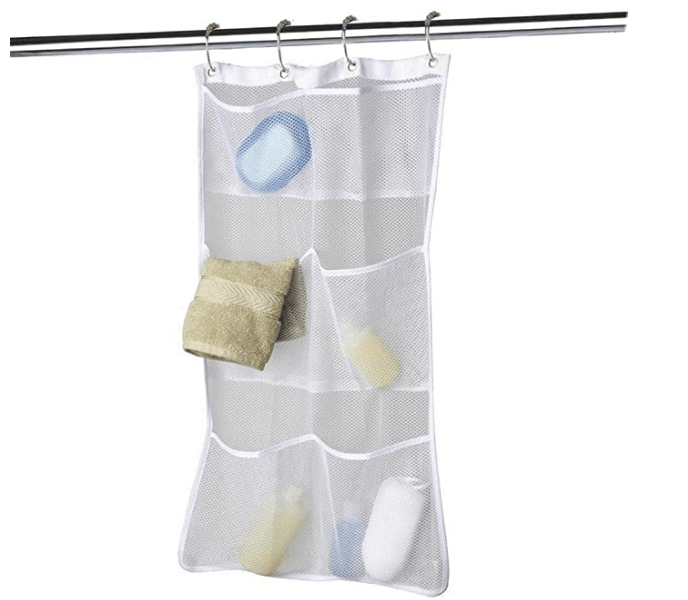 Use can it to organize and store all of your bathroom necessities. Also, it's great to store your kids' bathroom toys. Check this out by clicking here.
Use Your Oven/Stove for Storage
When not in use, you can store things like kitchen appliances, dishes, pans, etc in the oven.
Use Neutral and Soft Colors
We recommend using soft and neutral colors to naturally brighten up your campervan interior.
What it does is make your camper look more comfortable and larger than it actually is.
Cover your Sink with a Wooden Lid
You can use a big chopping board as a lid for your sink when not in use for extra counter space.
In campers, every bit of bench space is important so make sure you utilize this small storage-saving hack.
How to Design Your Campervan Interior? 4 Steps.
Get Inspiration
Before doing any kind of van conversion, we recommend checking social media sites like Pinterest or Instagram for some inspiration.
Save designs and layouts you like to clarify and narrow down the direction of your interior design.
This is a great place to start if you have no idea where to start. Just have fun and save any design ideas you like.
Search for Specific Styles and Rooms
Now, if you followed our previous step you already have a general idea of what type of interior design ideas appeal to you.
Select a style that you liked from the 1st step. Next, search that style with more specific keywords, in Pinterest for example.
You can try searching for specific styles like:
Farmhouse style
Rustic cabinets
Scandinavian kitchen designs
Etc
This will help you delve deeper into a specific interior design style.
Seach With Your Specific Campervan Type
You should have a good idea of what type of interior designs appeal to you by now.
Now, we suggest you start searching for your desired style + the type of van you have.
For example:
Farmhouse Sprinter Van Interior
Ford Transit living area
Ram Promaster rustic interior
Mercedes Sprinter farmhouse style
Nissan NV Scandinavian design
Start Designing Your Van's Layout
Now when you already clarified your goal it is time to start designing your campervan layout.
This is could be done using just pen and paper or you can use some van designing apps as well.
Ask yourself the following questions.
Are you going to be working while traveling?
If you do, think about how to make it optimal for the space in the van.
For example, you can make a versatile space like a mini dining area/living space that can serve you as an office while on the road and that can convert into a sleeping area at night.
How much storage space will you need for drinking water, shower/cleaning water, and other vanlife equipment?
This is important to know as propane tanks and water tanks usually take a lot of space so it's important to take that into account.
Are you bringing your fishing rods, mountain bikes, or other adventure gear on the road with you?
For more detailed information on the topic check out this article.
Van Interior Designs Gallery
The campervan interior design should provide you with useful functions, even in a small space.
We hope that this post helped you get inspiration for designing your own amazing campervan interior.
Asen is the owner and main contributor of Camper Life. He is a full-time RV traveler since 2018. He loves camping in nature, fishing, and spending time with his family.
Striving to provide the most valuable information about campers and RVs, he shares everything he learned over the years.
That's why Camper Life is one of the best sources to find information about RV traveling and living.