17 Amazing RV Camper Remodel
If you plan on remodeling your RV, chances are that you have already looked at some online inspiration.
Many excellent RV renovation examples can be found on social media channels.
Modern, contemporary, traditional, bohemian, and vintage are some of the styles that the RVs have been designed in.
While there are thousands of RV remodel projects in existence, here, we have decided to highlight a few of them in hopes of offering inspiration for others' future projects.
Camper Remodel Ideas
A Modern Fifth Wheel
Over the past three years, Renee and Dylan of pleadingthefifth_wheel have renovated three different RV spaces.
The first is a fifth wheel, which is the full-time home for both of them, their son, and their cat and dog.
A dark outdated space was transformed into a light and airy haven for modern design. The interior was painted, the flooring was upgraded, and the lighting was new.
Their furniture was upgraded to include a beautiful living room area with tons of seating and a full dining area.
The space is tied together by the plants and decor. Renee renovated two other RVs for short-term travel after she experienced the joys of tiny living.
The fifth wheel received the same treatment as the R-pod. Paint, flooring, decorations, and of course, beautiful areas for sleeping and dining are all included.
The R-pod has been upgraded to a Class C motorhome, which has already been used on a few adventures.
New decor, a fresh coat of paint, and new bedding are just some of the things that have been added to the house.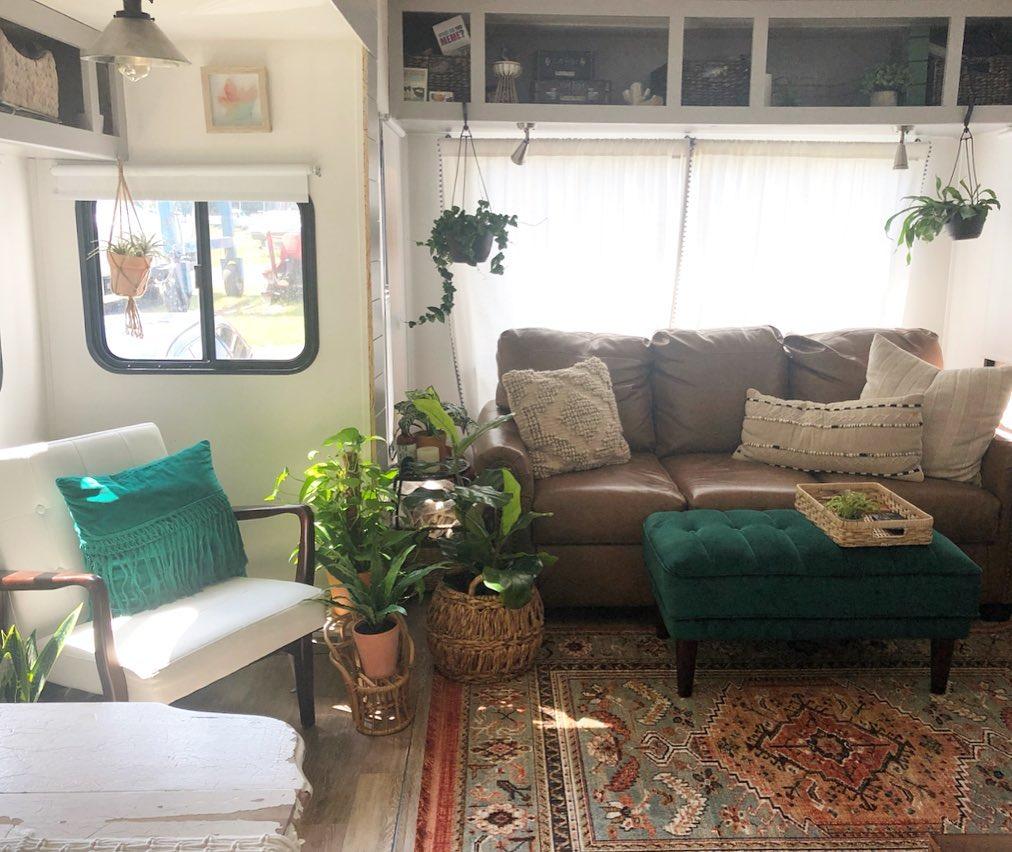 A Vintage Trailer Restoration
Pheribee, the restored 1966 Kit Companion trailer, is the pride and joy of the owner. The vintage trailer had been restored before Pheribee was purchased.
She did several projects on the trailer, such as painting all the cabinets white, creating a desk/workspace area, installing a fridge, and creating a hidden litter box for her cats.
She made life easier on the road and in a vintage trailer by adding many more features. Her photos have more details and inspiration.
As you can see from the photos, fully remodeling an RV is a huge project and can have stunning results.
If you are thinking about giving your trailer or motorhome a refresh, consider any of these designs as inspiration, or look at the social channels for more documented projects.
There are hundreds of renovations, and no two are the same. You can use this inspiration and your ideas to create a space you will love and enjoy for years to come.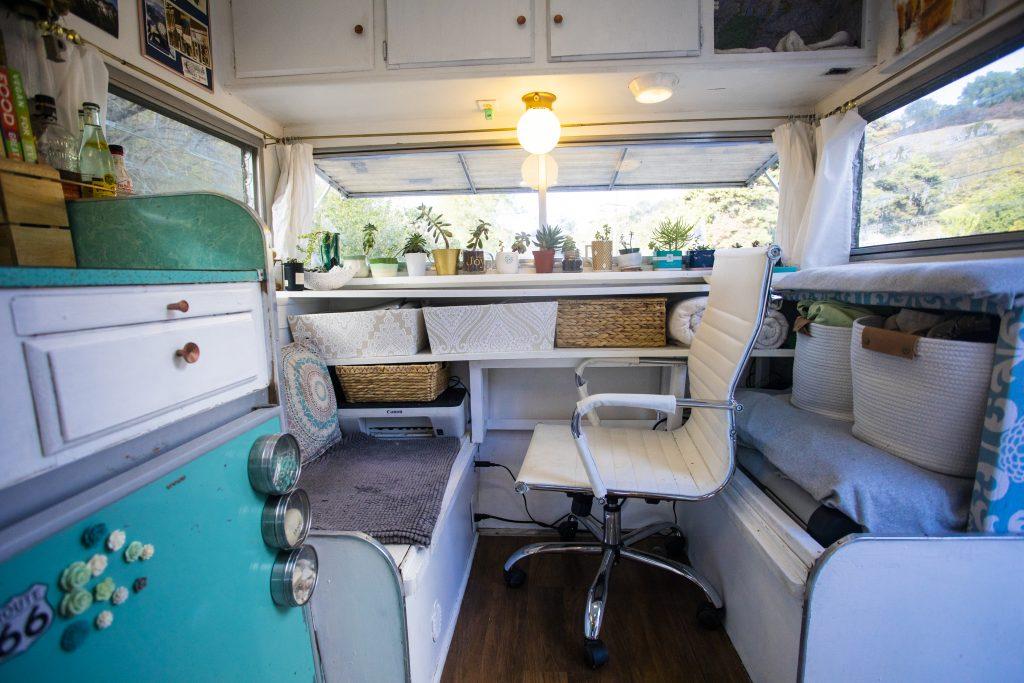 Two Modern Bohemian Fifth Wheels
During their time on the road, the Holeshs of @188sqft has renovated two entire fifth wheels.
Their first home was a 2004 Keystone and they lived there for two years with their four pets. They were able to complete many projects on their Keystone.
New floors, swapping out old light fixtures for more modern ones, and decorating are some of the things that include painting, installing new floors, and swapping out the old light fixture for more modern ones.
Their countertops were recovered with a cement finish, which is quite neat, and they also added backsplashes in the kitchen.
Adding both beauty and function to their living room, they created a built-in dog kennel with a seating area on top during the later renovation phase.
The plant shelf was the most unique upgrade that they had. As the plants rolled down the road, this was intended to keep them in their places.
They upgraded to a newer fifth wheel after selling their older fifth wheel. The toy Hauler that Kevin andMandy purchased was intended to be renovated to suit their needs on the road.
They wanted to include many elements of a traditional home in their home on wheels, and that's why they needed a dedicated workspace for their silversmithing.
They completed a variety of unique projects, including painting, installing new floors, installing a backsplash, and new cabinets throughout the house.
Adding open shelving in the kitchen, installing new basket lighting, and creating a built-in couch-dinette combo are some of the things that are included in these.
The tiled their shower and created a beautiful workspace for Mandy, among many other details. The modern bohemian home is on wheels and it is stunning.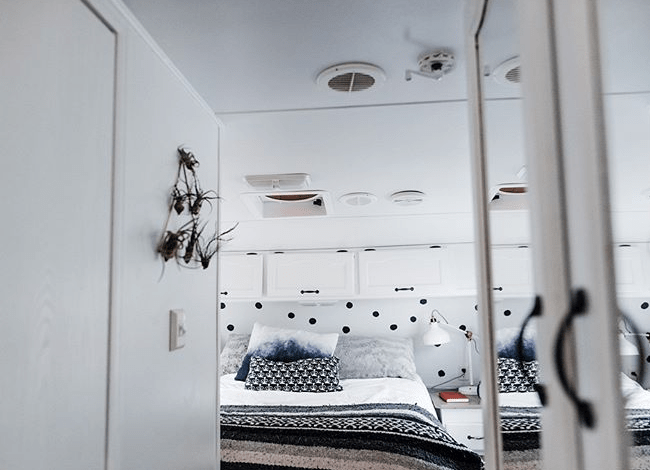 A Vintage Motorhome
Three RVs have been renovated over the past couple of years by the McCreas. Their first home was Big Wanda, where they and their four cats resided for two years.
Wanda is an 80s motorhome that has received a full facelift. New furniture and decorations, as well as new flooring, lighting, and paint all contributed to Wanda's beauty.
They completely gutted Wanda and started fresh, which allowed them to personalize her according to their needs.
The results are quite remarkable. After remodeling Wanda, the two of them decided to use two different trailers for shorter trips.
An R-pods received an interior upgrade, which included paint, floors, decorations, bedding, and a kitchen backsplash.
After spending the winter traveling in the R-pod, Mallory and Justin decided to purchase a slightly larger trailer to better accommodate their needs on the road.
Fresh paint, new floors, modern decorations, and beautiful rustic touches were added to all of the renovation projects that this one received.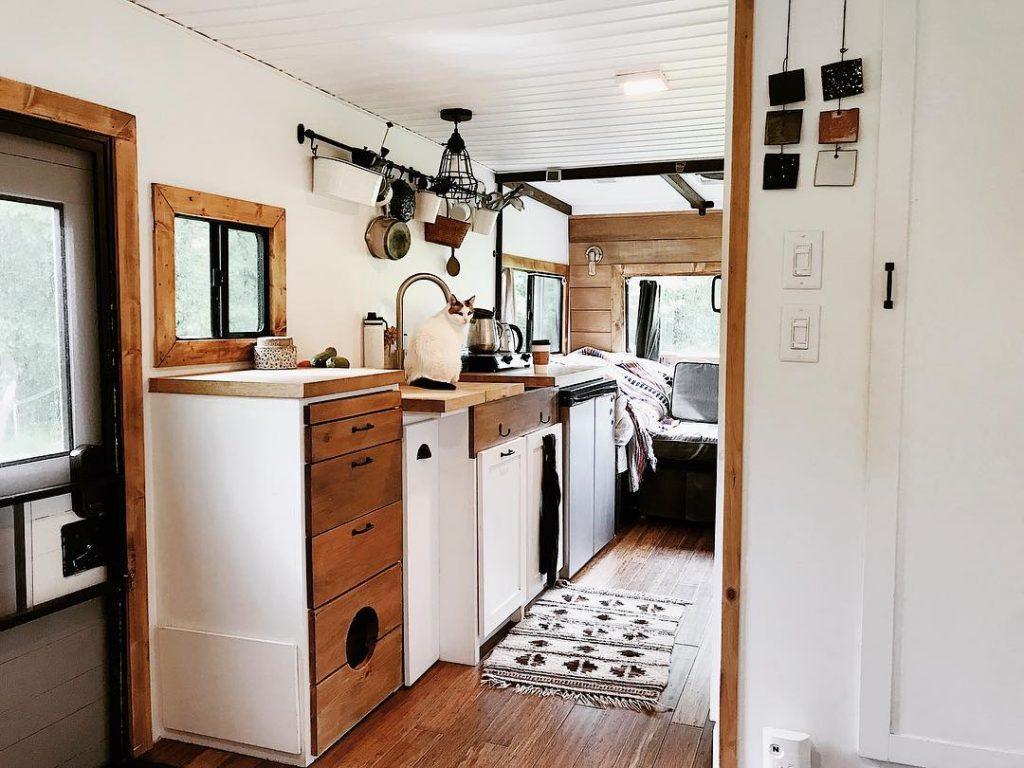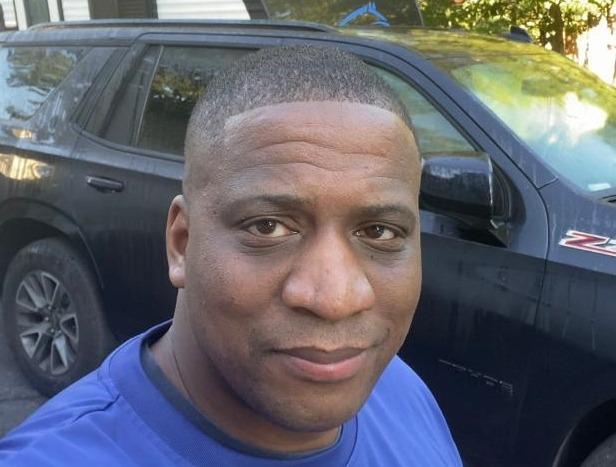 I`m a current Law Enforcement Officer working within the Counterterrorism Bureau in New York State. I have been Camping for over 20 years. My styles of camping include tent, car, truck, van, and RV travel trailer. I have a YouTube channel where I teach all types of camping with an entertaining method: https://youtube.com/@TheSmallsRVAdventures