Considering a hippie van interior decoration for your camper van may seem like an overwhelming obstacle to overcome. You often search for new ideas regarding completing your van interior project.
This article is the best pick for you if you've been considering a makeover for the van interior. Enjoy the finest aspects of life while viewing the world from the convenience of your camper van.
This article covers the best bohemian interior designs along with amazing renovation goals. You will also be able to get an idea about applying a particular pattern in your van. Let's dig in and explore the interior designs discussed in this article.
What Is Bohemian Style?
Bohemian design is a representation of the artistry of those who appreciate the texture, patterns, colors, and motifs of nature.
There are many aesthetic bohemian compositions to select from and you can incorporate those compositions based on your needs.
The key is mixing, matching, and exploring; incorporating trinkets from your trip; and crafting a comfortable and meaningful space.
Is Bohemian Style Layered?
There are layers to the marriage of bright patterns or a combination of neutral textiles.
Think blankets thrown over a ladder against a wall, a beaded pendant hanging from a wooden beam, and patterned rugs over reclaimed floors.
You don't have to stop with just one item. They don't have to contest if you use as many as you want.
What Can I Use in Boho Style?
A bohemian hippie van style mixes cultures and artistic expressions into an eclectic style focusing on organic elements and nature.
When creating a bohemian-style space, it is highly encouraged to mix patterns, metals, woods, materials, animal hides, and trinkets from your trip.
The Best Hippie Bohemian Style Renovation Ideas
When it comes to decorating a hippie van in the bohemian or boho-chic style, there are no hard and fast rules. They say that with boho style there are no rules; rather, there are simply fantastic objectives and inspiration covered below that make it perfect for the world's nomads, rebels, and artists to travel in the best manner possible whether in summer or winter.
Restored Vintage Shasta Camper
Many people dream of buying a Volkswagen camper to live in and travel around doing yoga in beautiful state-parked areas, but Summer and Ryan decided to buy a 1969 Shasta camper instead.
They renovated their Volkswagen camper using bohemian style and it matched their RV perfectly.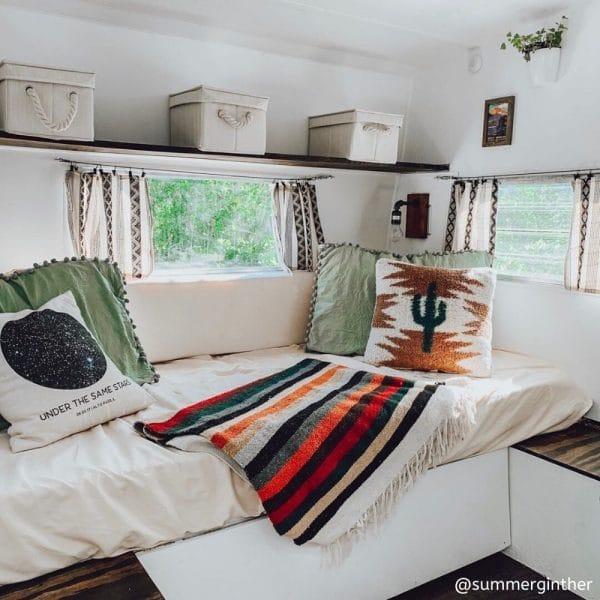 1970 Silver Streak Travel Trailer
This vintage trailer with Southwest vibes was renovated by a husband and wife team who together own a Volkswagen camper renovation business specializing in creating and staging short-term rentals.
If you're ever visiting California, you can stay in the camper named the Joshua Tree suite.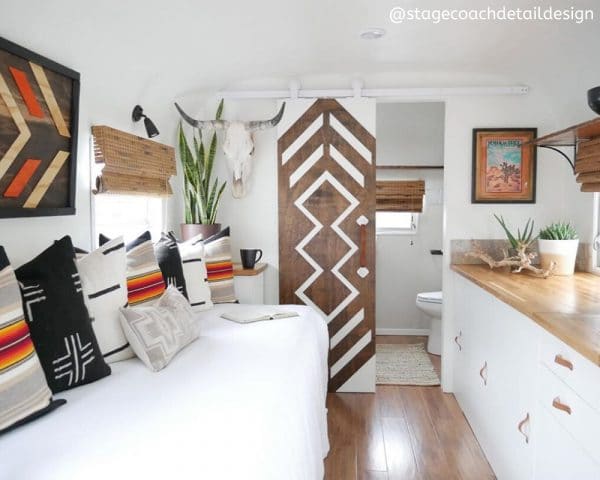 1996 Damon Motorhome Makeover
The unique touches like the hand-painted compass and the glass tubes of spices on the wall are what make this renovation my favourite sell.
The vision this couple had for their 1996 Damon Ultrasport can be seen in the before images of the vehicle.
Remodeled Quantum Fifth Wheel
A black accent wall fabricates a dramatic backdrop to show off pattern and texture in this rustic Volkswagen camper, which is home to interior designer and custom sign maker, Mariah and her family.
The images of their entire RV renovation process can be seen on her IG account – @TheSloppyJos.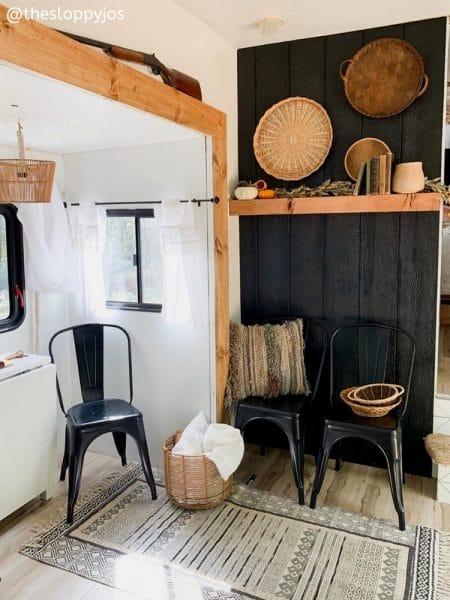 2007 Sunset Creek Travel Trailer
One of the first things that many hippie van ownersdo is to remove the built-in dining booth, which opens up a lot more potential for the space.
Fresh paint, new furniture, and touches like a colourful rug made this an inviting space for Amy and her two kids to call home, as well as opened up much more potential for the space.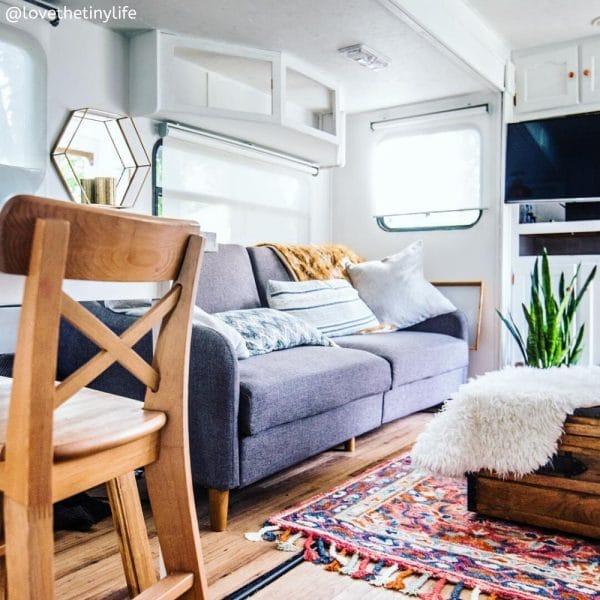 2007 Dutchman Fifth Wheel
Emily can travel not only in the U.S. but also to other parts of the world as a travel nurse.
It is easy for her to relocate because she is living in her renovated RV, and she also has an outlet for her creativity with interior van design.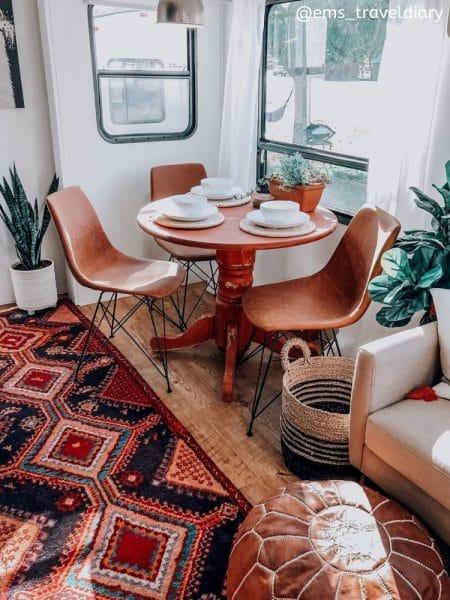 2013 Open Range Fifth Wheel
This newer fifth-wheel van is a luxurious retreat from a day full of adventure for a family of four that calls it home, with rough beams and shiplap in contrast to rich colors and ornate details.
Remodeled Big Horn Fifth Wheel
When Rooster's military career forced him to move, she renovated this fifth-wheel van as a home that would allow them to stay together.
Since they're currently parked in California, she decided to go with a style she describes as a surf shack.
Renovated Class A Motorhome
Erin was able to take on a big responsibility by pursuing a career in music because of the freedom she was given by living in a motor van.
Even though they now have a tiny A-frame cabin as their home base, the couple still enjoys taking trips in their RV.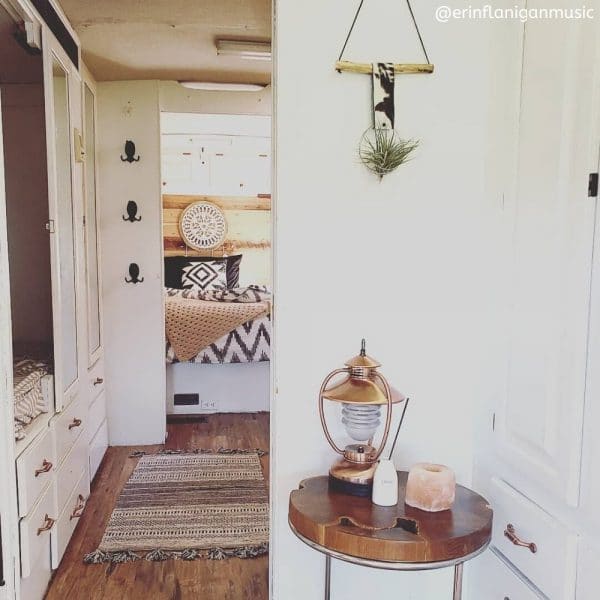 1982 Windsor Statesman
The space in this Australian hippie van is utilized so well, that you'd never believe this camper is just 18 feet long.
The couple who gave it a makeover made sure the mechanics were in good shape so they wouldn't have to.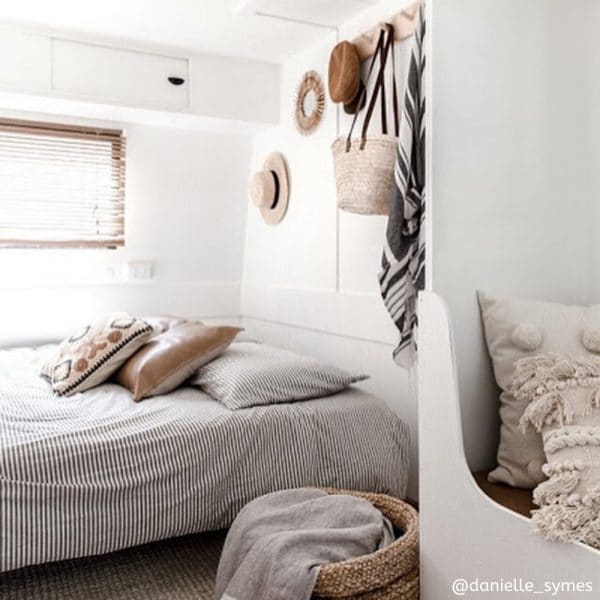 Bohemian 5th Wheel
A 2006 Heartland Bighorn RV, a 5th wheel travel trailer, was transformed from a basic RV into their own bohemian tiny home, thanks to this camper renovation idea from Tiny House Talk.
There is plenty of room for the couple and their growing family in this RV since it includes a slide-out.
The combination of summer colours such as shades of olive green, mustard, cognac yellow, and rusty oranges is something we love about this particular van design.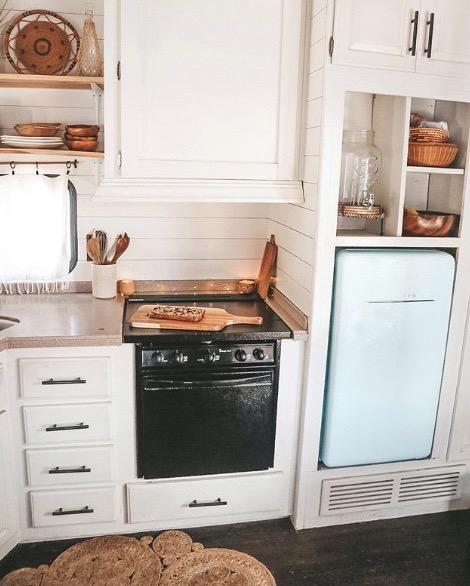 Boho Chic Becomes Family Retreat
A 2010 Jayco camper has been turned into a retreat large enough for a family of 5 by a chic camper remodel from Apartment Therapy.
With an interior full of brownish shade, the family knew they wanted to liven up the space and fabricate an updated boho van view.
After hiring a contractor to overlook the big jobs, the next approach was to buy new bedding, purchase new cushions, and add some bohemian touches to complete the view.
The total money put into the project was close to $1,700, which makes this a great money-saver remodel and moreover, looks astonishing when parked or available for sell.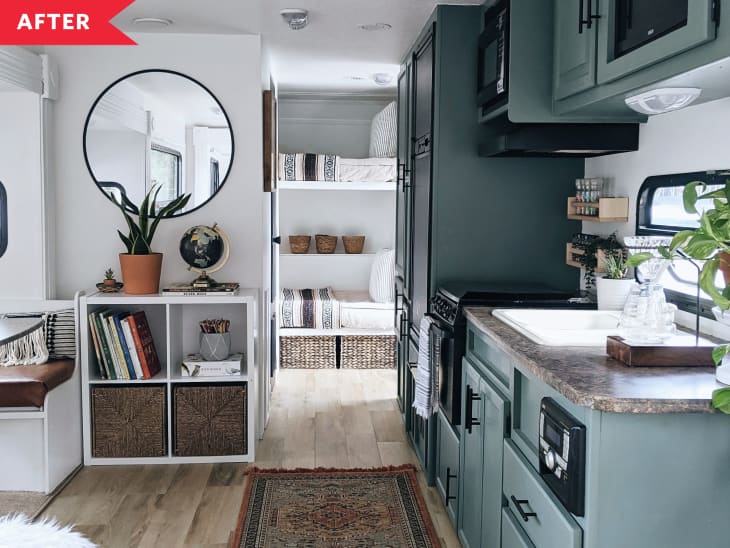 Stylish Boho Glam Remake
A 2002 5th wheel that became one couple's permanent tiny home when they were transferred to Oregon and realized they weren't interested in paying the high rent of the area comes from Mountain Modern Life.
There are a lot of things to love about this camper van remodel.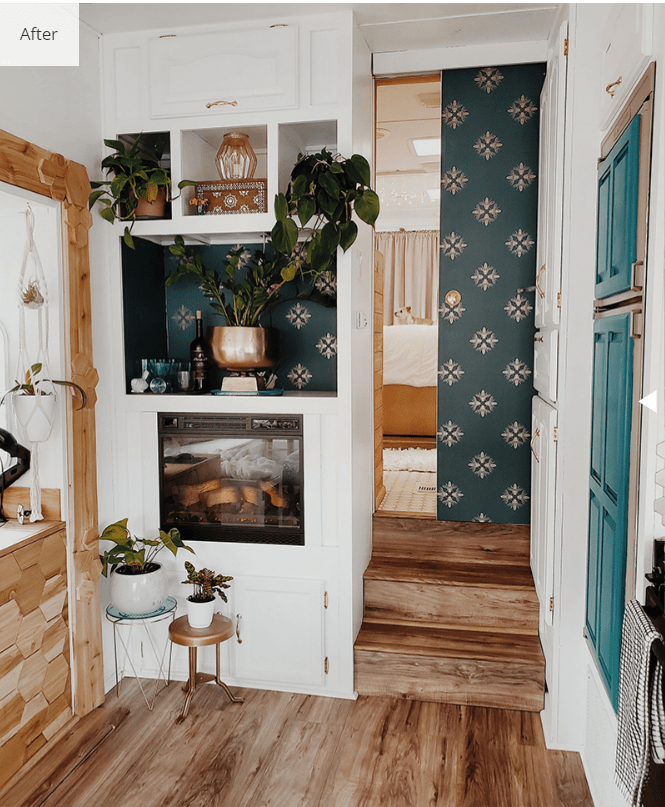 Bohemian Kitchenette Microbus (A Great Idea)
The interior of the bohemian camper van can look so modest, consisting simply of a kitchenette and a few couches, with special care taken to preserve a soothing colour scheme centred on shades of brown.
The burgundy and black seat and blue fluffy midcentury carpeting would be a hit with any guest. Add plant pots and use wooden chests as tables.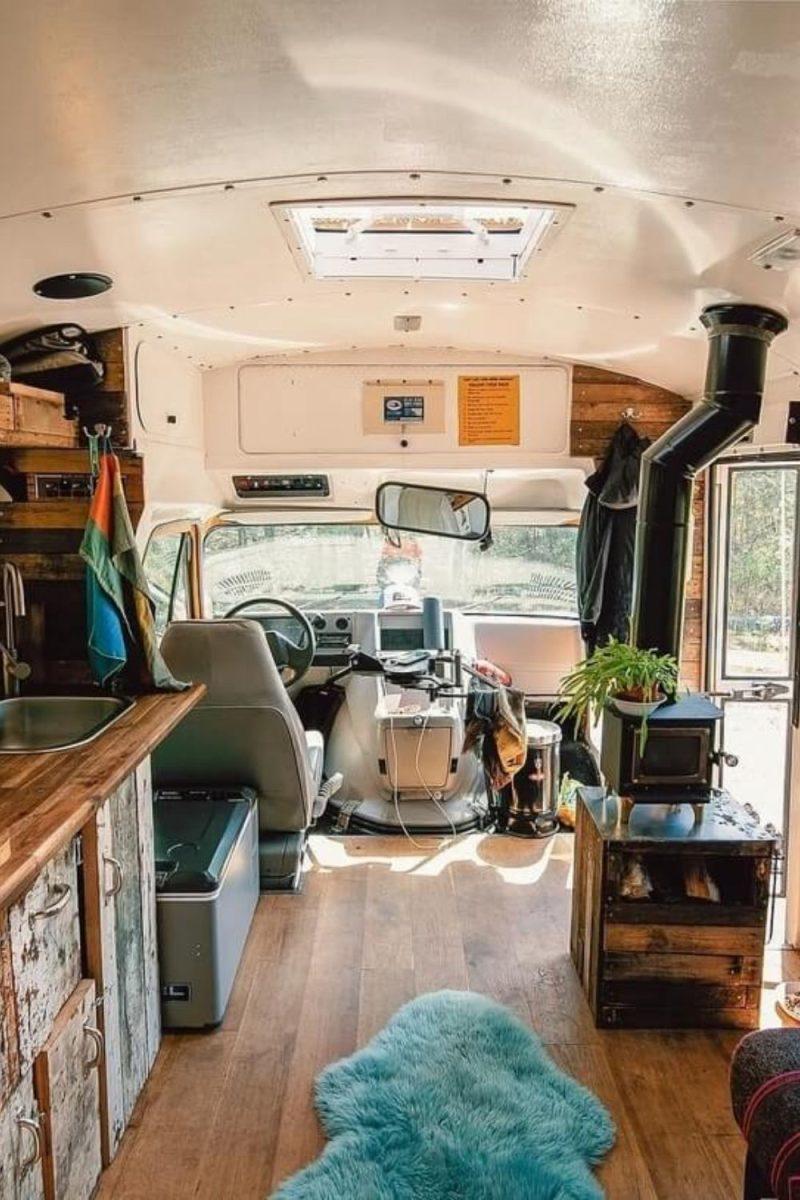 Woven Textured Boho Camper Van
Construct a relaxing atmosphere by hanging a printed tapestry in cool tones of purple and blue on the divider. For extra cosines, suspend felted woollen throw blankets from a metal pole, and a plethora of bean bags hung over the bed.
Hang some planters for some greenery in the boho mobile van.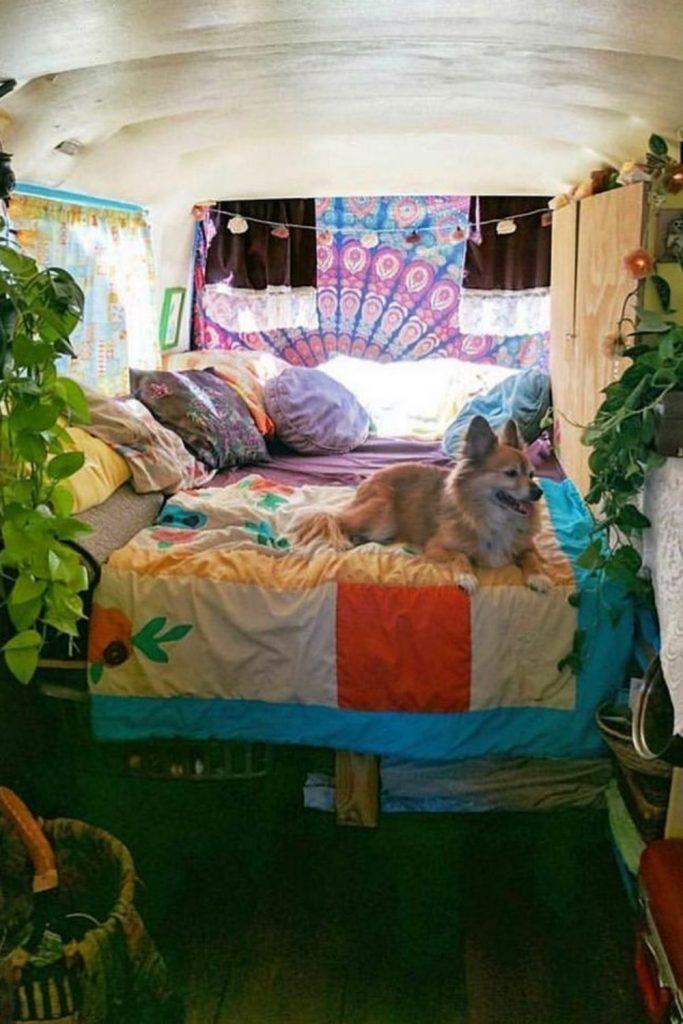 Nature-Matching Bohemian Camper Van
Create the interior of your hippie van with this free-spirited idea and a little bit of workmanship to back it up. Contradict the norms of wall-hanging artistry. Be sure to drape your duvet cover or curtains in a way that makes you feel most at ease.
Complete the look of a bohemian room with a cushion whose design is based on elements from the natural world.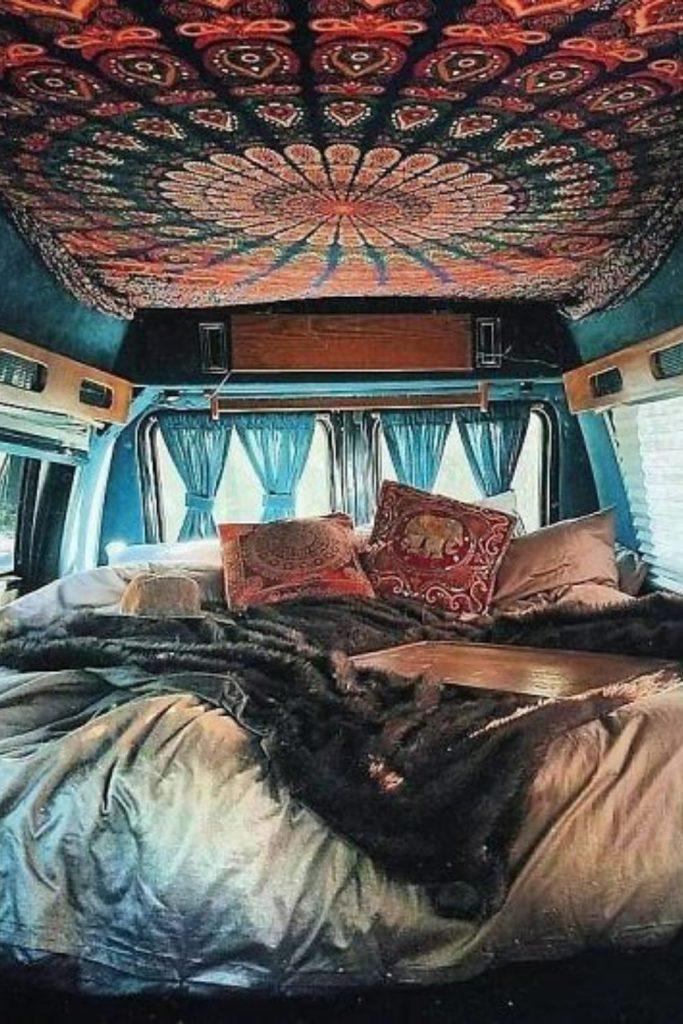 1987 Remodeled Hippie Van
You may use a sofa cover with a blocked print everywhere you sit, from the beginning of the sofa to the end of the bed and even on a bench in the hall. In addition to its overwhelmingly fashionable appearance, it also provides structure and summer warmth with a single flip of the wrist.
If you install a kitchen, you'll have the perfect hippie van internal view if it's parked somewhere. Isn't the interior design image below amazing?
Volkswagen Vintaged Hippie Van
Using this scheme, you may combine old-fashioned components with a completely unexpected accent while feeling connected to the natural world.
Bedding with contrasting patterns, such as a striped grey and white blanket and a printed orange and brown covering, may breathe new life into a van room. Using blue as a visual delineator is a brilliant idea.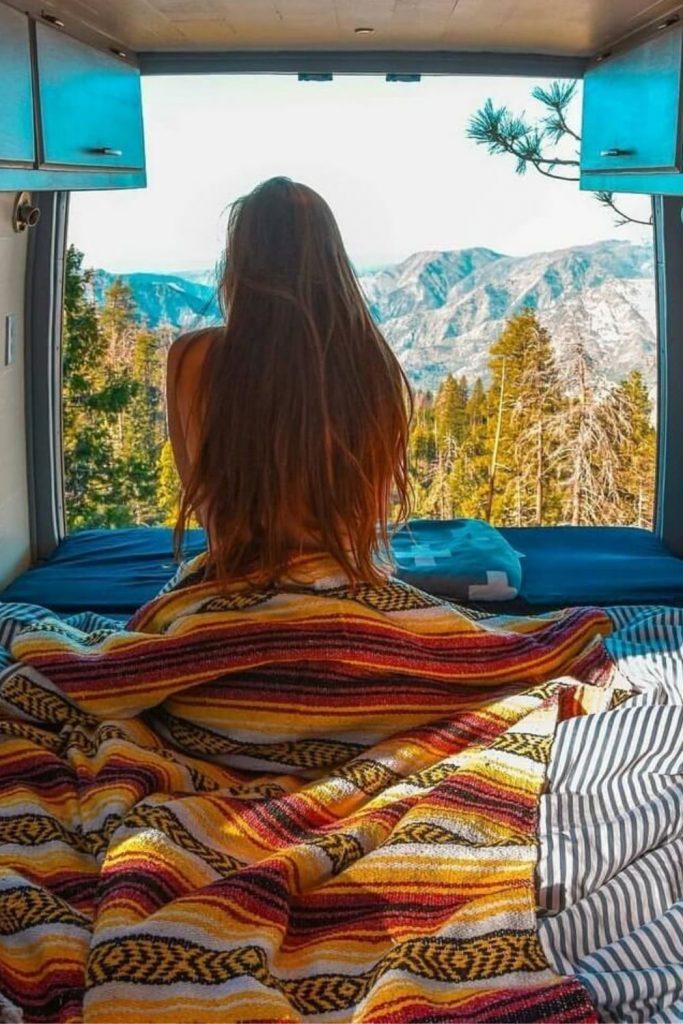 Lively-Coloured Boho Camper Van
The boho hippie van has been given a jolt of energy with the addition of a vibrantly coloured bed covering. Pads are a great addition to a vehicle since they provide extra comfort and shade. Use contrasting colours and patterns to give an item additional depth and a moment of relief.
Put some pineapples in the van, too!
Embroided Art-Worked Volkswagen (A Fun Project)
Art-worked design is a perfect match if you are an artist. If you're not quite confident in mixing patterns, try adding little touches of printed decor like throw pillows, a printed bedspread, and some embroidered wall art.
The major goal of a bohemian hippie van is to provide a relaxing environment, and I think that they succeeded. Great concept for keeping shoes inside a van as can be seen in the image.
Gallery of Hippie Bohemian Style Ideas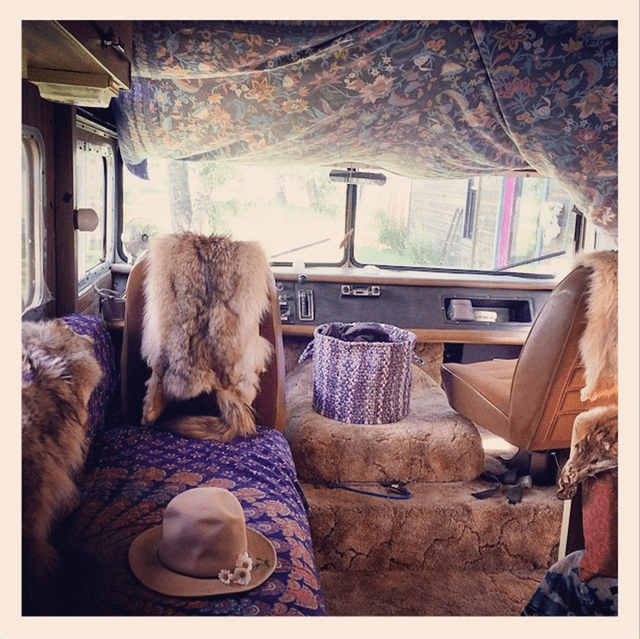 Conclusion
Each and every hippie van design in this article is brilliant in its own way, and one can't wait to get started on the next van transform project.
We hope you came across some wonderful ideas for the inside of your camper van here that you can implement with ease.
What is your viewpoint regarding our interior van design suggestions? Is there anything more you can think of that we have overlooked? All of your ideas are appreciated. Comment below and let us know!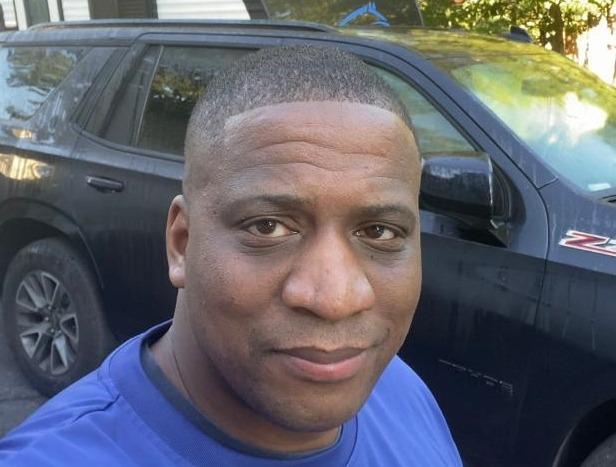 I`m a current Law Enforcement Officer working within the Counterterrorism Bureau in New York State. I have been Camping for over 20 years. My styles of camping include tent, car, truck, van, and RV travel trailer. I have a YouTube channel where I teach all types of camping with an entertaining method: https://youtube.com/@TheSmallsRVAdventures