12 Camper Remodel Ideas That Will Inspire You
Many first-time owners wonder if they should buy a new or used one when buying an RV.
It is obvious that buying used will save money, but is an old camper remodel worth the time and effort?
Is saving money that big of a deal when you can buy a brand new rig that is move-in ready?
If you are willing to put in the time and money for a renovation budget, you can do that. There are three old camper remodels that will inspire you to get going on your projects.
What Is Meant By An Old Camper Remodel?
Buying an old camper is a good way to save money if you want to buy an RV. Some people on a tight budget will buy old campers and make some changes to the space.
If you have a budget, it will determine how many projects you can tackle.
How Can I Modernize an Old Camper?
If you are willing to put in the time and effort, painting the cabinets will completely change the interior of an old RV.
Get rid of all the brown and lighten the space with white. Add a pop of color by using an accent color in the space.
The cabinets, walls, trim, wooden furniture, and bed frame can be painted. When the space is bright, your camper will not feel old.
If you are looking for a quick old camper remodel, you may have to pick and choose where to paint. You can change the hardware as well.
Pick out a fun leather strap handle or make your space sparkle with a clear diamond-like knob.
If you replace the old hardware with new, you can move from outdated to modern in no time. The furniture in the old camper makes it feel old.
If you want to make changes, you can put a cover on a sofa or paint a chair. If you want to spend a bit more money on custom furniture with additional storage, you can do that.
Tear out the benches and build your eating area if the U-shaped dinette isn't going to function.
Camper Remodel Ideas That Will Inspire You
RV Renovation on a Budget
Each week, Liz Fenwick posts two do-it-yourself videos. She talked about how she and her husband renovated their RV in one of those videos.
Thousands of RV owners have used this step-by-step guide to complete their camper renovations.
The Class C motorhome was purchased by Liz and her husband. It was in good mechanical condition but needed some cosmetic updates.
They put in a king bed in the reconfiguration of the bedroom. Liz bought a paint sprayer to make painting easy.
The most time-consuming old camper remodel project is usually this one, but it is not very expensive and makes the biggest impact.
White and gray were the colors used in the motorhome. There was an improvement in the lighting and window fixture.
Liz wanted to make sure that she had a knob or pull chain for the light fixture.
She added curtain panels from Target to the rear windows and chose a fun bamboo shade for the front window.
Liz decided to put a slipcover on the existing couch since it fit so well in the space. She made the space feel like home with the addition of artwork and cozy touches.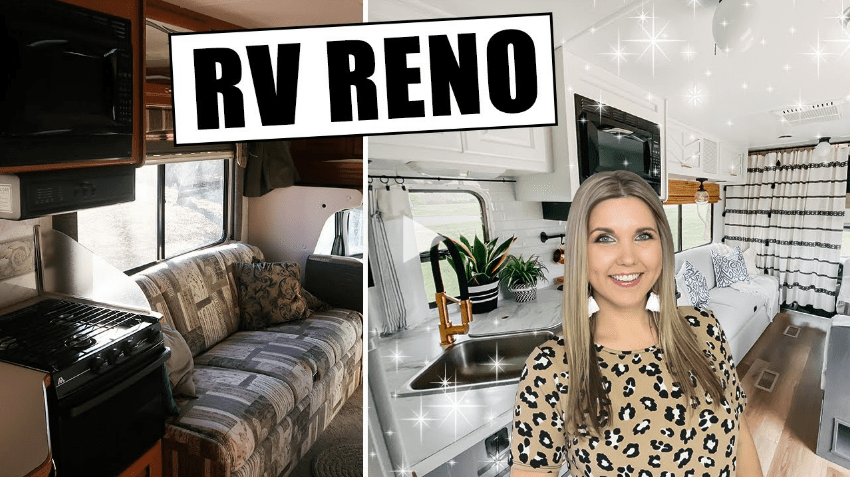 Tiny Home RV Camper Remodel
Adaline Zook takes viewers on a tour of her tiny home. She moved to North Carolina with her three daughters.
Each week, she posts a new video on her Vlog channel, cooking channel, and cleaning channel.
Almost all the furniture was removed from the RV by Adaline. The bench seating for the girls is provided by the new dinette.
The rear bunk room had four bunks, but with only three children, Adaline took out one of the bottom bunks to make room for a larger play area. She used marble rolls of contact paper, a cheap option for easy projects.
Updating the look is easy if you replace the faucets and cabinet handles. Like Liz, she painted the entire space white, making the RV feel brighter and cozier.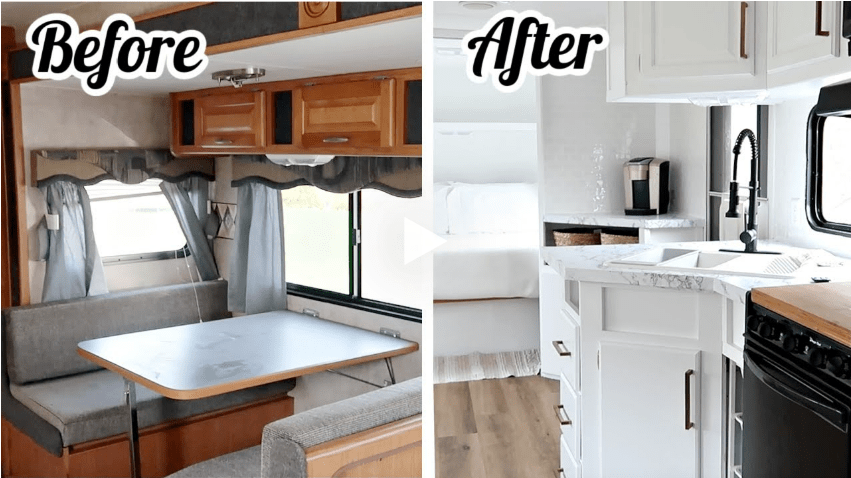 DIY Trailer Remodel
An old trailer was renovated by Nat and Cole Wood in just a week. This is the first time they have done anything like this.
They learned on the fly and shared their experience with others to encourage RVers to change their spaces as well.
Most RVers can easily access the two stores that new Decor from Amazon and Target can be found at.
The bathroom and kitchen were updated with only cosmetic changes. The only way to fit the new sink in the kitchen was to make the sink opening a bit bigger.
White paint was the most significant project that was done to the toy hauler. It makes the trailer appear larger and brighter than it was before.
Nat bought new hardware for the kitchen cabinets to match the appliances. The brown panels of the original fridge were painted white for an updated look.
The tic-tac tile blocks were applied to the new backsplash. Nat used cheap contact paper to cover the countertops and make them look brand new.
How Much Does It Cost to Renovate a Vintage Camper?
There isn't a set cost when renovations are done. Whether you are restoring an old cottage, making a home on wheels with a school bus, or just making a few changes to your outdoor living space, this is true.
The cost will be determined by the quality of the materials you use and the type of projects you complete.
RV bathroom renovations that include putting peel-and-stick tiles on the floor, replacing the faucet, installing a backsplash, and painting the cabinets will cost between $100 and $200.
Changing living room furniture, installing new wood flooring, and building custom bench seating for the dining area will cost thousands of dollars when you extend the painting to include the entire RV.
Depending on the amount of work you do, you can spend anywhere from a couple of thousand dollars up to $10,000.
Is Renovating an Old RV Worth It?
If you want to make your RV feel like your own, you are going to need to do an old camper remodel project.
Small changes, like putting up curtains, finding a fun floor rug, and changing out the hardware on the cabinets, will make a big impact on your budget without breaking the bank.
The impact of painting on a small space will be massive. Make sure you have enough time to complete it.
Several days is how long it will take to paint cabinets, walls, kitchen islands, and furniture. Is it worth it to take on a renovation project?
You will have to decide for yourself. If you watch videos of other RVers, you will most likely start at least a few do-it-yourself projects.
Whether you are just going out for a couple of weekends a year, taking one long cross-country trip, or moving in full-time, making your RV feel personal is very important.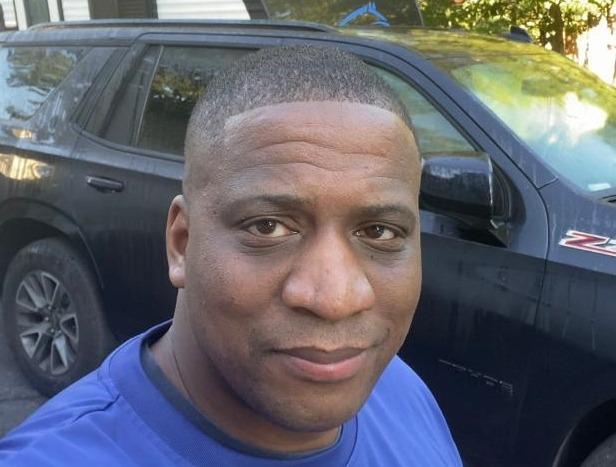 I`m a current Law Enforcement Officer working within the Counterterrorism Bureau in New York State. I have been Camping for over 20 years. My styles of camping include tent, car, truck, van, and RV travel trailer. I have a YouTube channel where I teach all types of camping with an entertaining method: https://youtube.com/@TheSmallsRVAdventures