13 Innovative Campers & Caravans
Figuring out how to fit everything into your tiny home on wheels can be difficult, but luckily, we have tons of campervan storage ideas just for you.
We are sharing our storage solutions as well as creative inspiration from other vanlifers so that you can come up with the best storage solution for your needs.
It is more important than ever to come up with storage solutions when you have a small space to work with.
It is necessary to find a place to store your items. The bare minimum is more than that.
This may seem overwhelming at first, but the good news is that it is possible to create campervan storage for all your essentials (and likely much more than you need).
We gathered some of our ideas as well as inspiration from other people to help you come up with the best campervan storage ideas for your build.
Kitchen Ideas
Small And Simple Kitchen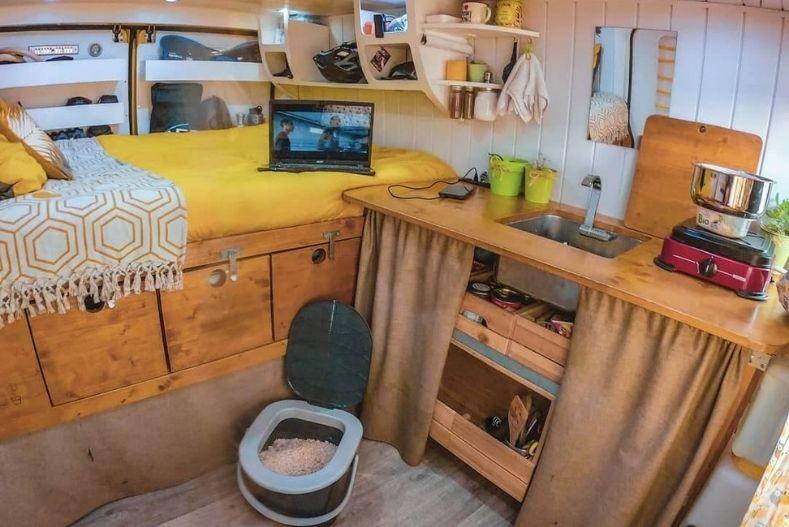 Photo: instagram.com/dimitri40075/
It can be difficult to find space inside a camper van. It is possible to have an efficient kitchen in your van. The kitchen works very well for us.
There is running water with tanks and a one-burner propane stove, as well as intelligent storage space to help reduce the amount of stuff in the house.
Extra space for food prep can be created by the custom-made cutting board that fits over the sink.
Beautiful High-End Kitchen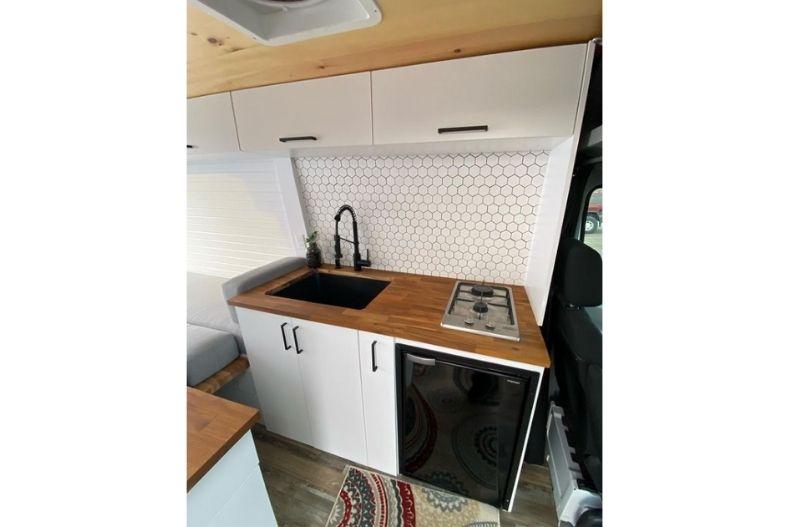 Photo Credit: https://www.instagram.com/vanciniconversions/
If you are looking for camper van ideas that include a more high-end kitchen setup, you may want to go for a simple, elegant design such as this one.
There is a generous fridge and a two-burner stove in the kitchen, as well as a beautiful white tile backsplash.
Next to the luxurious wooden countertops, those custom cabinets look incredible.
Slide-Out Kitchen
Photo Credit: https://www.instagram.com/ventured_campers/
A slide-out kitchen is one of the best ways to maximize space inside your camper van. If you are going to be traveling in warm weather, this works very well.
This side slide-out kitchen is one of the best camper van ideas we have seen.
It sits under the front bench seat and slides out to reveal a sink and several compartments, one of which has a top-load fridge. This design is clever and cool.
Storage Ideas
Outside Storage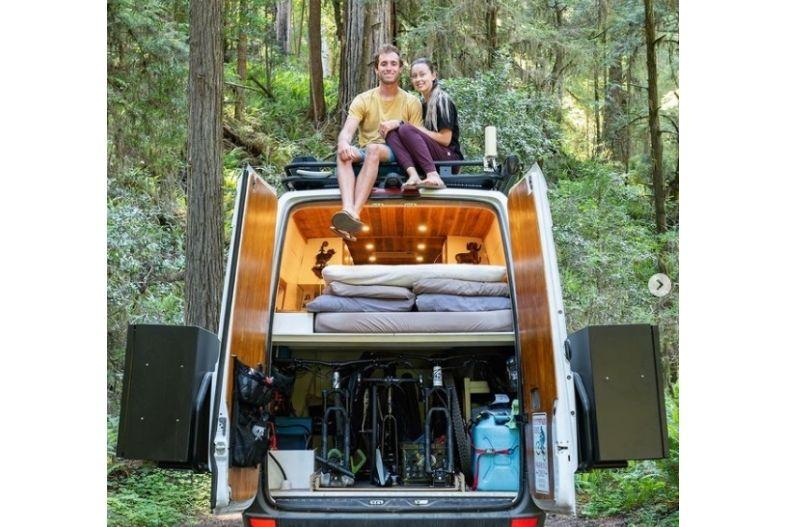 Photo Credit: https://www.instagram.com/thedesertcruiser/
One of the biggest challenges of living in a van is keeping the interior space free of cluttering, and anyone who has spent time in a van will tell you that is one of the biggest challenges.
These awesome storage boxes are on our list of camper van ideas because no matter how much storage space you have in your van, you can always use more.
These simple aluminum boxes with cleverly designed door mounts are ideal for storing shoes, extra gear, and anything else that is getting in the way.
You will still be able to use your van's back doors.
Clever Interior Storage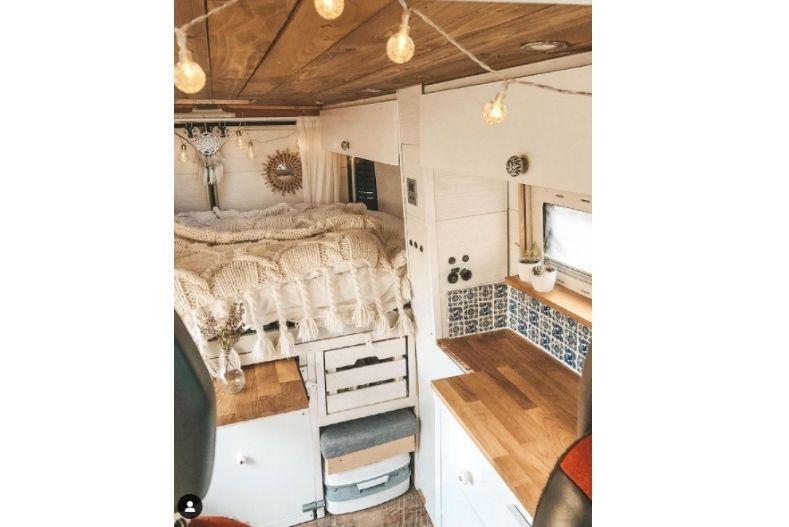 Photo Credit: https://www.instagram.com/bjoerns_advantures/
Staying organized is important when living in a small space. When you are thinking of van to camper conversion ideas, you need to keep in mind storage solutions.
Depending on how big your van is, you should be able to create space for plenty of drawers and compartments, but remember that you have to use good latches to stop drawers or cupboards from flying open while you are driving.
It is possible to use the space at head height with pockets and pouch storage solutions.
Gear Garage
Photo Credit: https://www.instagram.com/the_lostvan/
If you have a van to camper conversion ideas that include installing a platform bed, you should also consider utilizing the space underneath.
Creating a gear garage for all of your outdoor stuff can be an awesome way to keep things separate and it will mean you can keep things clean in your living space, too.
There is a clever slide-out in this awesome gear garage. There is plenty of space for hiking boots, bikes, surfboards, and anything else you might need for your van life adventures.
Bed Ideas
Permanent Bed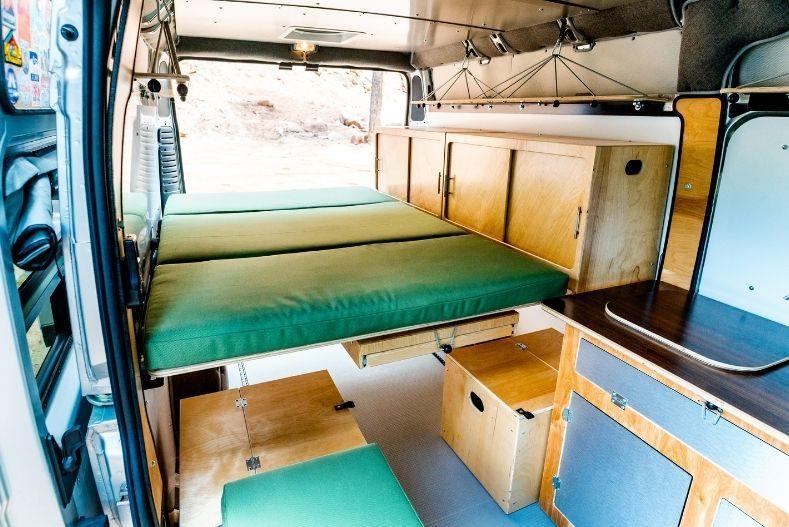 Photo Credit: https://www.instagram.com/wayfarervans/
One of the most important decisions you will make is choosing the bed setup.
A permanent bed is either elevated with space underneath for gear storage or installed lower down for more headroom.
In a Dodge ProMaster, you will be able to sleep width-ways, but in a narrower van, the bed will have to sit length-ways, which means you lose valuable space.
You won't have to worry about setting up a bed each night!
Couch Bed
The couch bed is the center of many camper van interior ideas.
This is an efficient way of using the space inside your van, and it will allow you to have seating areas during the day and a comfy bed at night.
This double couch arrangement is a great way to incorporate a couch bed into your van conversion.
The colorful cushions turn into a comfy mattress as the benches fold down to meet in the middle.
Bunk Beds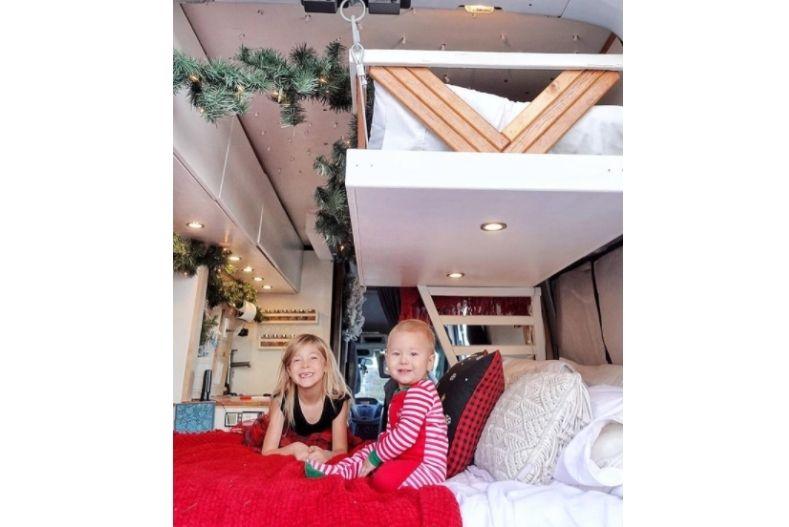 Photo Credit: https://www.instagram.com/thefites/
Extra sleeping arrangements are necessary for your camper van ideas if your van life dreams involve more than one or two people.
The Fite family was able to solve the problem by creating a bunk bed.
It is safe to be suspended above the main bed, and there are railings to prevent people from falling out during the night.
The ladder is awesome, and the kids do as well. The addition of a couple of lights on the underside of the bunk is one of the best features. I think that is a smart design.
Bathroom Ideas
Indoor Shower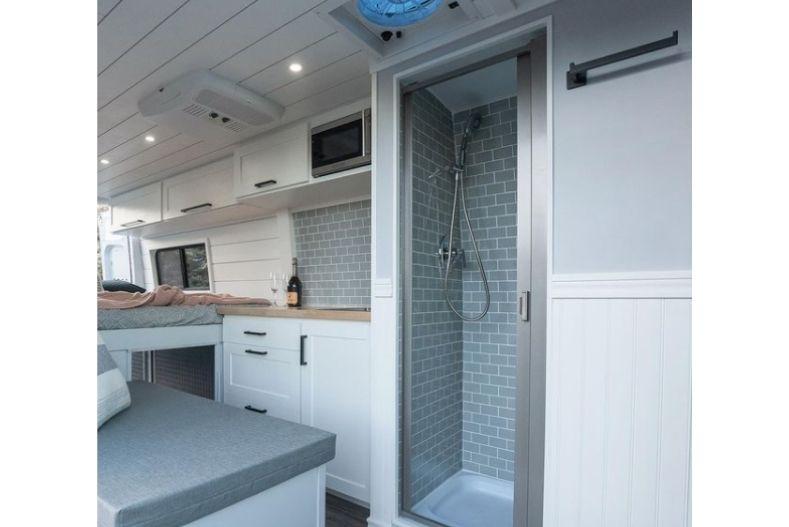 Photo Credit: https://www.instagram.com/the.activ/
Many people decide to incorporate a shower into their camper van interior ideas because it can be difficult to stay clean while living in a van.
Some people might think that a shower is unnecessary, but we feel that everyone has different levels of comfort.
If you're going to have hot water, installing a shower in your camper van is more complicated than you might think.
The result can be beautiful like with the shower compartment in Chris and Megan's vehicle pictured above.
Outdoor Shower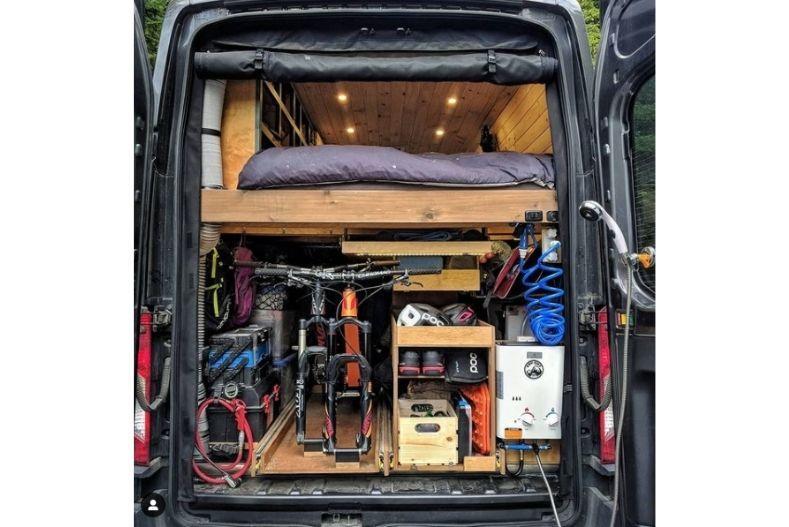 Photo Credit: https://www.instagram.com/faroutride/
A simple outdoor setup is one of the most popular options when it comes to van life showers.
In order to rinse off after a hard day on the mountain bike trail, the owners of Faroutride decided to install a shower and water heating system in the rear of their vehicle.
If there are other people around, they rigged up a curtain system so that they could take a shower.
Remote Work Ideas
Work Space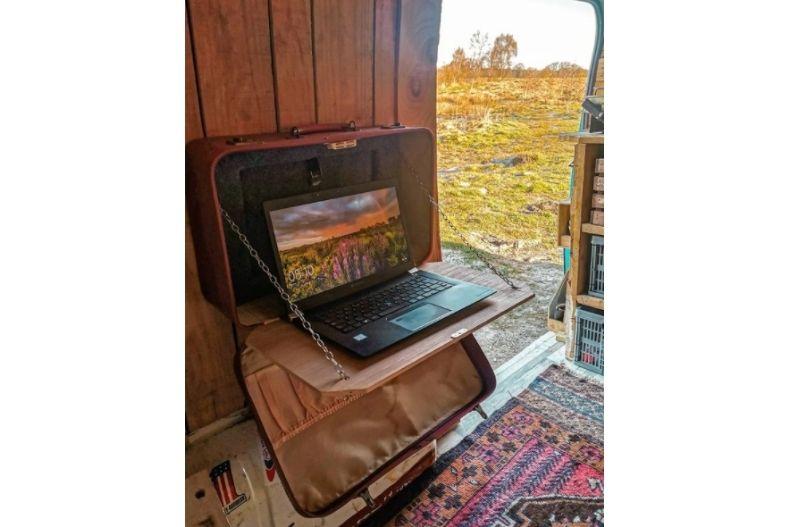 Photo Credit: https://www.instagram.com/leah_in_transit/
Many van dwellers want to be able to work while on the road.
There are a lot of camper van interior ideas that include tables and other work surfaces, but this workspace solution is one of the best.
It is essentially nothing more than a suitcase attached to the wall, but the inclusion of a surface for a laptop makes it a space-saving marvel!
Foldaway Table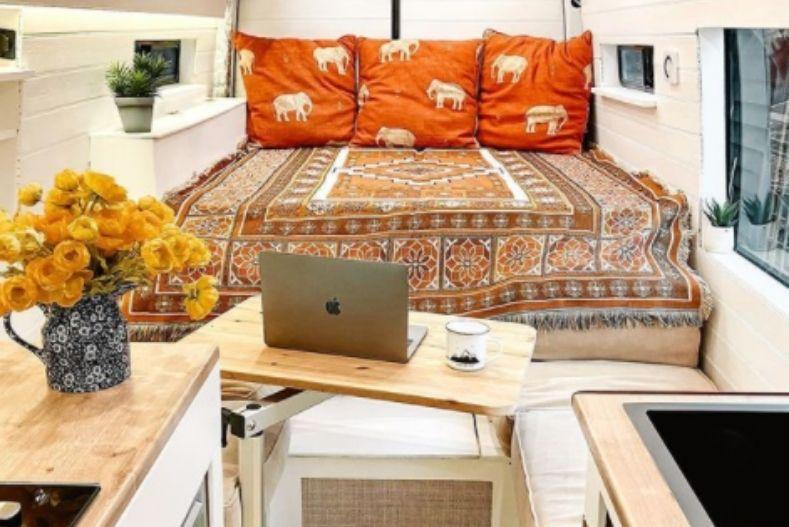 Photo Credit: https://www.instagram.com/city2_vanlife/
We adore the bench seating in between the kitchen and bed in this conversion. There is a neat foldaway table that makes this area functional.
If you are looking for camper van ideas that work, you should look at a table like this.
It is very practical and can be changed into many different positions. It folds down to provide more space when not being used.
Gallery of Even More Innovative Camper and Caravan Ideas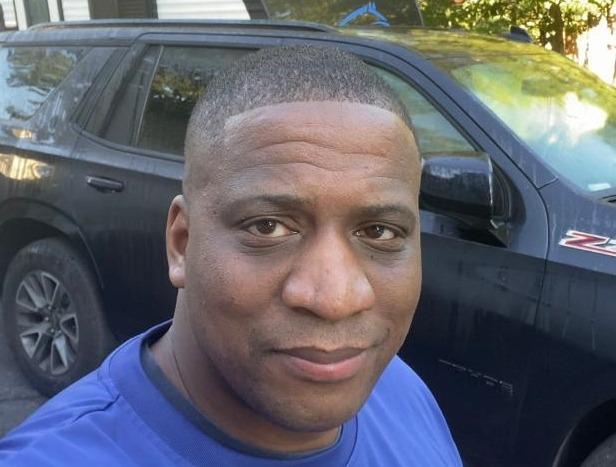 I`m a current Law Enforcement Officer working within the Counterterrorism Bureau in New York State. I have been Camping for over 20 years. My styles of camping include tent, car, truck, van, and RV travel trailer. I have a YouTube channel where I teach all types of camping with an entertaining method: https://youtube.com/@TheSmallsRVAdventures