Best Mini Van Camper Conversions
Want to enjoy van life by traveling in a camper? Ever imagined traveling in a mini camper van? If not, probably you will imagine now by seeing these fantastic minivan conversions.
Designing mini camper vans is a great way to save money and space.
You can travel for your adventure in a vehicle that can be parked in a standard parking garage as these are small and take up less space when compared with an RV.
In this article, we have listed some of the best minivan camper conversion ideas that include style, innovation, and extra features.
These campervan conversion ideas are perfect for weekend travelers, full-time travelers, and solo travelers.
Amazing Minivan Camper Conversions
Chrysler Pacifica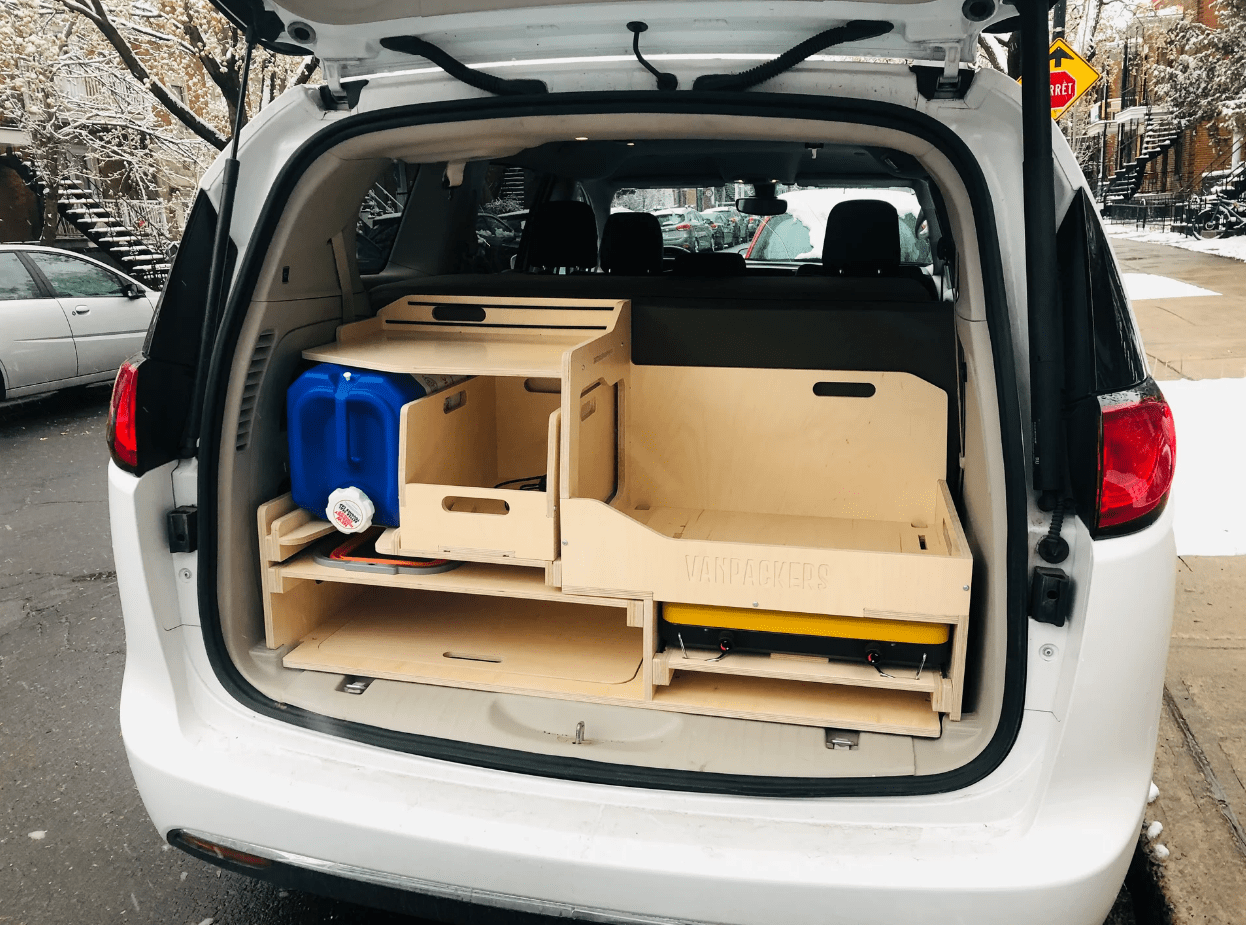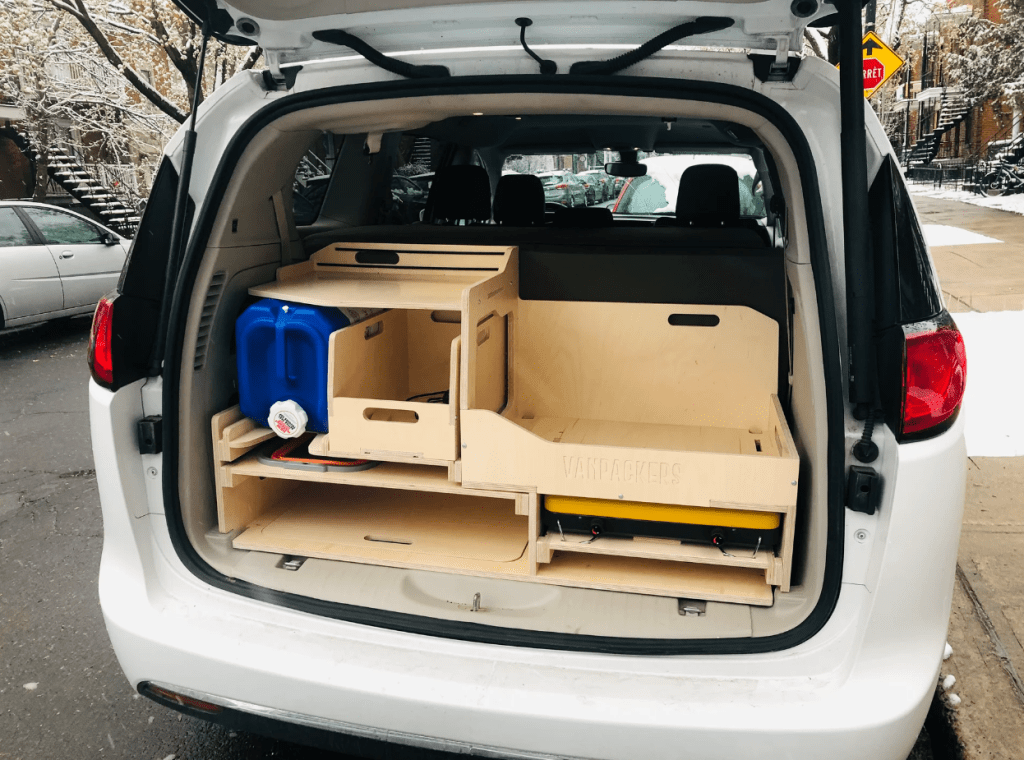 Whenever you think of Chrysler the first thing you will get in your mind is their town and country design. It is one of the most popular models from Chrysler. But it lacked some features that people wanted.
However, Chrysler brought all the features that people found missing in the town and country model in Pacifica.
One of the best features you will find in a Chrysler Pacifica is that its rear seat can be folded into the floor.
This will give you a flat surface so that you can place all your camping gear. If the seats aren't folded you can store extra stuff inside the floor.
This is because the floor of the Chrysler Pacifica is very deep to hold the folded seats. Also, there is a false bottom near the rear side of the vehicle.
This will give you a perfect storage area for storing extra stuff when the seats aren't folded.
The latest version of Chrysler Pacifica added even more features to appeal to campers. The latest feature is the addition of a shop vacuum.
This will help you if you are traveling with kids or if you are frequently going on camping trips.
Pros:
Plenty of storage space.
The floor is even when the seats are stowed.
Great for weekend travelers and families.
Customizable seat layout.
Sliding doors.
Cons:
The small gas tank holds only 19 gallons.
The fuel efficiency is low.
Mercedes-Benz Metris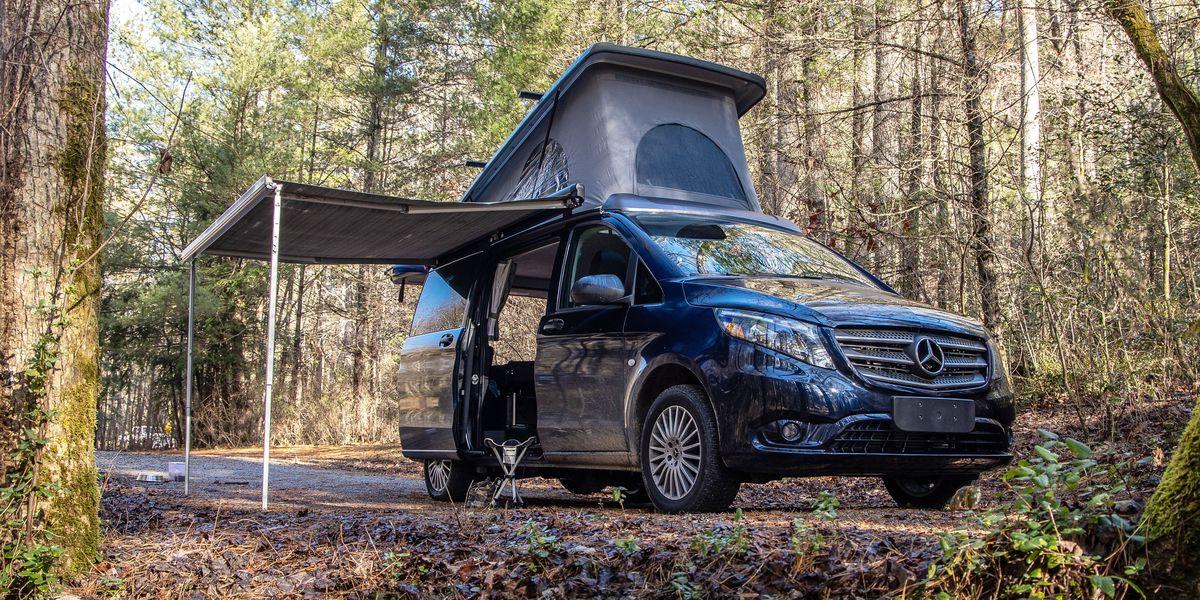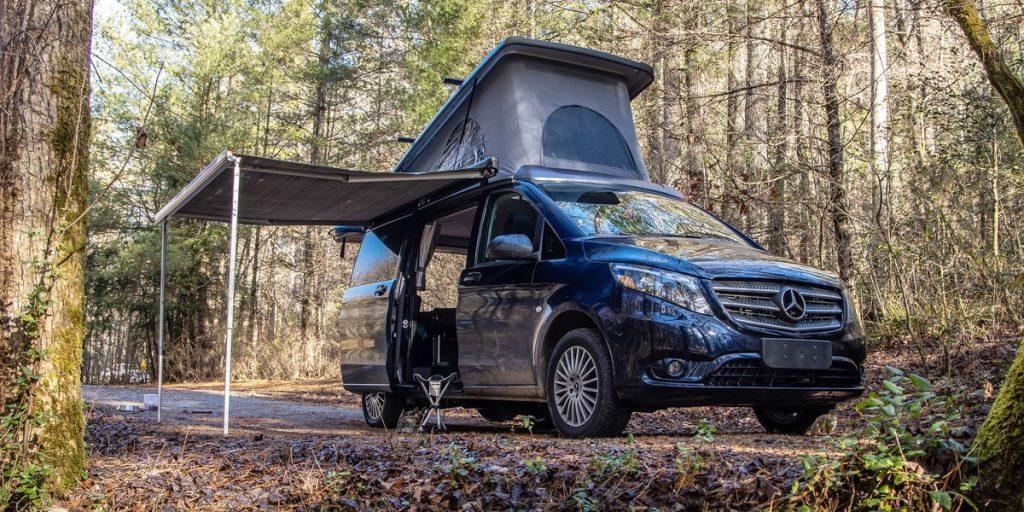 Mercedes Benz is one of the most luxurious car brands in the world. Whenever van life comes to mind the Mercedes Sprinter van series strikes. These are a type of cargo vans that gives you enough headspace even when you stand inside.
The only thing is these are very costly and most people can't afford to buy them.
Don't worry. Here is another model from Mercedes that can be used for your camping trips. This is Mercedes Benz Metris.
This van provides more room and interior space when compared with most of the minivans but is not as huge as a Sprinter.
Buying a Mercedes Benz Metris is quite affordable depending on the design you choose. When compared with most of the campervans in the market this van comes with a much higher payload capacity and can tow nearly 5000 pounds.
Pros:
Higher payload capacity.
Higher towing capacity.
Large space to store extra stuff for extended camping trips.
Easy to build out as it comes with a boxy design.
Cons:
Small fuel tank with 18.5 gallons.
Low fuel economy. It gives 19 miles in the city and 23 miles on the highway.
RAM ProMaster City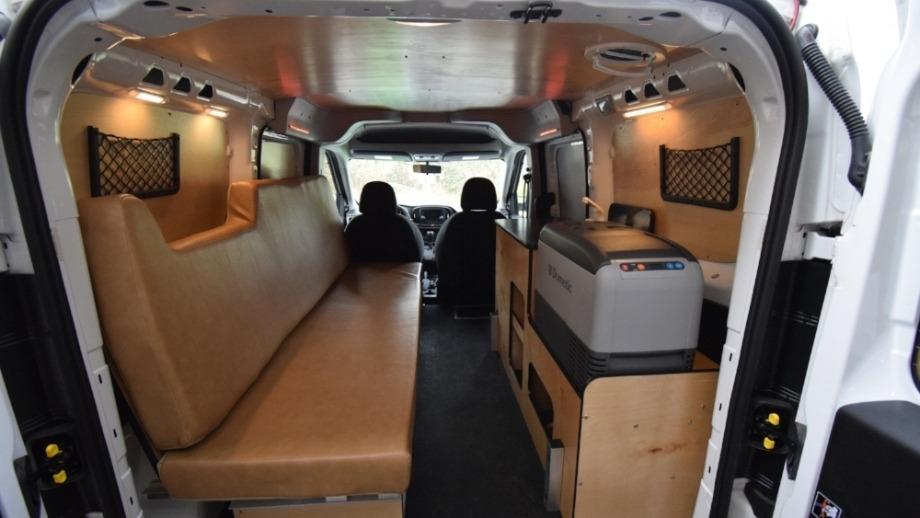 If you are looking for a van that can be specially used for camping trips then this one comes at a very reasonable price. The RAM ProMaster looks like the Mercedes Benz Metris in terms of looks and build.
But it is a somewhat taller and more boxy-shaped van when compared to Metris.
Also, this van comes with near-vertical interior walls that offer easy customization.
Unlike most campervans, this van does not come with a rear hatch to access the backside of the van.
They use a door split design that opens at an angle of 180 degrees. This will even make it easier to access camping equipment.
Pros:
As the van is more like a box shape with vertical walls, it can be easily customizable as a mini camper van.
Dual sliding doors.
Split back door design instead of hatch design.
Multiple models are available.
Unique storage options.
Better accessibility to gear as it is low enough.
Cons:
It was a bit shorter when compared with other vans. So it has a limited storage option.
Kia Sedona
If you are thinking of purchasing a family minivan for camping with your family then definitely you should look for a Kia Sedona.
It is one of the minivans that offer a large cargo storage capacity. With this huge cargo space, it is somewhat larger when compared with other minivans.
So it takes some time for you to drive and park this minivan in the city.
With such a large storage capacity you still dream of having even a large cargo storage capacity as we feel this is not enough.
So keeping this in mind Kia has designed the roof very flat so that you can even store more stuff on the top of the roof.
The only disadvantage of this van is the seats cannot be folded. Depending on how you use this van, you need to completely remove the seats to store extra cargo.
The middle seats can be folded, so you can have an excellent night in this minivan.
Pros:
With extended storage space, it is very effective for an extended camping trip.
Dual slide doors
A lot of window space so that you can have good ventilation and view.
Flat roof for additional storage.
A medium-sized fuel tank that stores 21.1 gallons.
Cons:
Will be difficult to drive and park in cities due to the length of the vehicle.
Low fuel economy or Low MPG. Gives 18 miles in the city and 24 miles on the highway.
Ford Transit Connect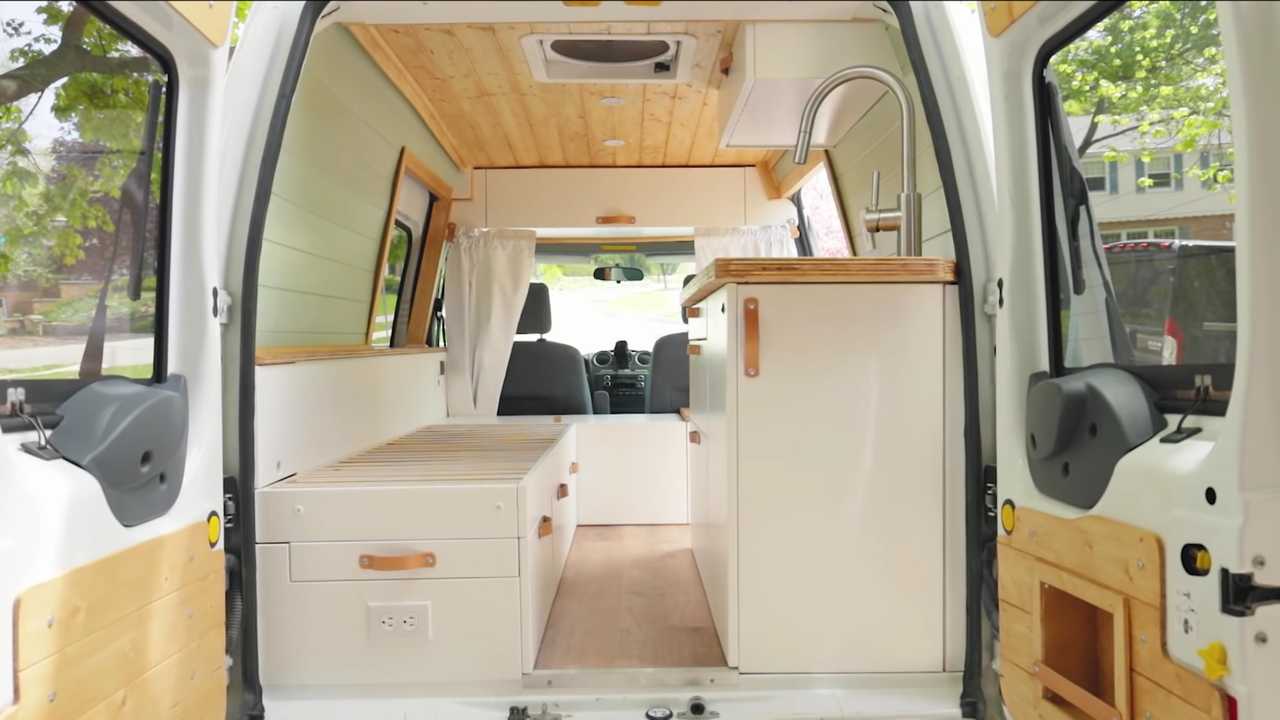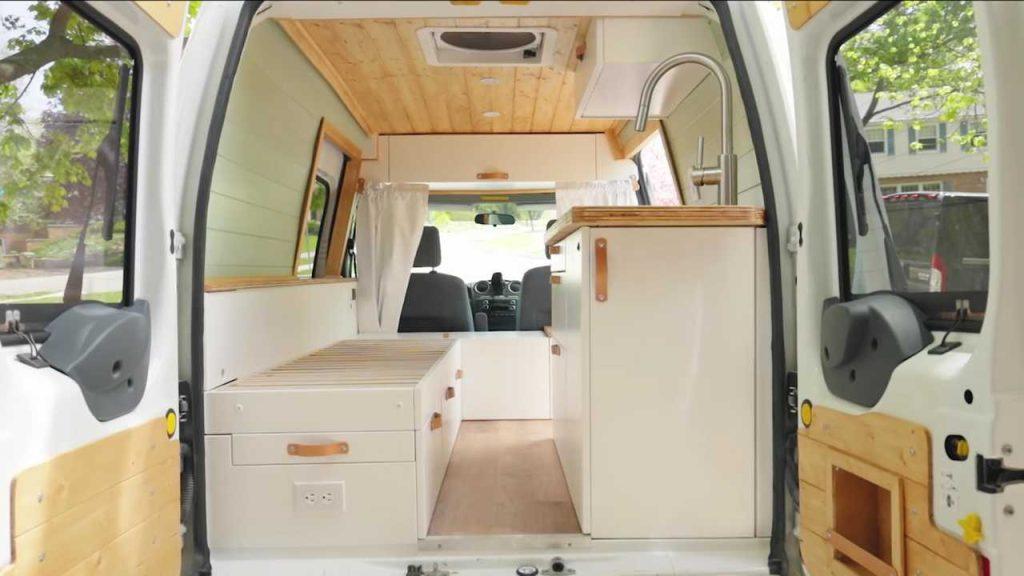 This is a minivan that is very similar to Mercedes Benz Metris and RAM ProMaster. This is an ideal van for camping. This Ford Transit comes with more headspace and offers even more cargo space.
The main advantage of this Ford Transit is it comes at a budget price.
The main advantage and the selling point of this vehicle are the size of the back and the fuel economy it gives.
These two make this Transit a great choice for many full-time RVers. There are different models and styles available when you are buying this Transit.
If you are looking for a camping vehicle then there is a cargo model that you can use for camping. This will eliminate you from having to deal with removing or reinstalling the rear passenger seats.
But you need to keep in mind that this can be used only for camping purposes
Pros:
Best price.
Good mileage. Gives 24 miles in the city and 29 miles on the highway.
Great interior space.
Offers more headroom when compared with other minivans.
You can select either split doors or hatchback design.
Cons:
As this vehicle is shorter in size when compared with other minivans, it will be difficult if you want to install a large bed.
Four-cylinder engine.
Honda Odyssey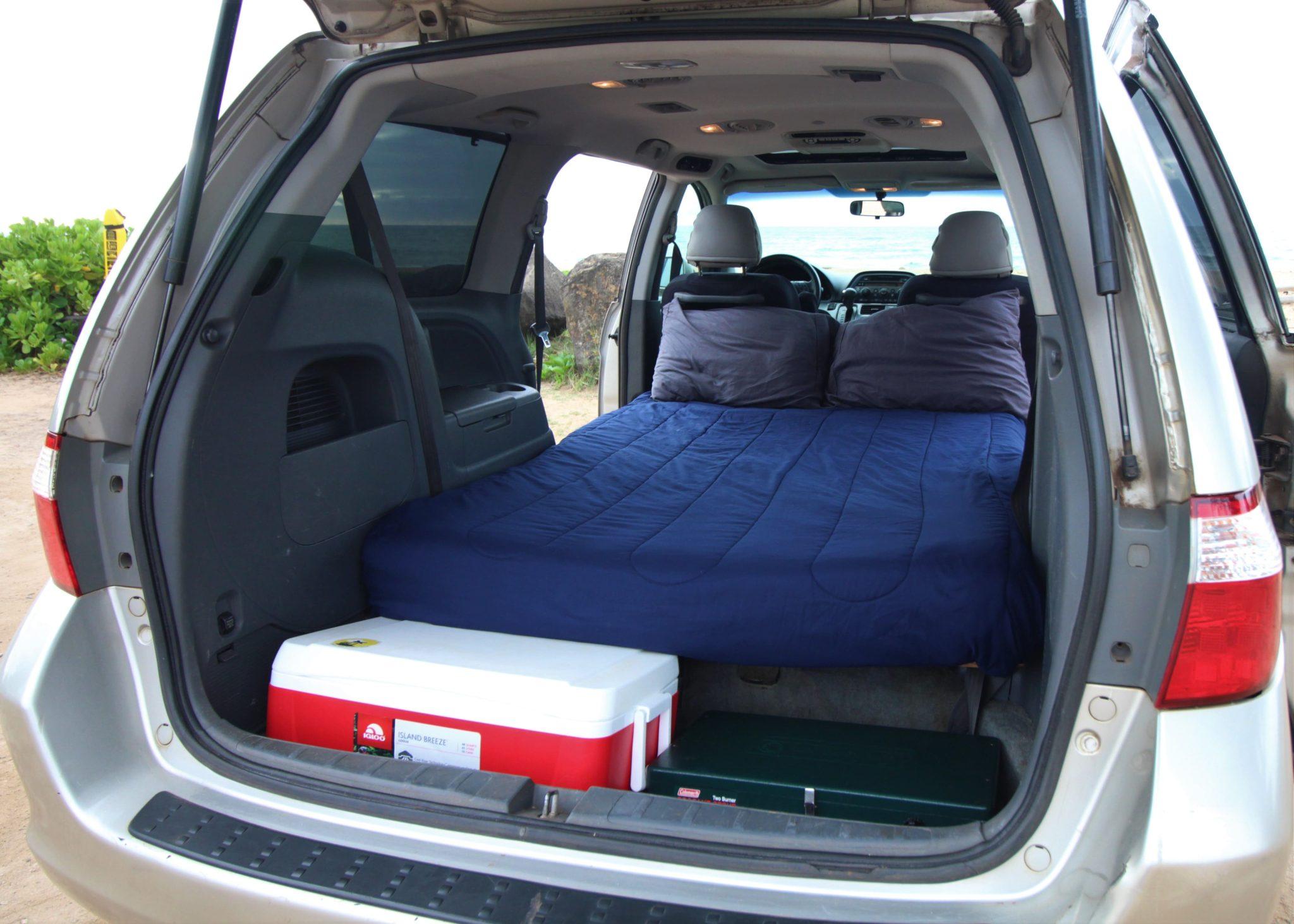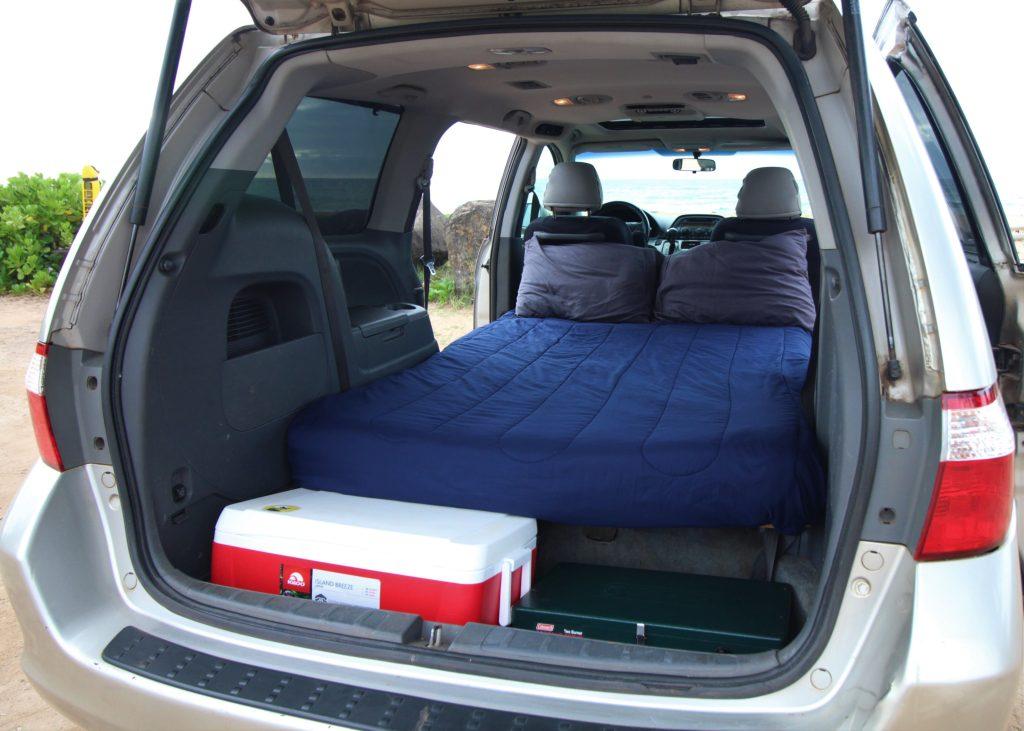 Honda Odyssey is considered one of the most reliable minivans for camping and traveling. The major selling part of this vehicle is that the parts are quite affordable and can be found easily even if you get stuck on the road.
You will also get a perfect interior space that will help you to set up a perfect platform for your sleep system. If you want to build out this van into a mini campervan you need to remove the rear passenger seats.
The best thing here is you can easily remove them and reinstall them whenever you want.
Pros:
Great storage space.
Extended length.
Reliable and long-lasting.
Easy to maintain as the parts can be found easily.
Additional features and multiple design options.
Cons:
You need to remove the seats. You can't put them inside.
Very average fuel economy.
Dodge Grand Caravan
If you want a minivan that is tough and rugged then this is the one you need. This minivan comes with a great cargo storage capacity which makes it one of the best American classics.
Even if you want to buy second-hand caravans from Dodge you can because you can find the parts easily like Honda Odyssey.
So this makes it one of the most popular minivans. You can even buy a second-hand caravan even though it is ten years old due to its ruggedness.
As you will find the parts easily it becomes easy to maintain this vehicle. If you are looking for a minivan that can do both duties like transportation and camping then this one will perfectly fit your choice.
Also, this van comes with a good fuel tank but the fuel economy is not that good.
The latest version of this vehicle came with some changes like you can stow the seat into the floor. This feature will help you if you want to store your camping stuff and also helps in transportation if you are not using it for camping.
Pros:
Stowable seats.
Great storage capacity.
Easy to maintain.
You can find the parts very easily.
Large storage space even when the seats aren't stowed.
Large hatchback storage.
You can choose either a four-cylinder engine or six-cylinder engine.
Cons:
Always high in demand, so it is not easy to buy a new one.
Not the best fuel economy. It gives 17 miles in the city and 25 miles on the highway.
Toyota Sienna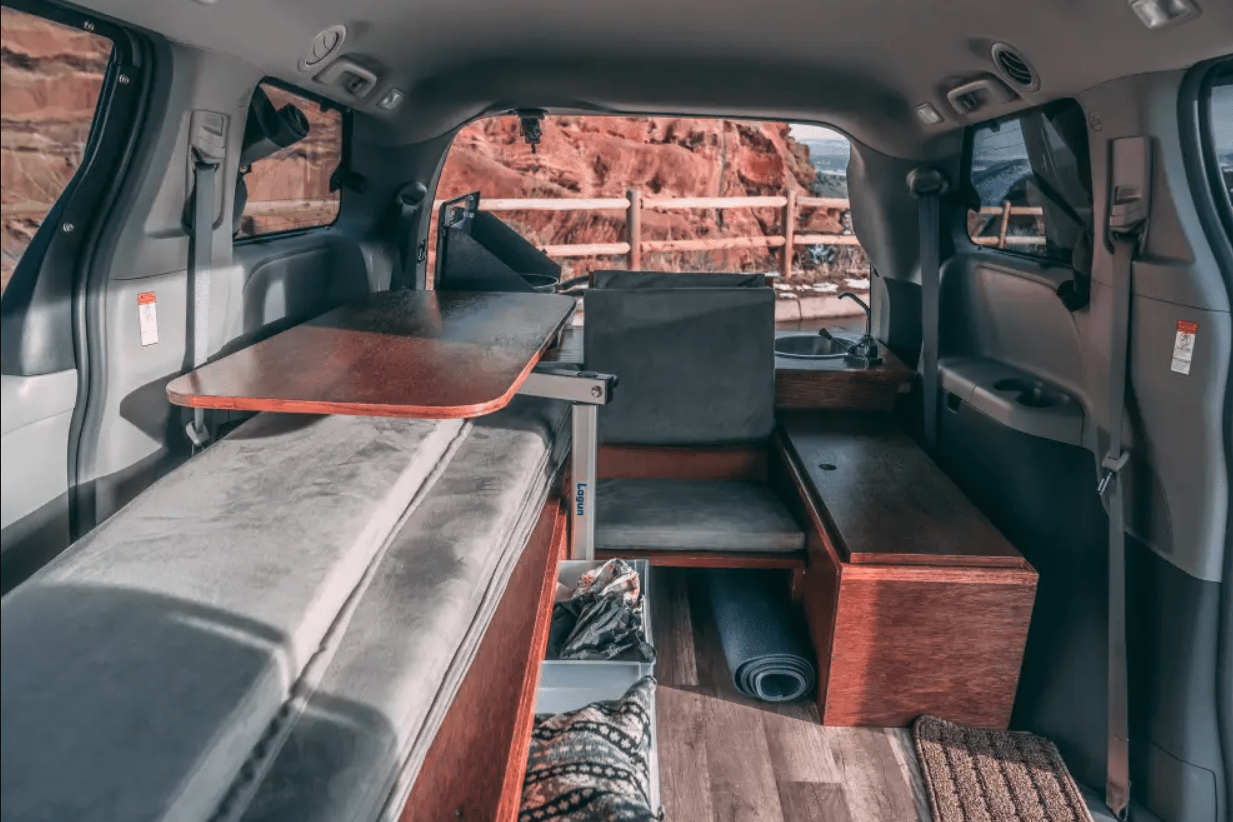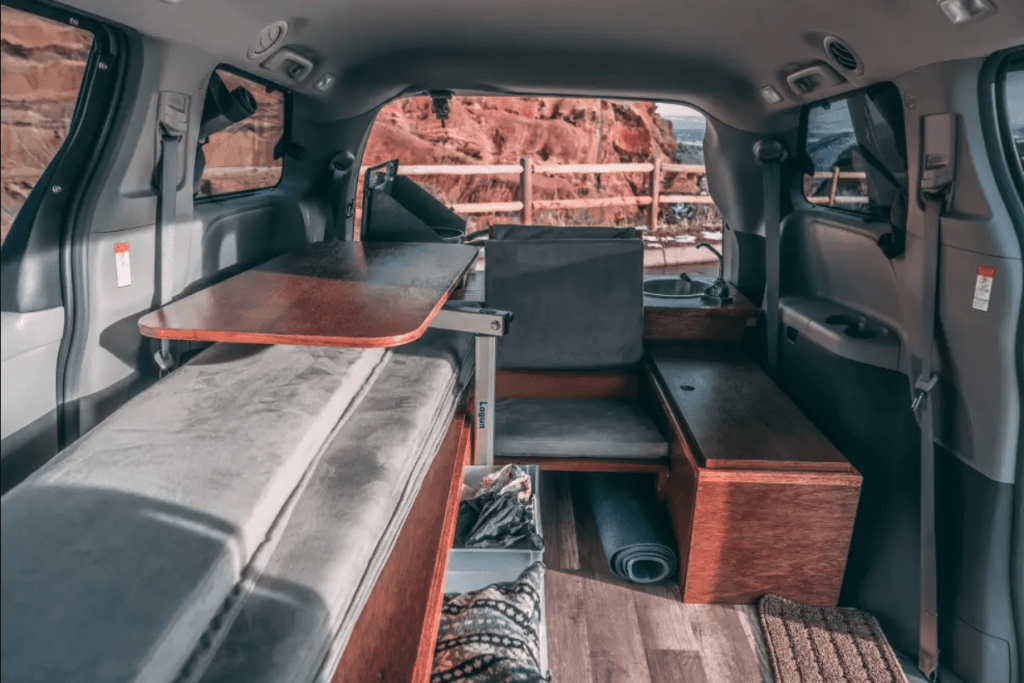 This is the best reliable minivan camper in the market. Even if you are buying a second-hand or older minivan from Toyota I bet this will last very long.
Also, this minivan comes with an AWD feature so it provides extra security during the winter season and on less-traveled roads. Even though it is not as good as a 4WD, having something is better than nothing.
The only disadvantage of this vehicle is that the ground clearance is not that good. The vehicle is designed very low to give you more headroom.
But this low ground clearance will make this vehicle fit even small parking areas or garages.
The seats present in the third row can be stowed into the floor so this gives you an extra storage option. If you want even more space you can remove the second-row seats.
Pros:
Comes with AWD.
Third-row seats can be stowed into the floor.
Good fuel economy.
Flat roof so you can add extra stuff on the top or you can install solar panels.
Removable second-row seats.
Cons:
Low clearance.
Limited additional features.
What Is A Minivan Camper?
A minivan camper is nothing but a minivan that is converted into a small camping vehicle that provides you a place to sleep and store camping stuff.
If you look at this from the inside you won't find anything interesting, but if you look from the inside you will find all your needs like a bed to sleep in, a cooler or an air conditioner, a kitchen with sink, etc.
You can look at these camper conversions to get an idea.
FAQ
Here are some of the FAQs that people ask when converting their minivan into a camper.
How Much Does It Cost to Convert a Minivan to a Camper?
The cost to convert a minivan into a camper depends from person to person. You can convert a minivan into a camper for just $400. If you want to include more features the cost will become even higher. If you can build it from DIY and scrap you can even save more.
Which Minivan Makes the Best Camper Conversion?
These are the best Minivans you can use for your camper conversion.
Toyota Sienna
Honda Odyssey
Nissan Quest
Chrysler Pacifica
Kia Sedona
Dodge Grand Caravan
RAM ProMaster City
Nissan NV200
Mercedes-Benz Metris
Ford Transit Connect
Is It Worth Turning Your Minivan into a Camper?
If you want to make your camping affordable then for sure turning your minivan into a camper is an excellent option. First, you will save money by not purchasing a new campervan or RV.
The second thing you will save is on fuel and insurance. Also, you can easily find parking slots as these are just the size of a minivan.
Can you use a minivan as a camper?
Of course. You can use a minivan as a camper. When it comes to camper conversion no other vehicle is better than a minivan.
You can quickly convert a minivan into a campervan and use it as a camping vehicle.
Minivan Camper Conversions Gallery
Conclusion
Choosing the best minivan for camper conversion is challenging. It all depends on the person. The minivan that looks good for me may not look good for you.
The main deciding factor here is how you want to use your van. If you are thinking of using it as a weekend camping vehicle or if you need to use it as a full-time camping vehicle, or if you need to use it for both transport and camping purposes.
Ultimately it's up to you.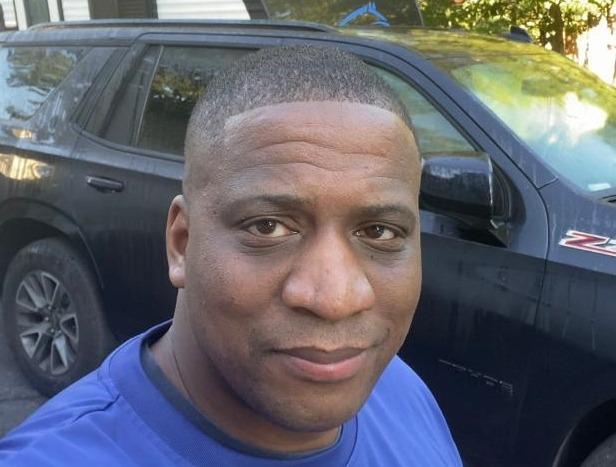 I`m a current Law Enforcement Officer working within the Counterterrorism Bureau in New York State. I have been Camping for over 20 years. My styles of camping include tent, car, truck, van, and RV travel trailer. I have a YouTube channel where I teach all types of camping with an entertaining method: https://youtube.com/@TheSmallsRVAdventures