Forest River 5th Wheels Best To Worst: 8-Models Based Detailed Guide
Are you looking for the Forest River 5th Wheels, best to worst? You are on the right blog post. I have used these vehicles for almost 7 years and know their nuts and bolts well. Continue reading, as I'll list the positives and negatives of Forest River 5th Wheel. Moreover, I will also rate 8 different models of this RV, ranking from best to worst. So, without any delay, let's get started.
Advantages and Disadvantages of Forest River RV
Before we get into details of different models of Forest River RVs, look at the positives and negatives of this recreational vehicle.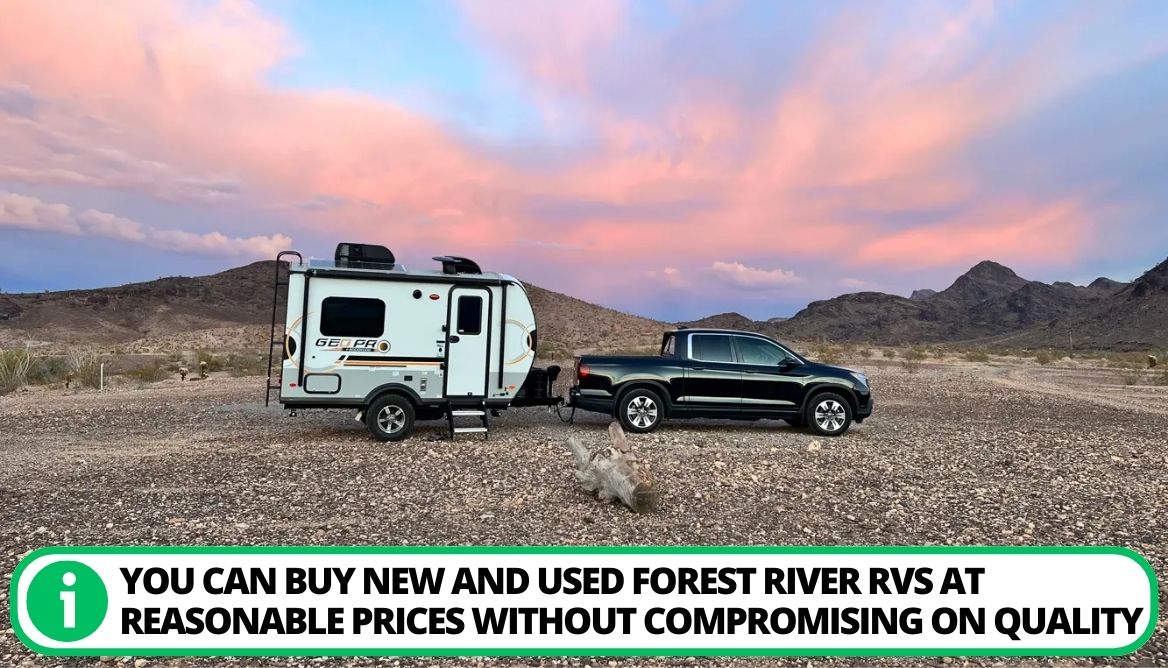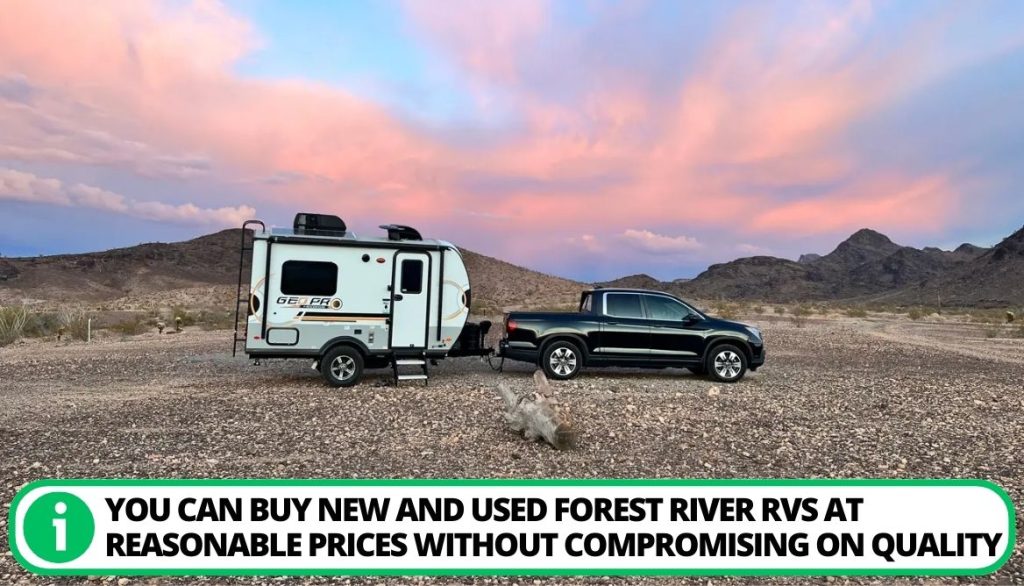 Benefits
I have listed below some of the benefits of Forest River RV. Read on to learn more:
Diverse Model Range: Forest River 5th Wheel has a variety of models and floor layouts that can be customized to your tastes.
Budget-Friendly Options: You can get new and used Forest River RVs at reasonable prices that guarantee accessibility without sacrificing quality.
Customer Approval: Many customers have given these Forest River RVs positive reviews, illustrating their satisfaction with the vehicles and the enjoyable experiences of their travels.
Nationwide Dealer Network: You can also take advantage of their extensive nationwide dealer network, which offers assistance and convenience no matter where your travels take you.
Drawbacks
The following are some negative features of the Forest River RV:
Build Quality Concerns: Several consumers have expressed dissatisfaction with specific parts of the construction quality, bringing up concerns.
Craftsmanship vs. Price: Few clients believe that the craftsmanship is average to the price range.
As we have gone through the pros and cons of Forest River 5th Wheel, let's see which products they offer.
Forest River Products Line
Forest River offers various recreational vehicles that cater to different needs. Have a look at them:
| | | | | |
| --- | --- | --- | --- | --- |
| | | | | |
| | | | | |
| | | | | |
| | More storage space than class C | Available at a lower price as compared to both vehicles | | |
An Overview of Forest River 5th Wheels Best To Worst
Forest River RV started its RV business back in 1996 as an RV brand. However, the company was not that famous until the billionaire Warren Buffet decided to take on it in 2005. Since then, the Forest River has grown tremendously.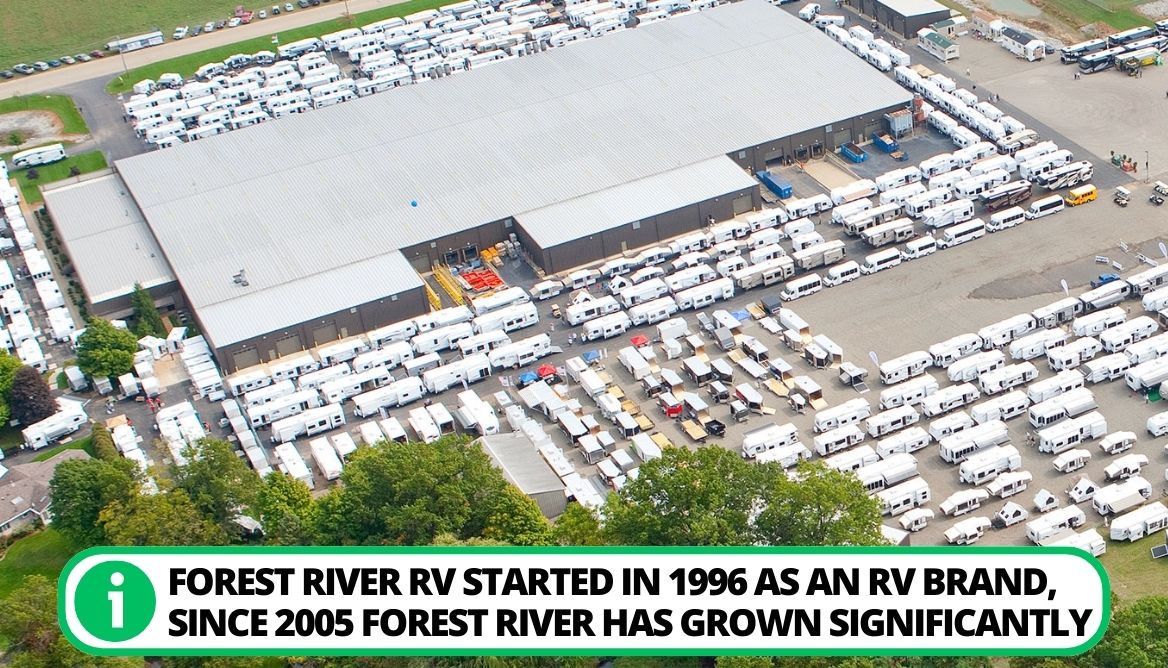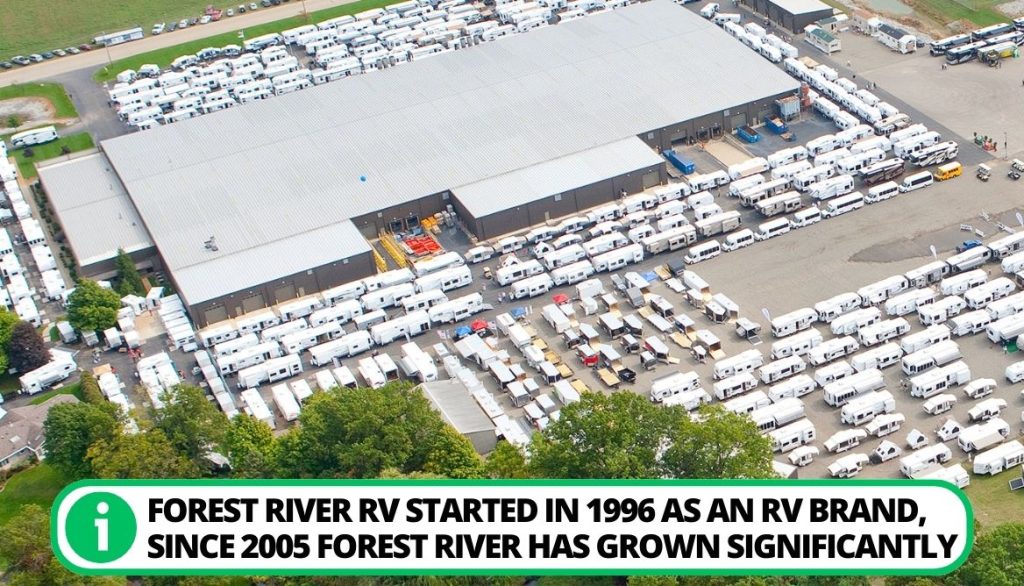 According to the Forest River RV business:
In 2020, Forest River held a significant market share of 40.2% for towables and 24.3% for Class A and Class C motorhomes in the RV sector.
In fact, they are giving Thor Motor Coach serious competition by taking second place.
Moreover, over the years, Forest River RV has acquired other RV brands, such as:
Coachmen;
Dynamax;
Prime Time;
Palomino;
Shasta;
Keystone Montana;
East To West.
Now that we have an overview of the Forest RVs, let's shed light on some of the best fifth wheels by Forest River which are the Forest River Wildcat, Forest River Cardinal, Salem Hemisphere, Cedar Creek, and Riverstone Legacy. These fifth wheels are known for their spacious interiors, luxurious amenities, and durable construction.
On the other hand, Sierra, Riverstone, and Sandpiper are not the most appreciated models. The following section highlights the best and worst models in detail.
The Best of Forest River: A Review of Their 5 Best Fifth Wheels
Listed below are the 5 most-known Forest River RVs. Let's explore them one by one in detail.
1. Forest River Wildcat
The Forest River Wildcat is a luxurious and cozy travel trailer with several amenities to make your camping experience easy and pleasurable.
However, its most attractive feature is its extensive range of flooring options, ranging from 30 to 43 feet long. Hence, Forest River Wildcat is ideal for families.
Moreover, other features of this luxurious RV are as follows:
The RV features a vacuum-bonded welded aluminum structure, laminated sides, and a welded aluminum frame for solid construction.
The RV has a 32″ friction-hinged entry door, tinted glass, and pass-through storage.
For comfort and convenience, the RV is outfitted with stainless steel appliances.
Because of its robust construction, spacious interior, and advanced entertainment systems, Forest River Wildcat is the ideal choice for anyone who likes to travel in luxury.
2. Forest River Cardinal
Cardinal series from Forest River has been on the radar since 1998 and has been catering to people who are looking for luxury. Forest River Cardinal Fifth Wheel is also a part of that series and surfaced in 2022 for the first time.
Let's shed some light on the features of this vehicle:
Cherry hardwood panels and satin nickel plumbing fittings are among the standard features that give the RV's interior a luxurious feel.
This RV boasts modern designer furnishings, exquisite hand-crafted cabinets, and a well-considered, functional floor.
Additionally, it offers a built-in refrigerator, washer, and dryer. Other notable features include a chef-style kitchen, a cozy living area, and a peaceful bedroom.
Thanks to its Cardinal Design, the camper can experience luxury and convenience. Whether you are traveling from Montana to Florida for a short weekend trip or staying for a more extended period, Forest River Cardinal can take your journey to the next level.
3. Forest River Hemisphere
Forset River Hemisphere is an alternative to the luxurious fifth wheels. There are 2 variants of this vehicle; Salem Hemisphere Fifth Wheel and Salem Hemisphere Travel Trailers. This vehicle has been under my use for almost 1 year when I was camping at Double Nickel Campground and Resort.
Let's see what remarkable features this RV offers!
The living room features opposing slides, an island, and a large pantry.
The bunk room has a half bathroom, a loft above, a slideout Versa queen, and an entertainment center.
An RV-specific king bed slide and stackable washer/dryer setup are features of the main bedroom.
It is one of the visually striking masterpieces because of its lovely interior and large windows that provide a broad, horizon-spanning view.
Because of its wind-resistant construction, the Salem Hemisphere Fifth Wheels are intended to deliver a smoother ride and increase fuel efficiency. Moreover, standard characteristics and floor layouts vary according to the region in which it is offered.
4. Forest River Cedar Creek
Cedar Creek series comes in 3 versions; Cedar Creek, Cedar Creek Cottage, and Cedar Creek Experience. Cedar Creek has been my favorite because of its compact design and great management of space.
Have a look at the features of this RV to understand it better:
It offers a spacious main bedroom, including a king-sized bed.
There is a large panoramic windows that allow for an abundance of natural light.
There is an outstanding entertainment system in a comfortable living room.
The Residential-style kitchen offers a large storage area and counter.
The detachable hitch, all-aluminum structure, and King Wi-Fi router/range extender are some of the other notable features of the Forest River Cedar Creek.
This 5th-wheel trailer is equipped with Dexter heavy-duty axles with E-Z lubricate hubs, which are resistant to severe weather and rough roads.
5. Forest River Riverstone Legacy 38re
With an aluminum body and fiberglass structure wall, Legacy 38re is another RV that has been praised by a lot of customers. It comes in the price range of $125k – $130k and offers 12 months warranty.
Here is a quick look at the appealing features of this quality RV:
It offers five slides with a peninsula countertop and a separate living room included.
There is a king-size bed with a walk-in closet and bathroom.
The RV has dimensions of 13.33 feet high, 8.5 feet wide, and 43.17 feet long.
It weighs 16,781 pounds dry, has a 2,249-pound payload capacity, and has a 19,030-pound gross vehicle weight rating.
This RV features a spacious kitchen area and a big entertainment center.
Last but not least, it boasts the greatest maximum basement storage in the industry, which is one of its primary selling factors.
If you are an RV fan and love going on long trips and adventures like me, this is the most suitable choice. This RV camper makes your trips super comfortable as you can sleep and live there.
Forest River Fifth Wheel Trailers to Avoid: A List of the 3 Worst Models
Although Forest River often offers excellent fifth-wheel vehicles at competitive costs, I have discovered a few subpar models among them. The following 3 vehicles are among the worst I have ever seen. Let's get into the details.
1. 2017 Forest River SIERRA 357TRIP Fifth Wheel
The 2017 Forest River SIERRA 357TRIP Fifth Wheel features a master bedroom, Mobile suites, a living room/entertainment area, and six slide-outs for ample storage. However, the following explains why this vehicle is on the worst list: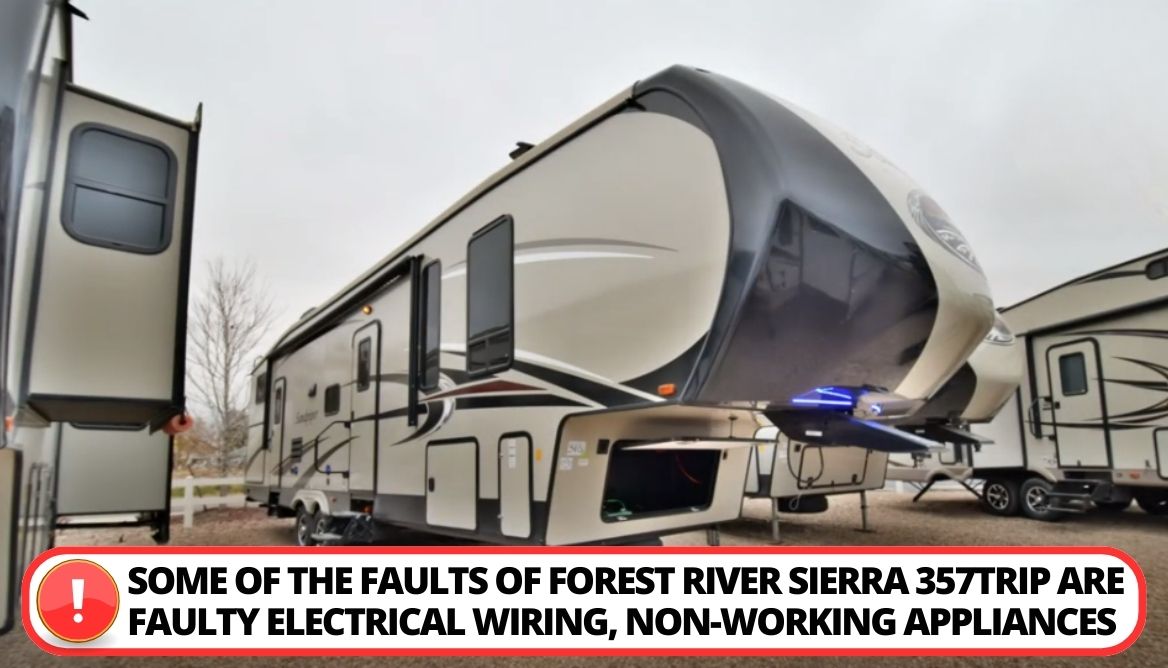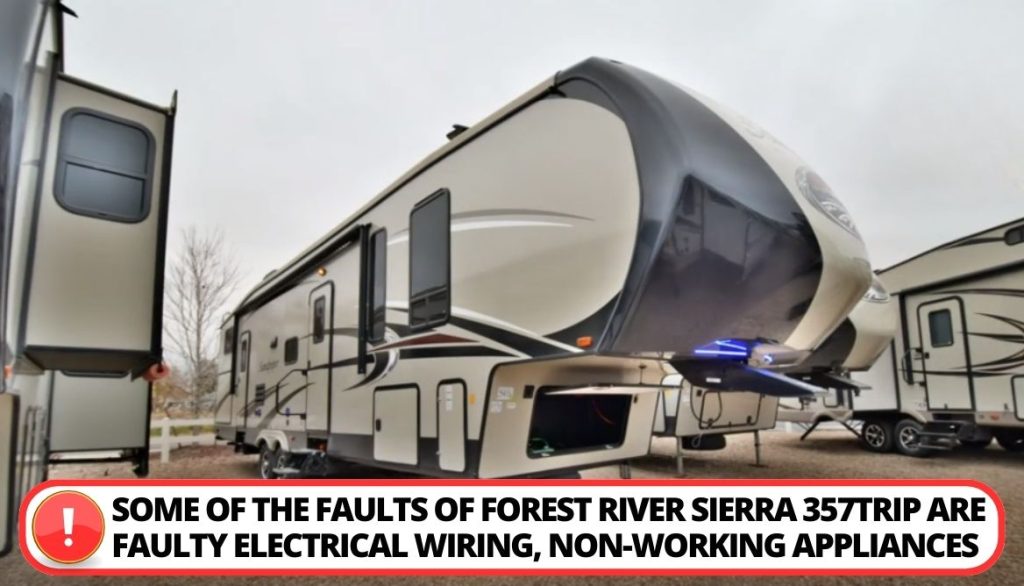 Faulty electrical wiring: A severe fire danger is associated with poor electrical wiring.
Weak floors: The chance of flooding increases with insufficient floor strength.
Appliances not working: Many consumers reported that appliances are not working correctly.
You must avoid this RV for safety concerns. Moreover, these kinds of issues are unbearable for a vehicle that costs between $60000 and $70000.
2. 2021 Forest River Riverstone LEGACY 39RKFB 5th Wheel
The Forest River Riverstone Legacy 39RKFB is a massive letdown for a recreational vehicle that costs more than $40,000. Mentioned below are some reasons why it is considered the worst 5th wheel.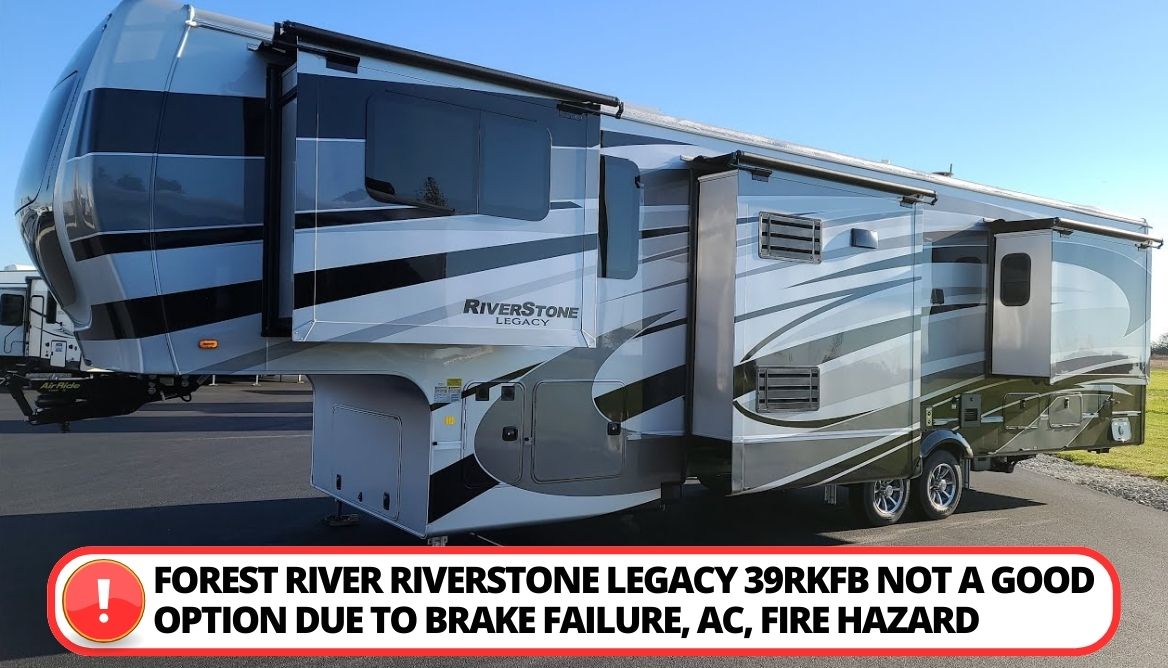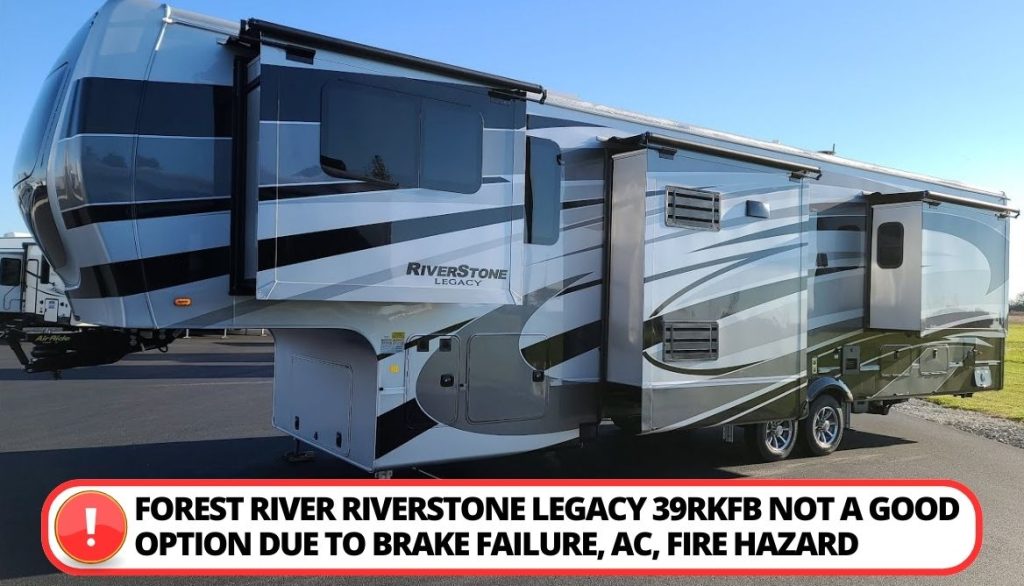 Brake failure: The actuator does not engage with the brake controller. Due to this, the interior walls are damaged, and smoking and melting occurred during troubleshooting.
Inadequate air conditioning: Even on low settings, the front air conditioner struggles to circulate air, gets stuck, and leaks ice into the living room.
Malfunctioning subwoofer: The subwoofer is not working properly. Sometimes, there were connectivity problems with the speakers and subwoofers.
Fire hazards: Every time a fire breaks out, the smoke detectors installed inside this RV are not trustworthy enough to find the smoke coming from the fire.
I would not recommend this RV to you because of its serious dangers and a lack of comfort in the rear living.
3. Forest River Sandpiper 378FB
Customers who drive the Forest River Sandpiper 378FB only experience disappointment. Let's see why I rate this vehicle on the worst RV list.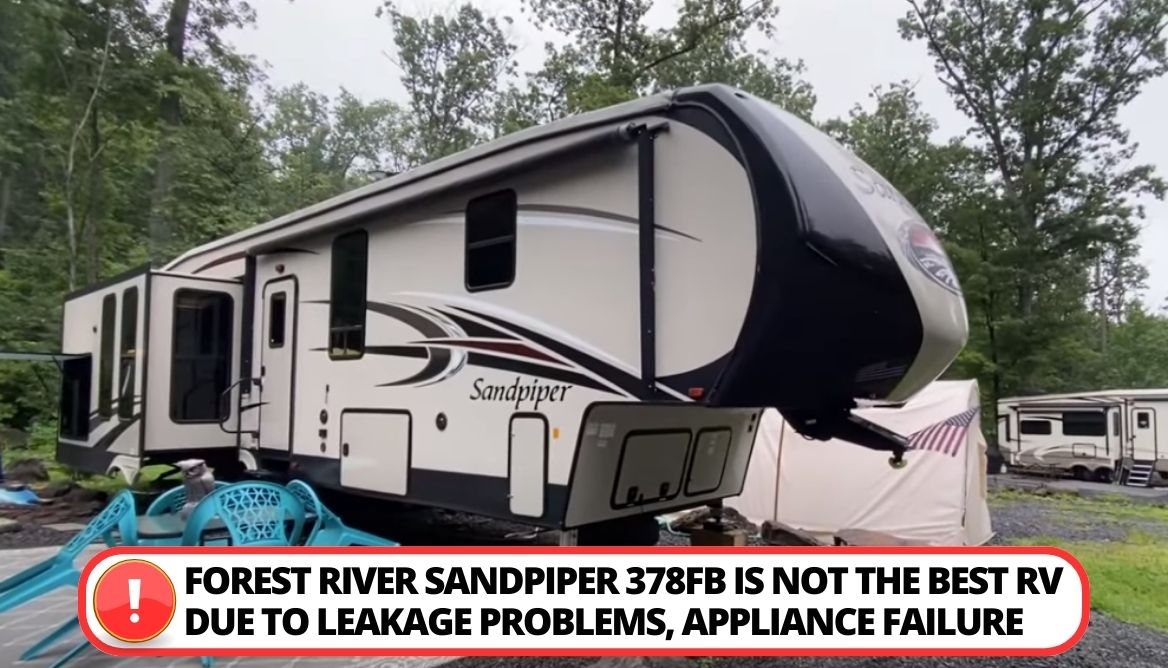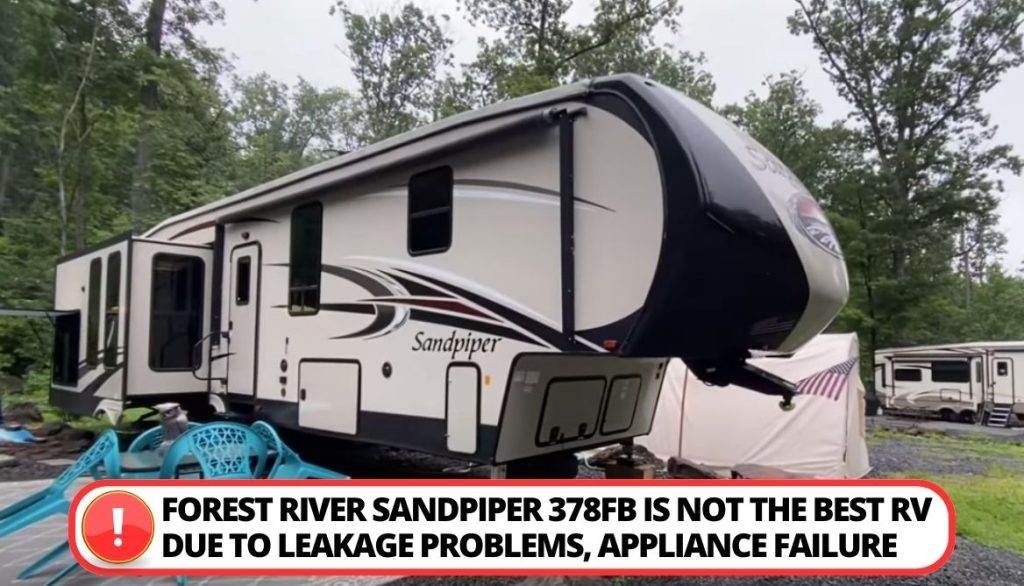 Leakage issue: The refrigerator broke during traveling and began to pour water onto the floor, resulting in constant flooding.
Appliances are malfunctioning: Many appliances are not functioning properly. Even the oven and charging ports start suffering after the usage of a couple of months.
Improper placing of electrical plugs: Many customers complain about the improper placement of the electrical plugs. For example, there is no sense in putting a plug behind the main door.
Forest River RV: User Reviews and Ratings
When I checked with many Forest River 5th Wheel owners, they gave mixed reviews. On Forest River's BBB profile, most comments and complaints revolve around the post-purchase experience. Customers may become irritated for the following reasons:
Problems with brand-new vehicles are not immediately resolved.
Dealerships need months to service an RV.
Processing warranty claims between Forest River and the dealership could be faster.
Forest River RV disputes with clients on the definition of a manufacturing defect.
On the other hand, some were positive about their vehicle and praised it:
One RV owner said that the king-size bed, sofa bed, and table bed are all comfortable to sleep on.
The other one said Forest RVs have the best floor plan and sufficient storage space in them.
The Pros and Cons of Buying a Fifth Wheel from a Dealer or a Private Seller
When buying a fifth wheel, you have two choices: private sellers or dealers. Although many individuals successfully buy fifth wheels from different sources, I recommend you buy from a trustworthy dealer.
Let's look at the pros and cons of buying a 5th wheel from a dealer.
Perks of Buying a 5th Wheel From A Dealer
Here are some benefits of buying a 5th wheel from a dealer:
Dealers usually stand behind their products if something goes wrong and provide better warranties.
Dealing with a dealer doesn't limit you to new models. However, many dealers also have used vehicles on their properties.
Drawbacks of Buying a 5th Wheel From a Dealer
The major problem is that those on a tight budget may need help to afford the desired fifth wheel. This is because dealership markups on fifth wheels can be greater than anticipated.
Perks of Buying a 5th Wheel From a Private Seller
The main advantage of buying a 5th wheel from a private seller is that it is budget-friendly. You can save money by purchasing a secondhand RV.
Moreover, if you buy from a private seller, just do your homework and carefully inspect the RV before making any judgments.
Drawbacks of Buying a 5th Wheel From a Private Seller
Here are some notable cons of buying this RV from a private seller:
People will do everything to sell anything they want to get rid of, so you must take caution.
There is no customer protection with private sellers. You are solemnly responsible if you find any defect in the vehicle, even after 1 day of buying.
Pro tip: Whether you are buying your RV from a dealer or a private seller, it is essential to inspect the RV by a professional inspector and learn about its entire history.
FAQ
What is the top-of-the-line Forest River trailer?
The Berkshire XLT diesel pusher class A motorhome is the top-of-the-line wheel trailer offered by Forest River. With four distinct floor plans and two bathrooms, it offers more facilities and conveniences than one could find in a typical house.
Where can I buy a Forest River 5th wheel?
You can buy a Forest River 5th Wheel from authorized Forest River dealerships or online RV marketplaces.
What should I do if I have problems with my Forest River 5th Wheel?
If you have a problem with your Forest River RV, immediately contact Forest River customer service or refer to the owner's manual for troubleshooting.
Conclusion
Summing up Forest River 5th wheels best to worst, the Forest RVs are trendy because of the wide variety of vehicles available over a wide range of budgets.
Forest River Wildcat and Cardinal are the favorite RVs considered by users due to their strong aluminum structure, reliable electrical appliances, and wide storage areas. On the other hand, the 2017 Forest River SIERRA 357TRIP Fifth Wheel and Forest River Sandpiper 378FB have terrible user reviews. I would recommend you to stay away from them.
It is best to get your vehicle from a reputed dealer. Nonetheless, practicing caution and getting help from experts can help you make a better buying decision. Which Forest RV are you using? Let me know in the comments section.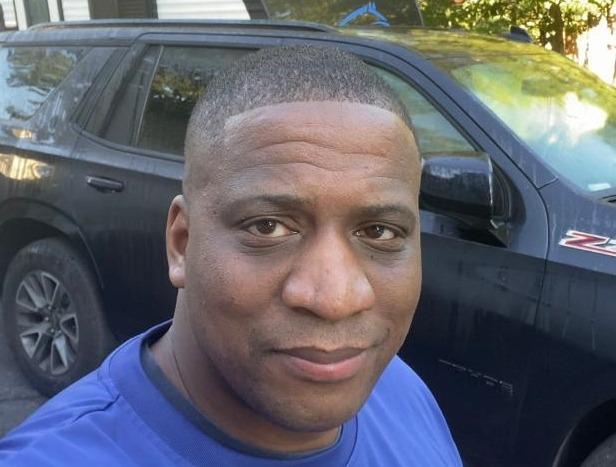 I`m a current Law Enforcement Officer working within the Counterterrorism Bureau in New York State. I have been Camping for over 20 years. My styles of camping include tent, car, truck, van, and RV travel trailer. I have a YouTube channel where I teach all types of camping with an entertaining method: https://youtube.com/@TheSmallsRVAdventures