Best Custom Sprinter Van Conversions [+Gallery]
Sprinter van conversions have been increasingly popular over the last couple of years.
And the reasons are that Mercedes Sprinter vans are durable, good-looking, have a reasonable amount of space, and get great gas mileage.
However, is it really worth it, and what is the real cost behind such a custom van conversion?
A brand new Mercedes Benz Sprinter will cost you between 36,000$ and 44,000$


And that's the base of it. Then you'll still have to build your adventure van, which can cost you anywhere between 10,000$ for a DIY conversion or between 50,000$-100,000$ for a custom build by a company.
So it can get pretty expensive but don't worry. In this article, we are going to present you with the best sprinter van conversions, some recommendations for companies you can use, and also overall tips that can help you with converting your van.
Best Sprinter Van Conversion Companies
If you decided to go with a company for your conversion then that's great! Here are some companies that can match any budget.
Sportsmobile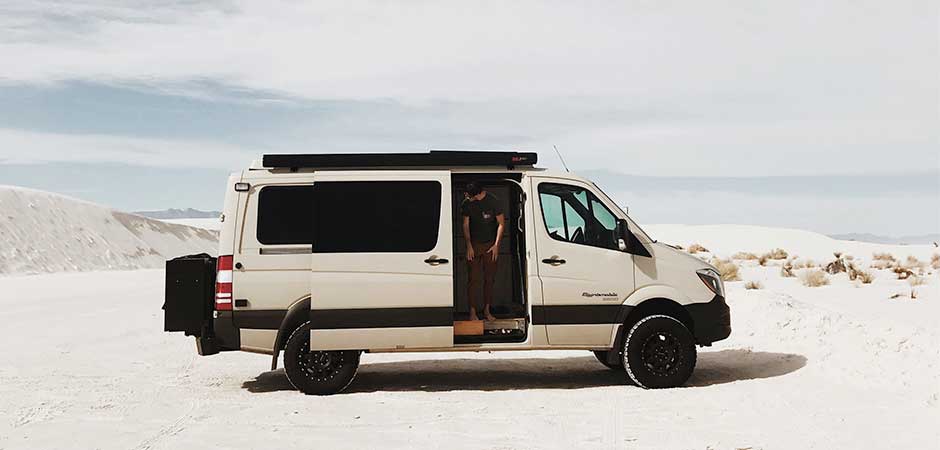 Sportsmobile is one of the van conversion veterans been in this business since 1961 so they know what they are doing.
One of the benefits of working with them is that they have a network of dealers that offer auto financing of up to 100% of the van and 50% of the conversion.
Sportsmobile is one of the companies that can make conversions on a variety of vans including Mercedes Metris, Ford Transit, Dodge ProMaster, Chevy/Ford E-van, and Sportsmobile Classic 4×4.
The cost starts at 35,000$ and includes a 2,000$ deposit that is non-refundable.
You can simply start with our van model, choose whether you want high or low roof height, pop-top and if you want a diesel or gas engine.
Then you can start choosing from Sportsmobile's list of features and options.
Their production time is usually about 3 months.
Outside Van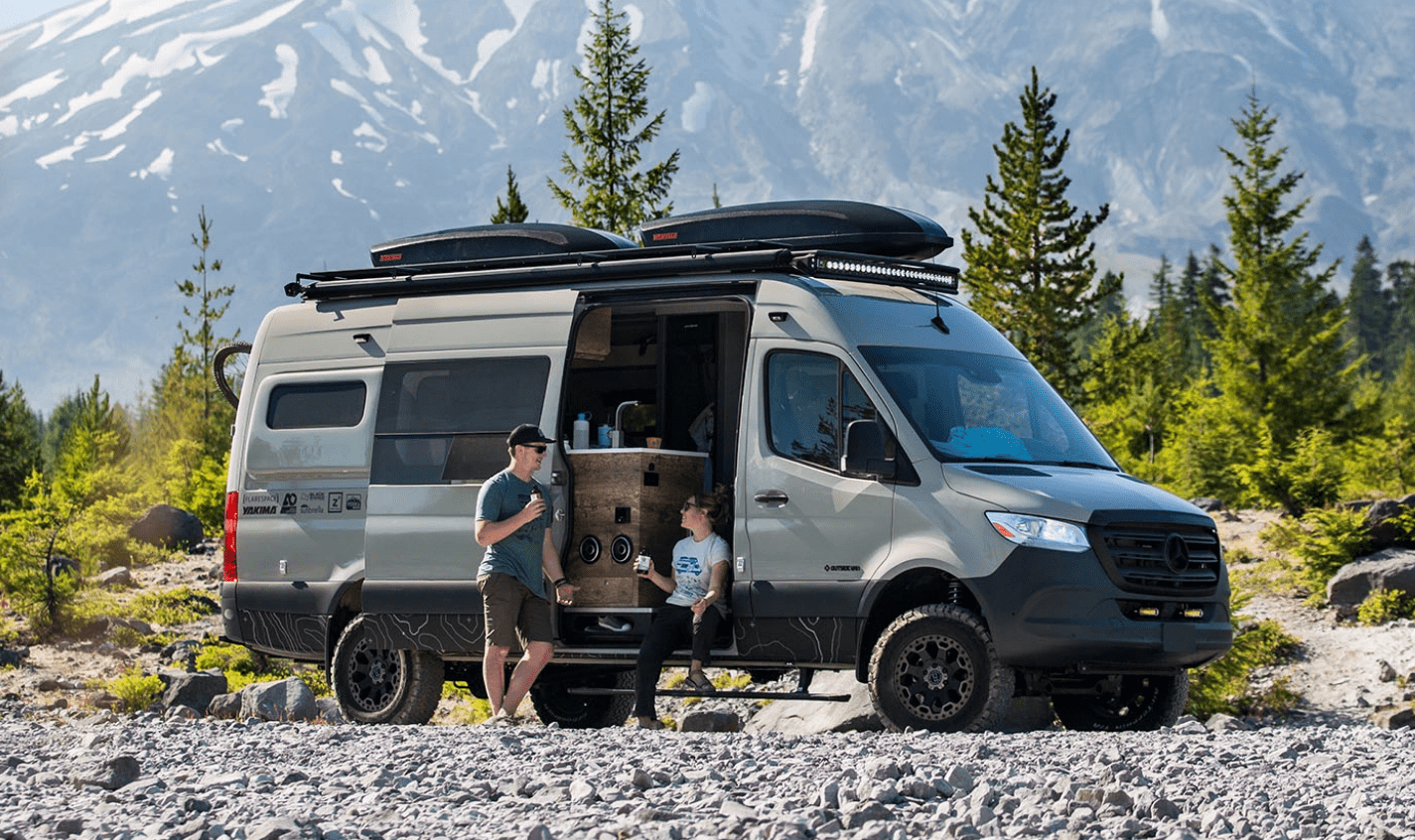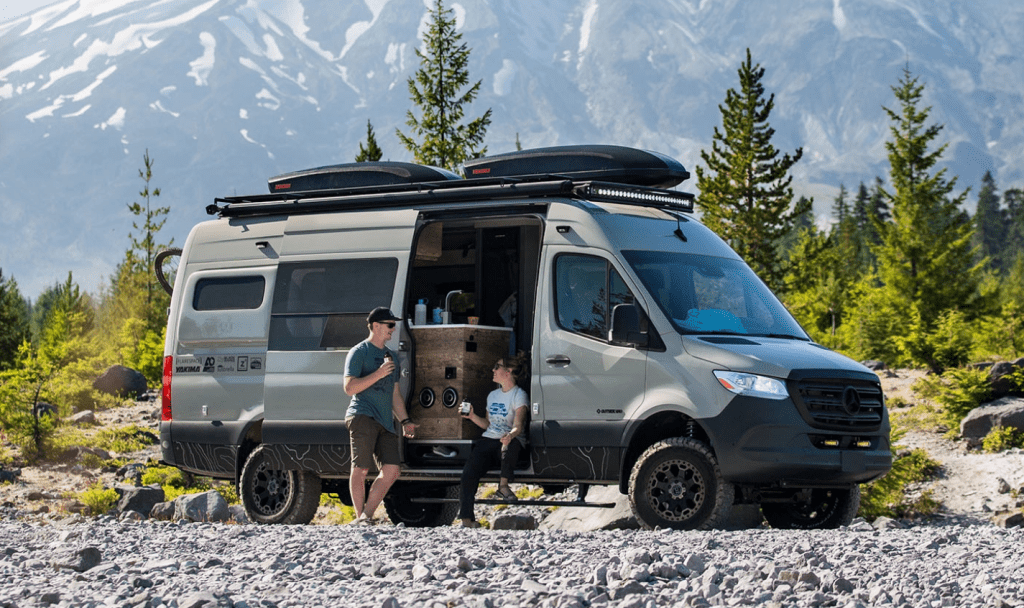 Outside Van was officially established in 2007 and now they are a leader in the custom van conversion industry.
The company does more than 100 conversions a year and has a lot of happy customers.
Their specialties are Mercedes-Benz Sprinters and Ford Transits that are 2007 or newer.
The cost starts at 32,000$ which includes a 2,000$ refundable deposit.
They have over 75 skilled employees and the production time is from 2 to 4 months depending on the complexity of the project.
Van Specialties
Van Specialties are another sprinter van conversion company and are another veteran of the game.
Founded over 40 years ago their mission is to help clients completely customize their own vans for living tiny and functionally.
Their conversion prices start at a lower rate than the other companies so that's great for people looking for a more affordable but still very decent option.
The cost usually starts at 15,000$ that includes a 1,000$ deposit and the production time is between 4 to 8 weeks depending on the build you want.
Best Turnkey Sprinter Vans
Mercedes Benz Getaway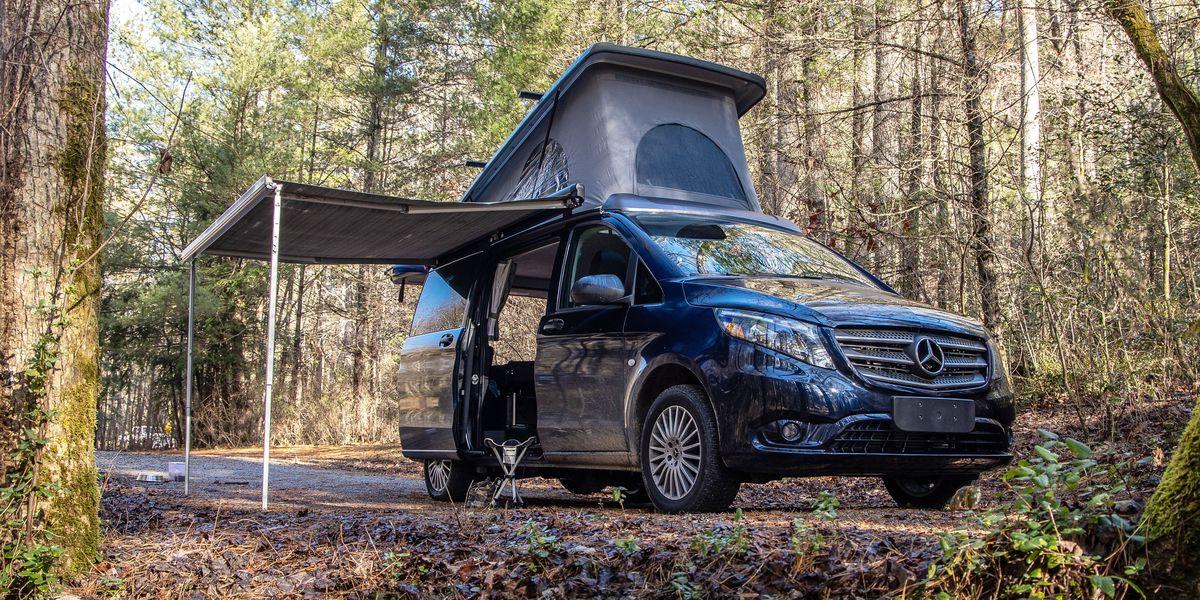 Or also known as Mercedes Weekender, this is basically a factory campervan offer.
It has a back bench seat that converts to a sleeping bed for two and an elevating rooftop that creates more standing space.
You can add a lot of extra options like solar panels, pullout rear kitchen, awning, sliding door, and others.
If you are looking to buy this van then you should expect to spend about 60,000 to 70,000$ for the base version.
This is one great-looking, gritty vehicle perfect for van life.
Airstream Interstate Nineteen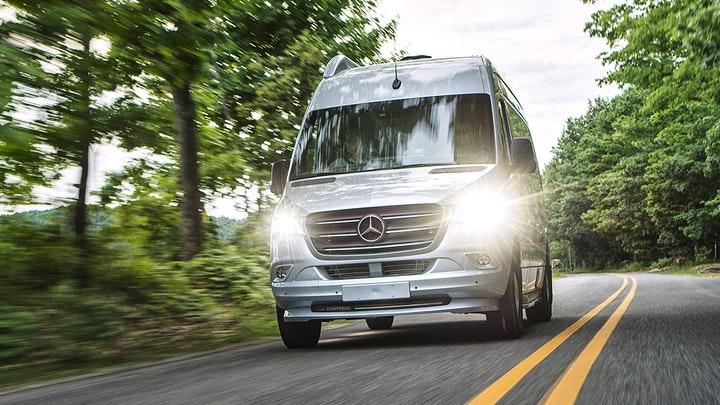 This luxury campervan, based on the Mercedes Benz Sprinter van, includes a fold-out bed, a bathroom, kitchen, and swiveling front seats that can rotate to face the interior.
Its length is exactly nineteen feet and It can easily fit into a standard parking space and it's really comfortable to drive.
Basically, for about 165,000$ you are getting Airstreams'best-selling B class motorhome just in a smaller and more compact package.
If you are looking for some couple time or you wish to explore the wilderness by yourself then this van is perfect for you.
Winnebago Solis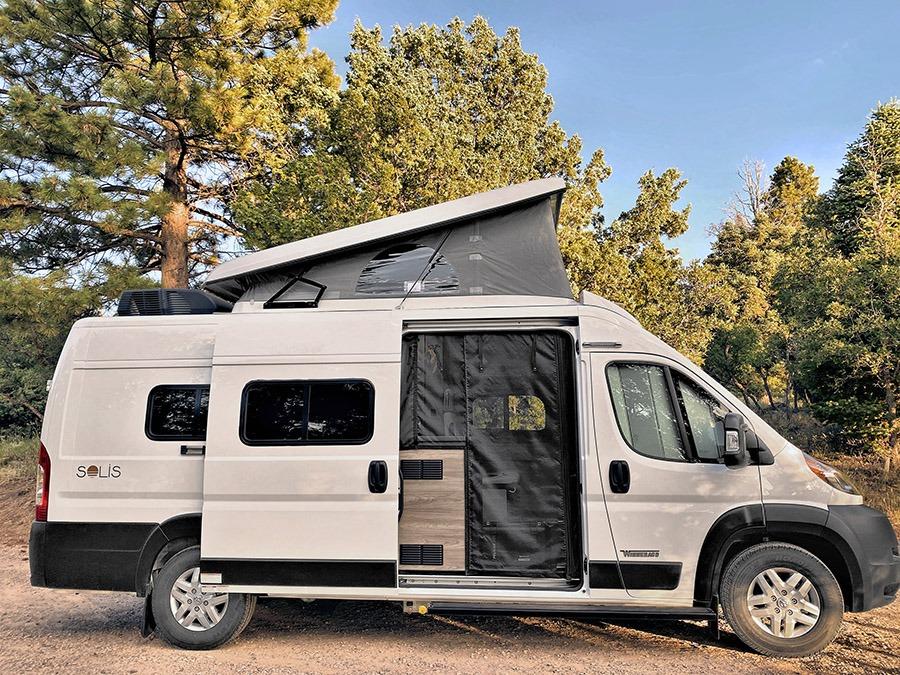 With its price tag of about 107,000$, this van build is equipped with a reconfigurable bed, pop-up roof, swiveling seats, full insulation in the walls, and a real luxury: a heated bathroom.
Winnebago is one of the most trusted RV brands and their Solis model is one great converted campervan whether you are looking for weekend trips or a full-time living in a van, this one will serve you well.
Custom Sprinter Van Conversions Gallery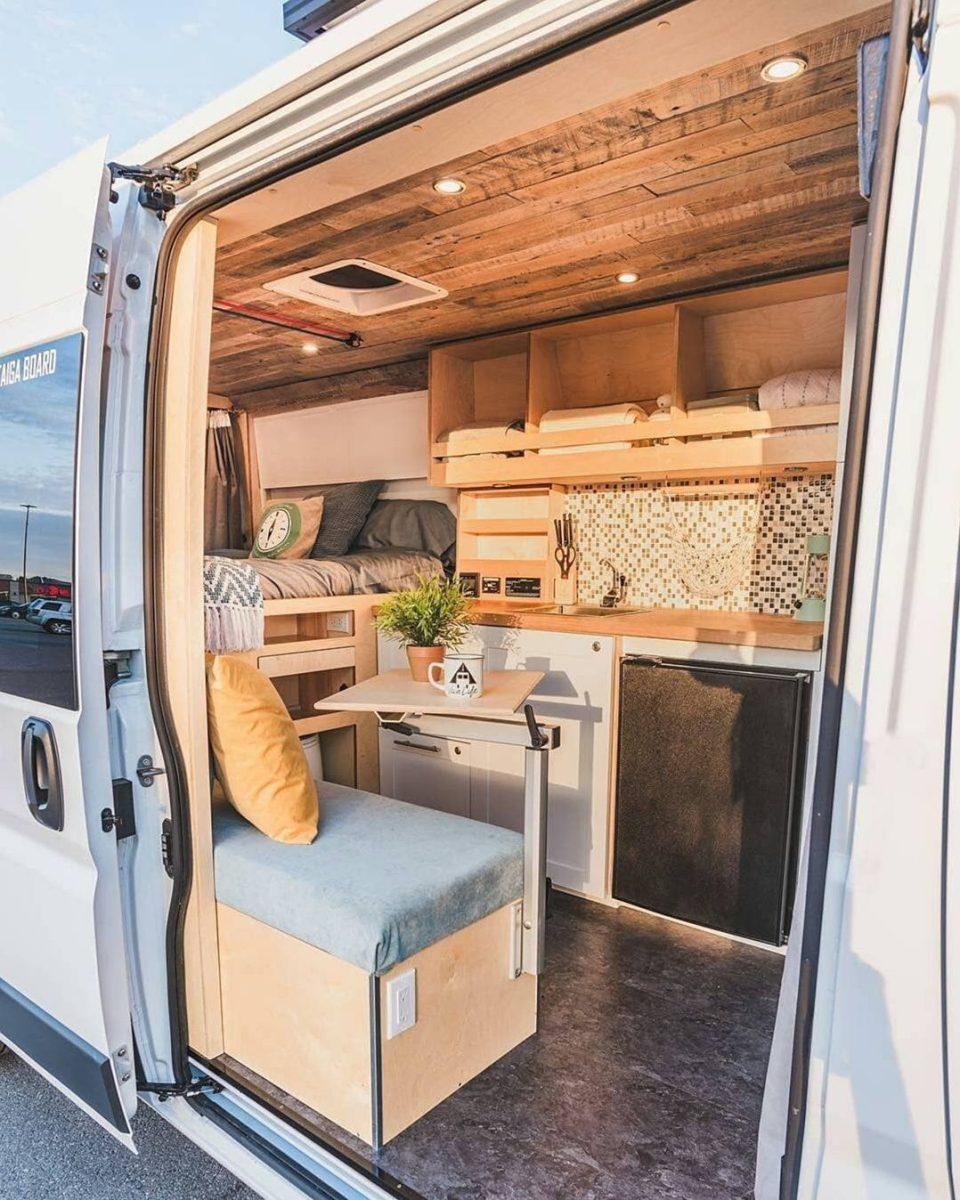 FAQ
Sprinter Van Conversion Pros and Cons
There's a lot to decide when you're wondering if you should go for a camper van conversion.
Pros
Reliability – Mercedes Sprinter is known to be a reliable and sturdy van
A good amount of interior space
Easy to drive – it's not so much different than driving a car and the Sprinter is surprisingly easy to maneuver
Fuel consumption – Sprinters usually get better MPG than other vans of similar size
Cons
Cost – buying the van itself is costly and converting it is not exactly cheap too
Maintenance – some of the technology can be only fixed on authorized Mercedes dealerships and this adds some extra cost as well
Which Sprinter Van is best for conversion?
Depending on how many people are going to sleep in the van you can choose which is the right sprinter van for you.
For up to two people, a cargo van with a 144in wheelbase is enough.
However, for more people, you should go with a 170in wheelbase Crew van.
Are Sprinter vans worth the money?
Mercedes Benz Sprinter vans are definitely worth their price. They have a reputation for reliability, are loaded with safety features, have great fuel consumption, and are manufactured by one of the most experienced automobile companies in the world.
How much does a conversion van cost?
Professional van conversion can cost between 30,000$ on the lower end and up to 200,000$ on the high-end.
However, if you decide to make a DIY campervan conversion and you buy an affordable van the cost can be much smaller.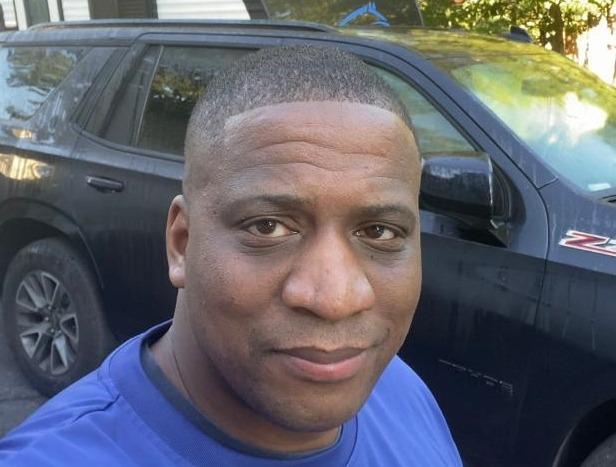 I`m a current Law Enforcement Officer working within the Counterterrorism Bureau in New York State. I have been Camping for over 20 years. My styles of camping include tent, car, truck, van, and RV travel trailer. I have a YouTube channel where I teach all types of camping with an entertaining method: https://youtube.com/@TheSmallsRVAdventures