Air Conditioner for Jayco Pop Up Camper: 4 Top Picks Compared for 2023
Which is the best air conditioner for Jayco pop-up camper? Many camper owners ask this question. It is understandable, as an air conditioner is a necessary and costly addition to your pop-up camper. Fortunately, we'll help make your decision easier.
Read on to learn why having an air conditioner in your pop-up camper is important, the different types available, and our recommendation among the bests.
Let's get started!
Importance of a Jayco Pop-up Air Conditioner
If you've ever gone on a summer camping trip without air conditioning, you know how hot it can get. The benefits they offer will convince you they are worth the cost. Following are the details: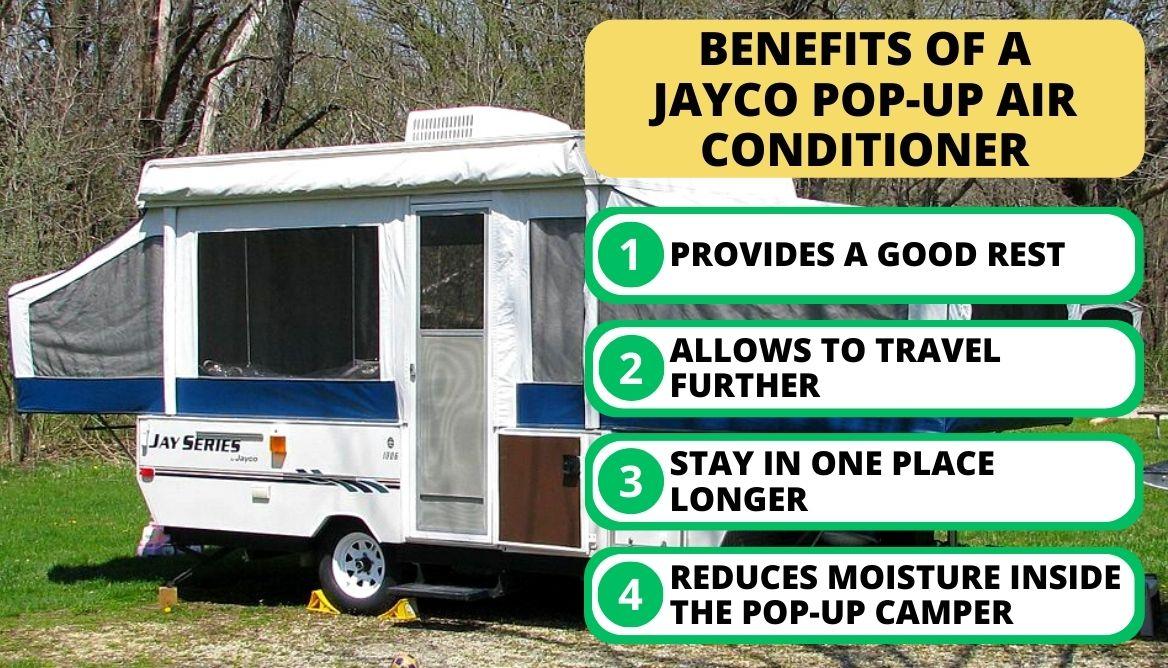 1. Provides You With a Good Rest
Most people cannot sleep or even rest properly when the temperature gets unbearably hot. This is why your pop-up camper could benefit greatly from even a little portable air conditioner by allowing you to get a good night's sleep.
2. Allows To Travel Further
Some places are unbearable to visit in the heat without air conditioning. If you own an AC, you won't have to restrict your travels to regions with lower temperatures too.
3. Stay in One Place Longer
Having a portable air conditioner for your pop-up camper makes long excursions possible during the hottest times of the year. This allows us to bear the scorching for longer.
4. Reduces Moisture Inside the Pop-up Camper
Your pop-up tent's interior may become damp in high humidity. It's not just unpleasant, it can also cause worse problems, like mold growth inside your camper. Staying dry inside is easier thanks to the cool air.
The Best Air Conditioners for Jayco Pop-up Camper
According to our research, the following are the top choices. We checked for things like cooling power and energy efficiency rating to determine this. Take a look:
Our Picks for the Top Air Conditioners for Jayco Pop-up Campers
We will be looking at our top 4 choices for the air conditioners that will be the best fit for you and your pop-up camper. Let's discuss their pros and cons to see which is the standout option.
This adaptable Black+Decker device:
Ensures a pleasant indoor climate all year round.
In the warmer months, it serves to cool, dehumidify, and circulate air.
The lightweight air conditioner provides instant, undisturbed cooling.
Has simple LED electronic controls, and is quiet enough to use while sleeping.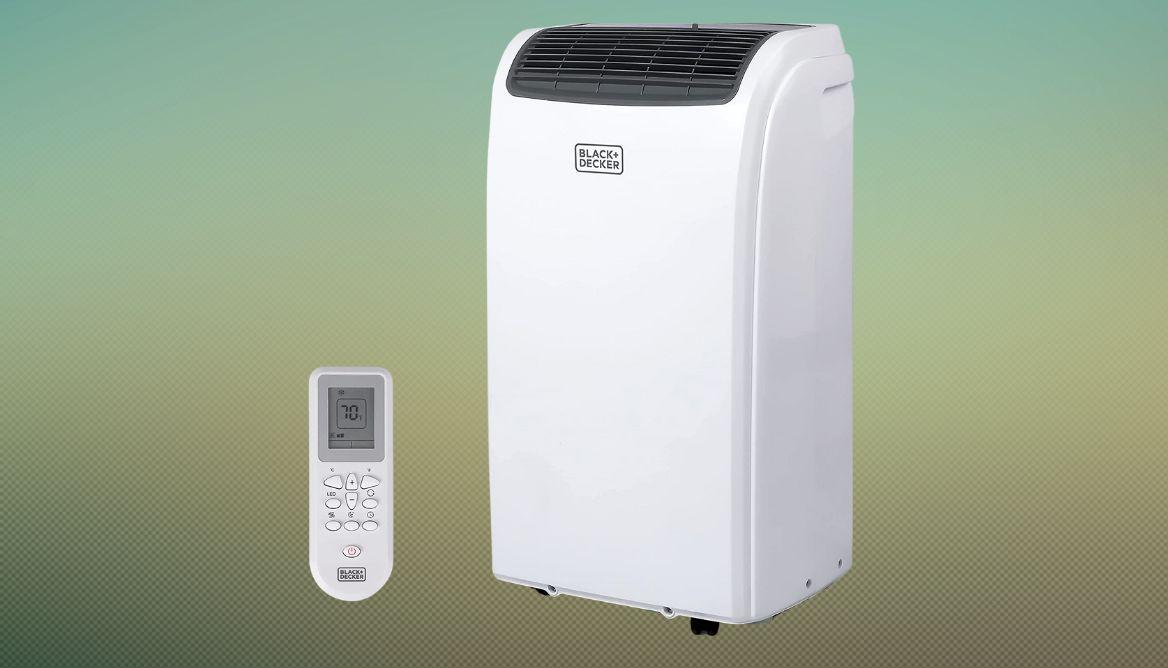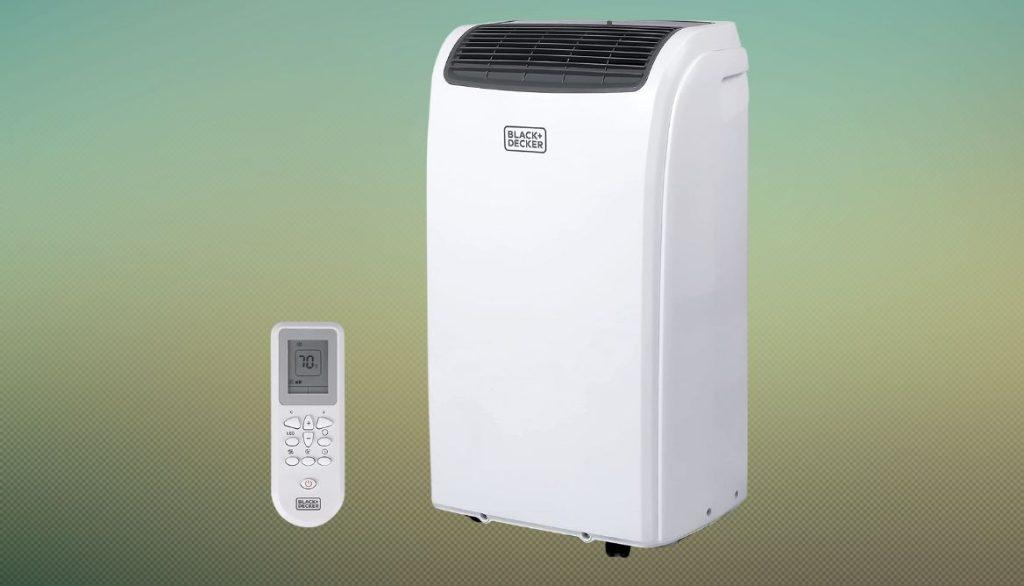 Specs of BLACK+DECKER 12000 BTU
| | |
| --- | --- |
| | |
| Energy efficiency (SEER): | |
| | |
Pros
Excellent value and performance per BTU
You can operate it using a remote control
Is quieter than most air conditioners
Has good portability and is easy to move around
Cons
The LED light is extremely bright which makes it harder to sleep
The Honeywell portable air conditioning unit is:
The perfect blend of form and function, cooling spaces between 350 and 450 square feet with ease.
You can control everything from across the room with the included full-function remote.
It can be moved from room to room with ease thanks to its smooth-rolling caster wheels, unlike a built-in AC unit.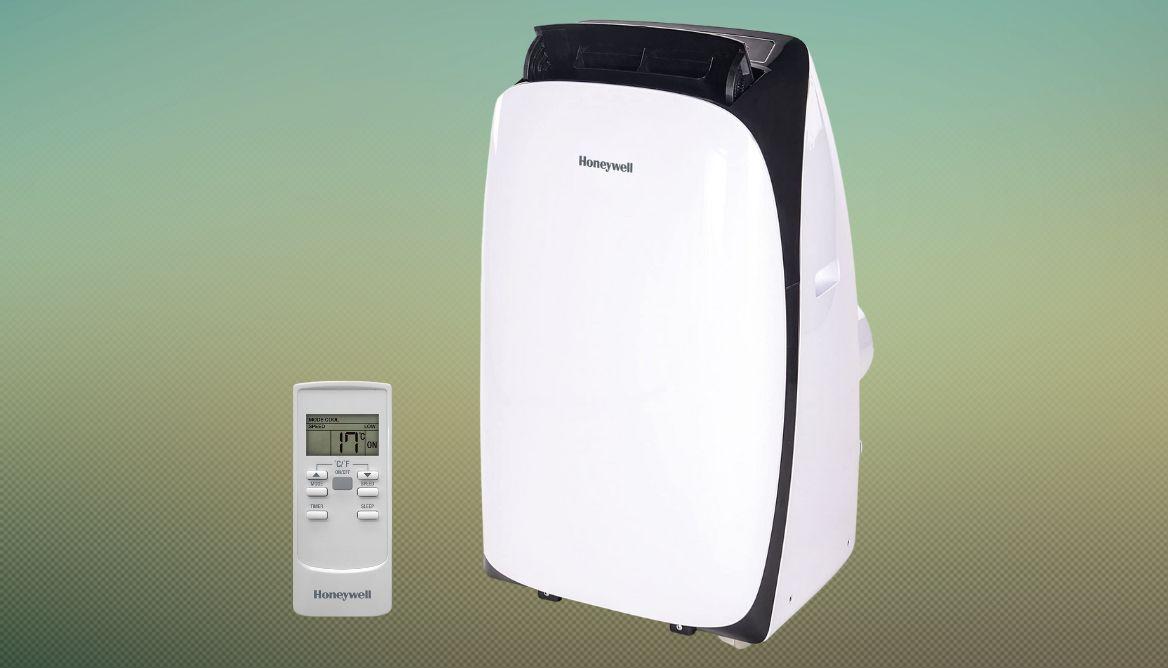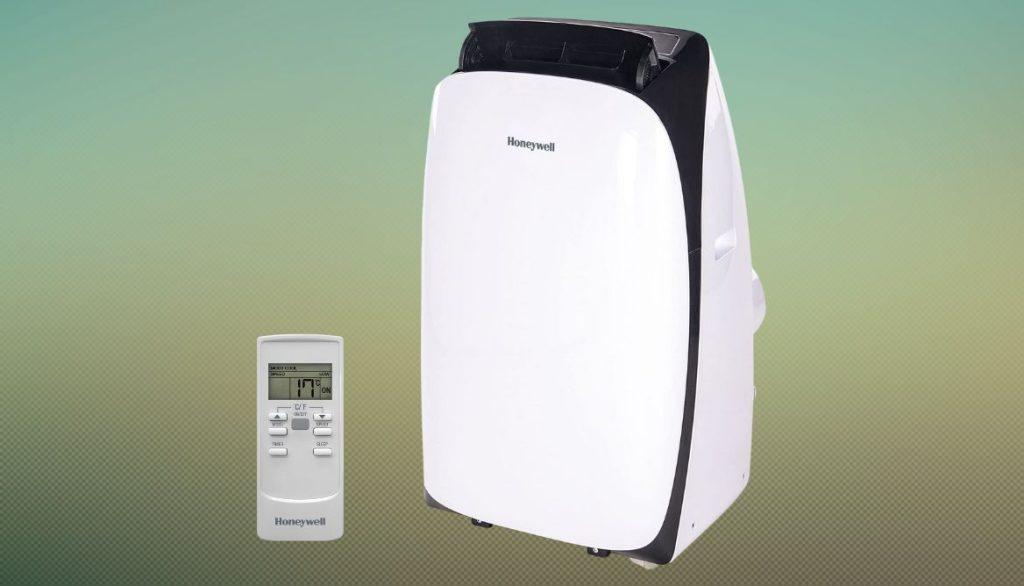 Specs of Honeywell HL10CESWK
| | |
| --- | --- |
| | |
| Energy efficiency (SEER): | |
| | |
Pros
Has great portability
Has decent a decent energy efficiency score
Low operational volume allows you to sleep peacefully at night
Has 3 different fan speeds which you can adjust to the comfort
Cons
Its cooling capabilities are not as great as other options
The TOSOT 8000 BTU is a great option if you want a more stylish and powerful air conditioner for your pop-up camper:
The touchscreen control panel is simple to use and has multiple configurations, including the option to operate it as a fan solely.
This feature can save space by eliminating the need to bring along a separate fan.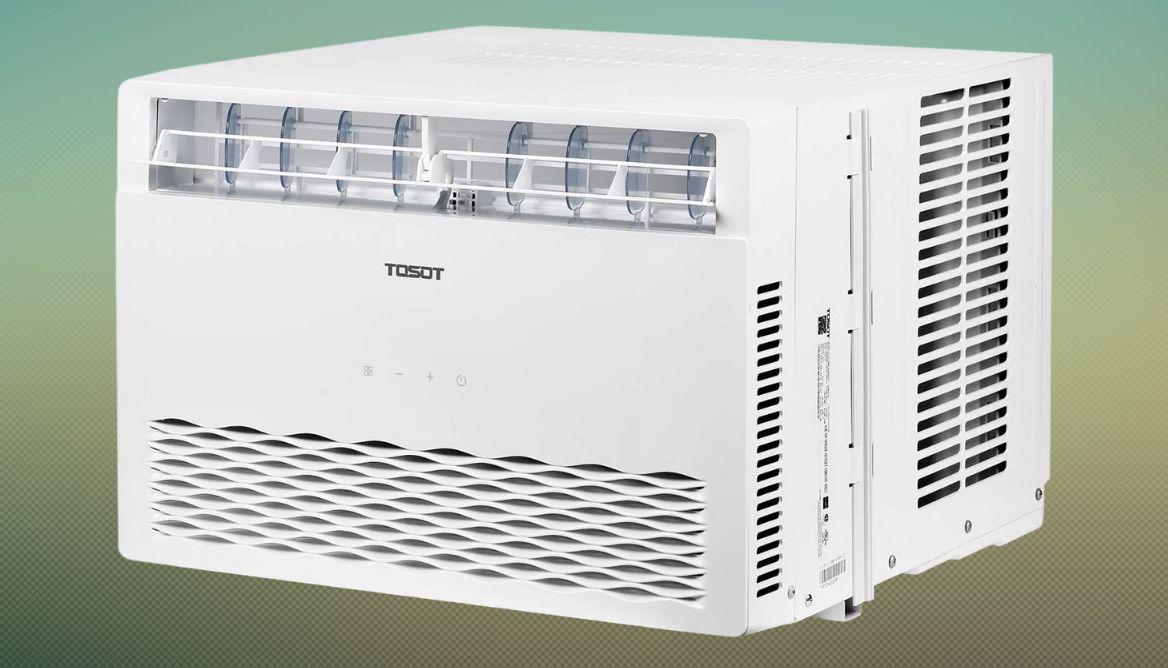 Specs of TOSOT 8000 BTU
| | |
| --- | --- |
| | |
| Energy efficiency (SEER): | |
| | |
Pros
Remote control comes with a thermostat
Very high energy efficiency rating
Has a great trendy, cutting-edge look
Has a sleep mode which eliminates any disturbance
Small portable air conditioner
Cons
Its 1-year warranty is very short
If you're looking for an RV air conditioner, the Mach 3 PLUS can be a great pick:
It has a big spear-finned evaporator and condenser coil to help in heat transfer.
It is sure to last a long time thanks to the all-copper tubing which protects the coils.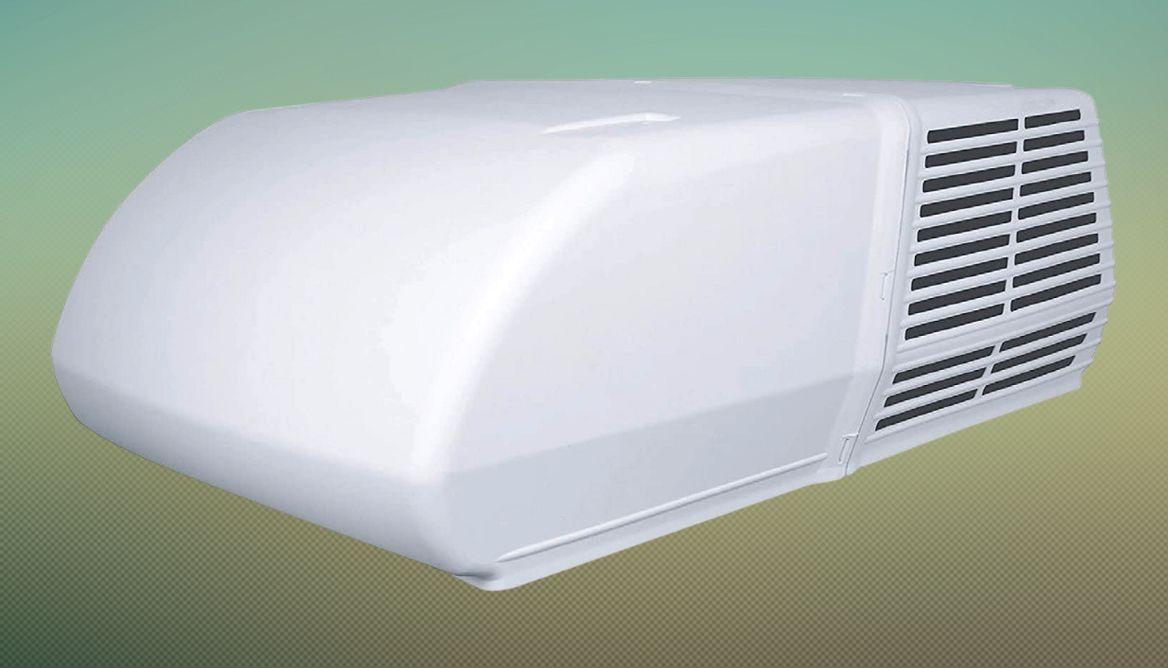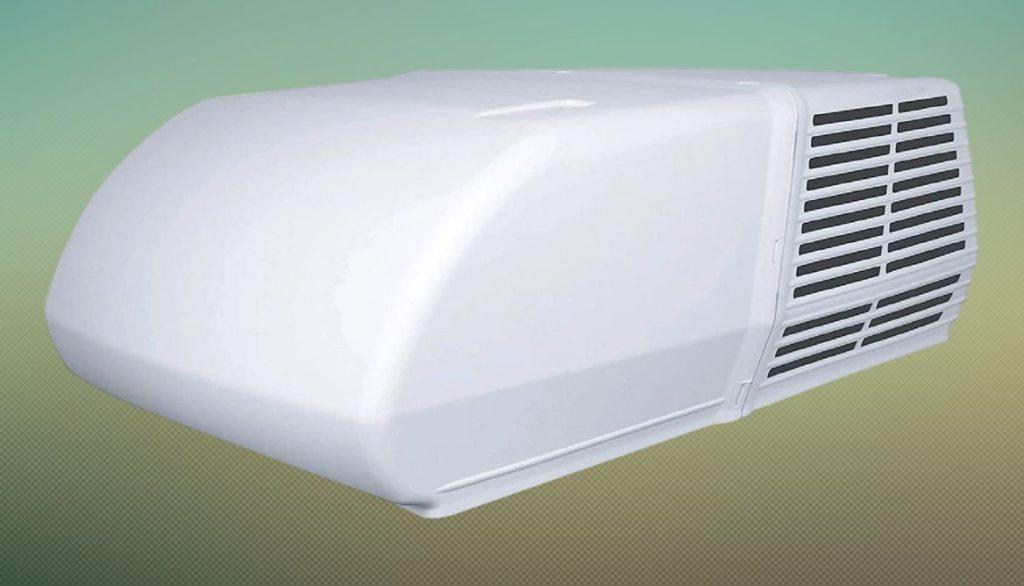 Specs of Coleman Mach 3+
| | |
| --- | --- |
| | |
| Energy efficiency (SEER): | |
| | |
Pros
Its shaft is sealed to prevent damage from moisture and dust
Has excellent cooling power
It has the highest energy efficiency rating out of all the products
Cons
It has not good portability due to its heavy weight
3 Different Air Conditioner Types for Jayco Pop-up Camper
A pop-up trailer can be equipped with one of three different AC systems:
Portable air conditioners,
Window-mounted,
Rooftop air conditioners.
Below, we'll compare and contrast these varieties so you can make an informed decision about which one could be the best pick.
1. Portable Air Conditioners
Of these three varieties, portable air conditioning units for pop-up campers are the most recent addition to the market.
They are good for camping tents, removing the need for tent air conditioner installation.
They come in a variety of shapes and sizes, but the most common one is a tall dehumidifier with built-in fans for use inside a pop-up camper.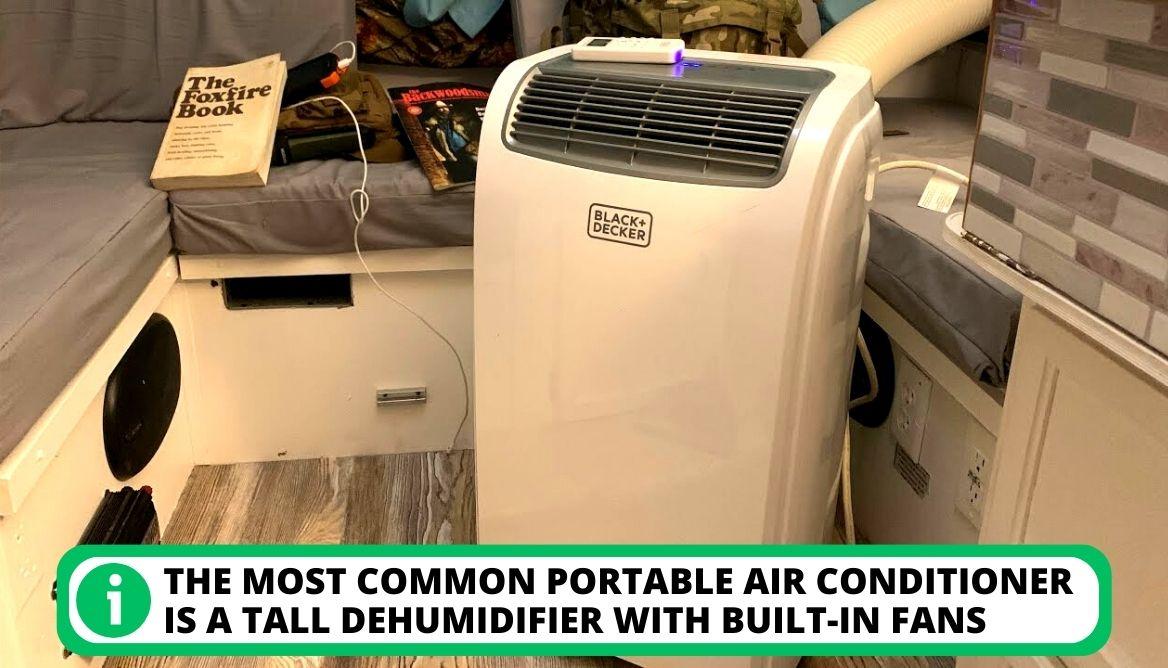 Advantages
Very easy to use.
Generally cheaper than the other types.
They have great portability meaning you don't have to worry about a permanent place to keep them.
Disadvantages
It's not as effective as a window unit.
They have to be placed near a window so that they can transfer heat outside of the camper efficiently.
2. Window-Mounted Air Conditioning Unit
These are attached to the pop-up trailer's window and are simple to set up, so you may do it all by yourself without the help of a technician.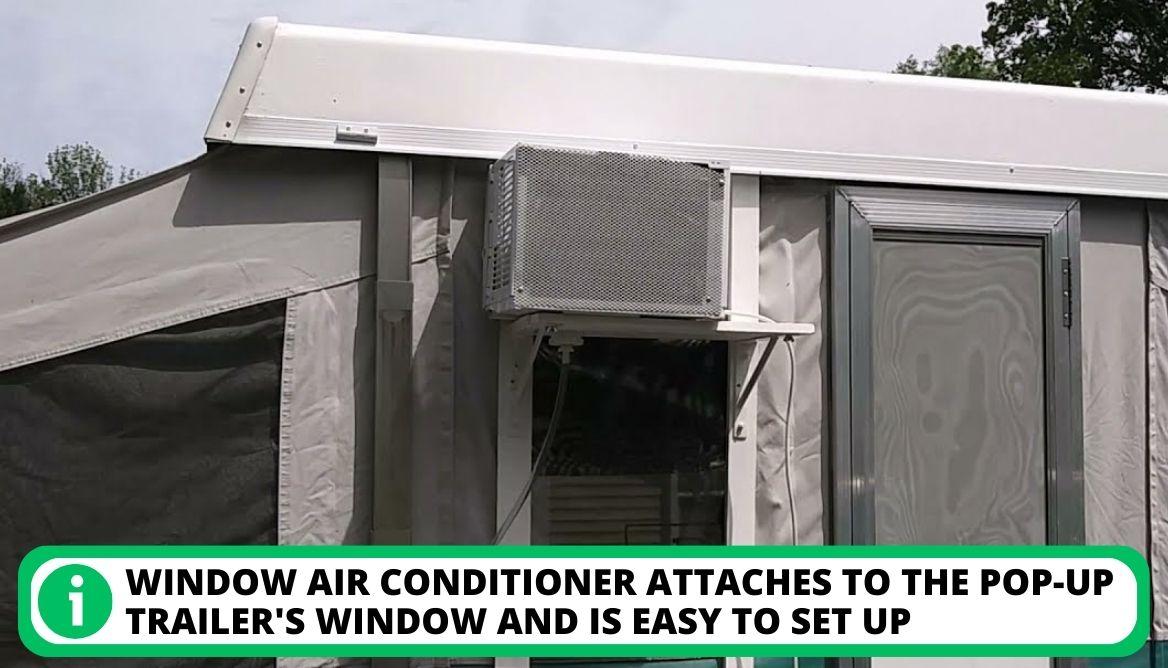 Advantages
Has a great cooling capacity.
Won't take up any precious floor space inside your pop-up camper since it is installed outside.
Very easy to set up and install.
All the parts are installed outside, so noise won't be an issue for you.
Disadvantages
Less cooling power than a rooftop AC unit.
Can be a hassle as you will need to remove and reinstall it every time you move the camper.
3. Rooftop Air Conditioner
The vast majority of campers opt for Rooftop air conditioners for their RV.
They are installed on top of the pop-up trailer and resemble a box.
A rooftop AC unit has excellent cooling power.
The single one of these devices installed on a roof can provide enough cool air to chill an entire pop-up camper.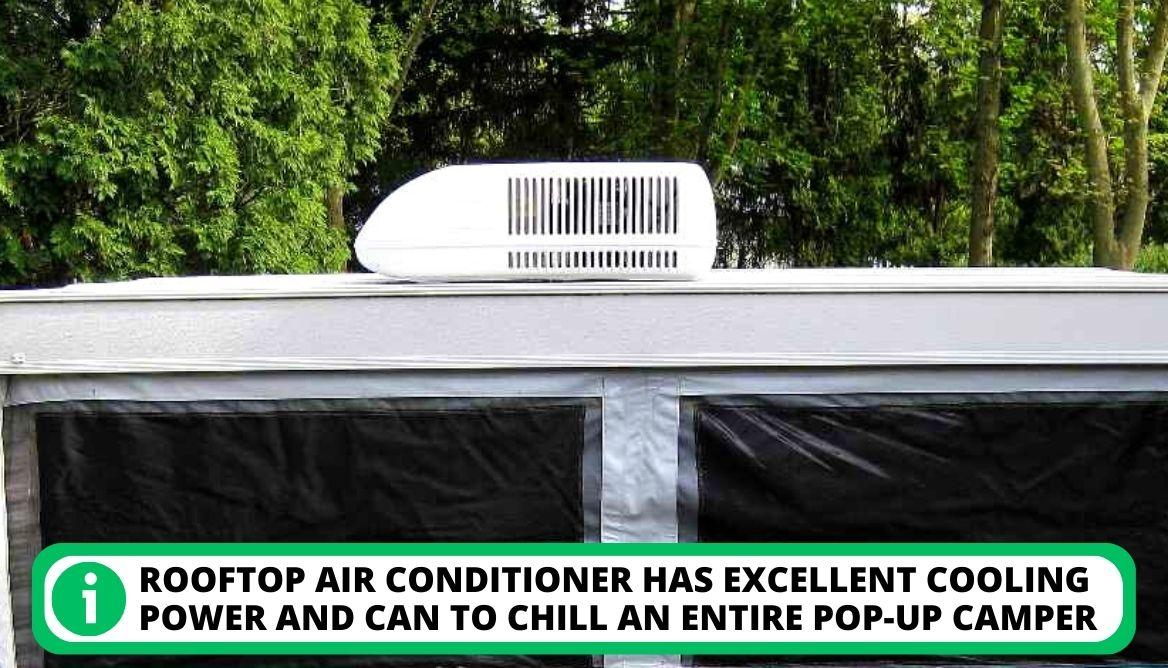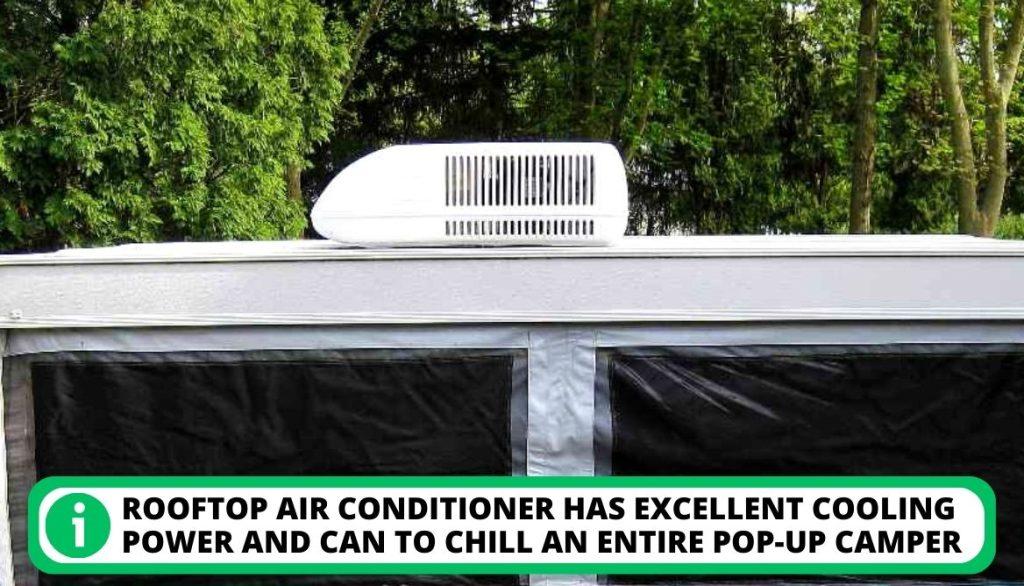 Advantages
Have the best cooling power of all types of ac units.
Newer models are even less noisy than a window ac unit.
After setting up, you can leave them in place even when you're on the road.
Roof-mounted unit is fitted with a thermostat allowing you to set the cooling level to your comfort.
Disadvantages
Rooftop units are very expensive compared to the other variants.
Require much more power to run, meaning your energy costs will be higher as well.
For more insights on Pop up camper ACs, check out this video.
4 Important Considerations When Purchasing a Jayco Pop-up Camper Air Conditioning Unit
There are a few things to keep in mind before you go out and buy an air conditioner for your pop-up camper. If we were in the market for a new AC unit, we'd take these considerations into account first:
You should make sure you get one that suits your needs because these aren't cheap.
1. British Thermal Units aka BTUs
The cooling power of AC is measured in British thermal units (BTUs). A greater rating indicates a more powerful air conditioner. A device with a greater BTU is preferable for larger pop-up campers.
If you don't require constant freezing temperatures in your pop-up camper or don't want your air conditioner to use a lot of power, you don't need to look for one with a very high BTU rating.
But if you want an air conditioner that reliably brings the temperature down across the entire camper, aim for about 20 BTUs per square foot.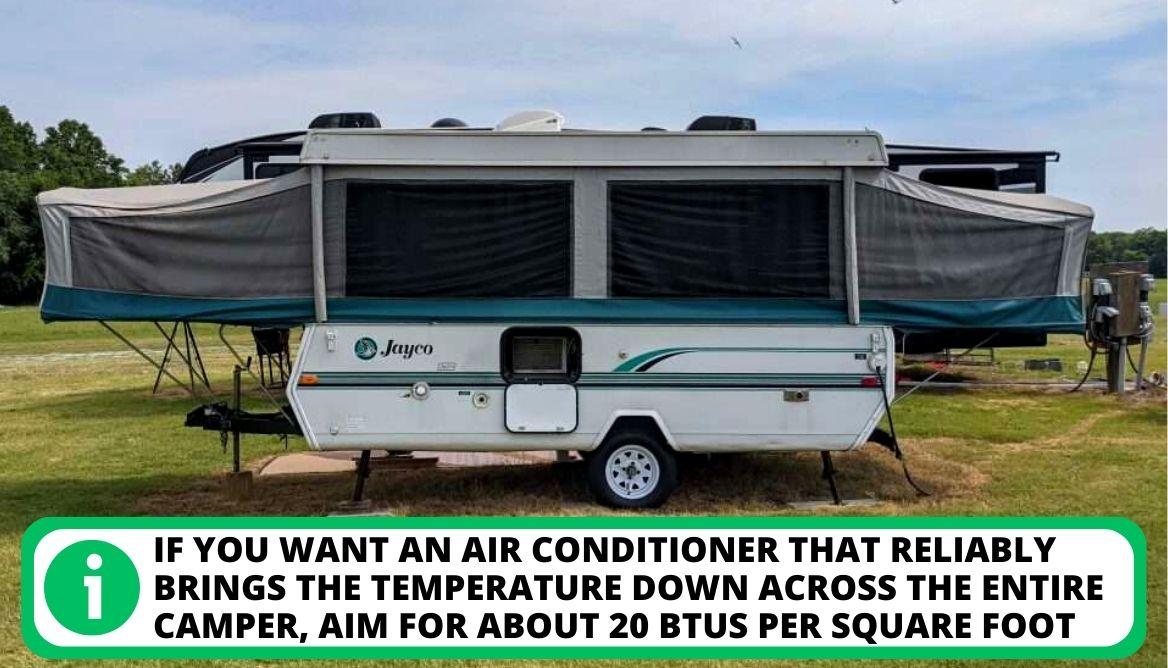 2. Budget
Some air conditioners might cost several thousand dollars.
A rooftop unit is the most expensive followed by a window ac and finally a portable air conditioner. They're effective, but you might not be able to afford them if you're on a tight schedule. It is recommended you spend no more than:
$300 on a window ac
$500 on a portable ac
$1000 on a rooftop ac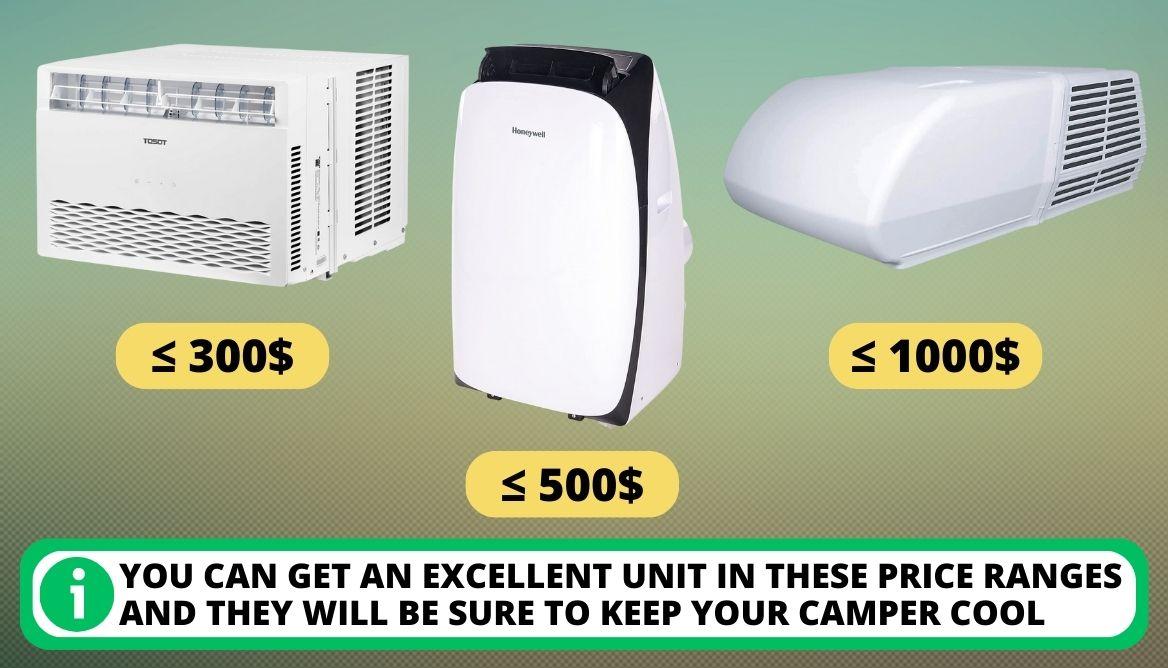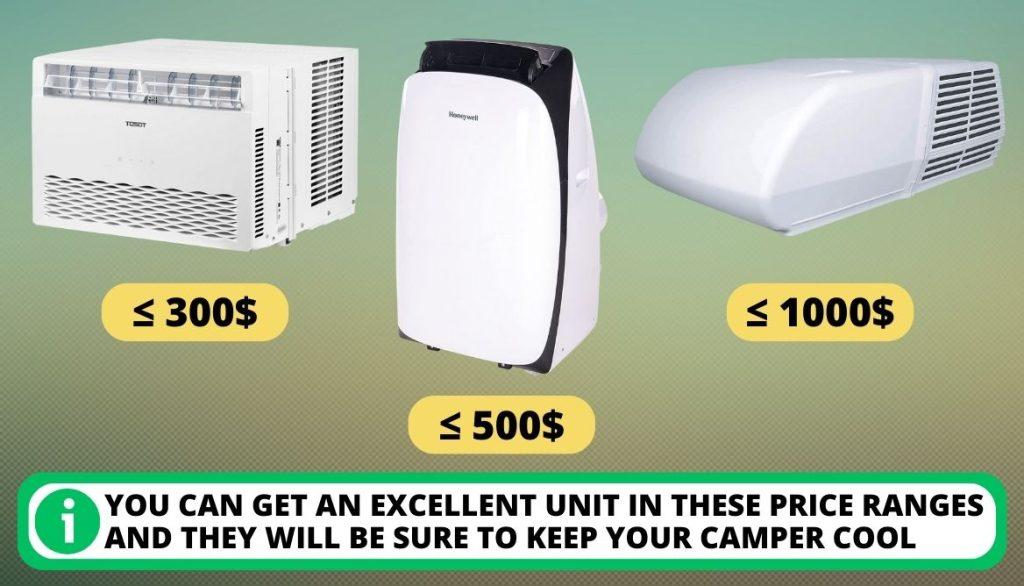 You can get an excellent unit in these price ranges and they will be sure to keep your camper cool.
3. Noise
Think about how much background AC noise you can stand before you go shopping. A regular conversation is around 60 decibels, so you should aim to get an AC with an operating noise level of 35-40 decibels.
This will ensure you sleep comfortably without being interrupted by the sound of an AC.
Window AC units are typically the loudest, while a rooftop or portable one is typically the quietest.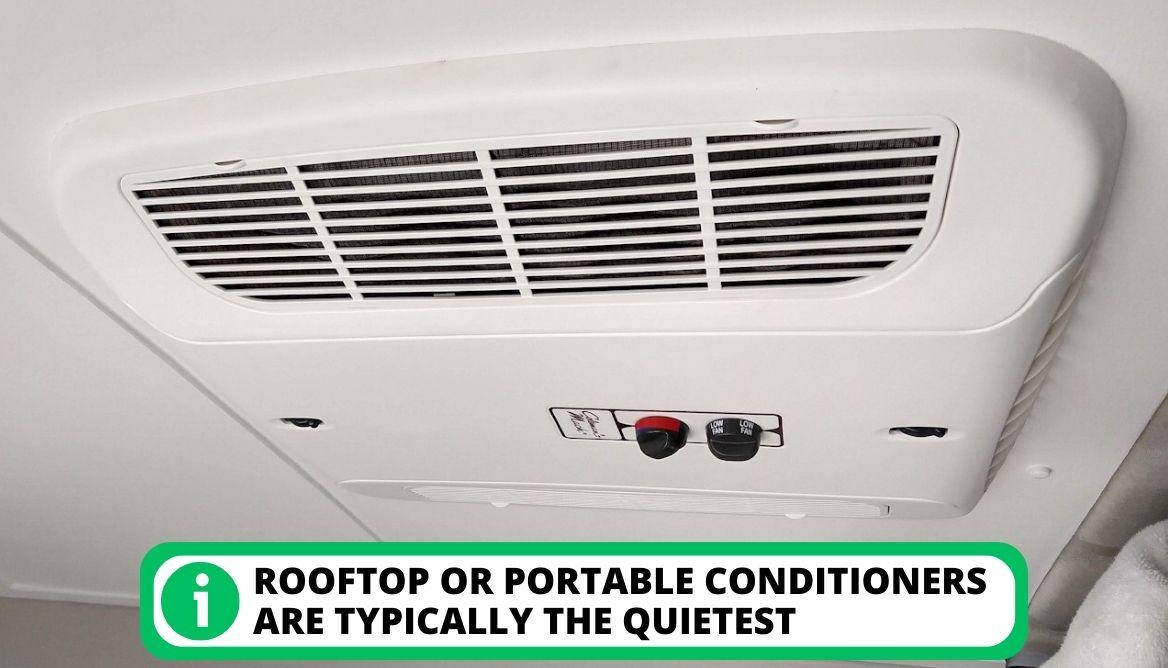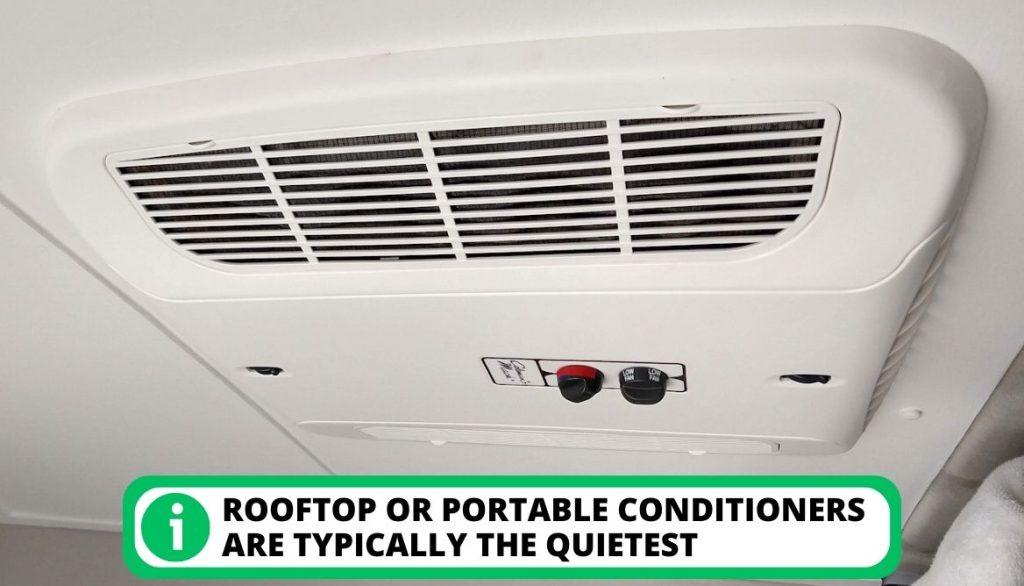 4. Energy Efficiency
An air conditioner with good energy efficiency is vital, especially in these times with energy costs getting higher and higher.
Look for one that effectively cools the space while consuming a reasonable amount of power.
AC units installed on the roof are the most efficient (and expensive), while those installed in windows are the least.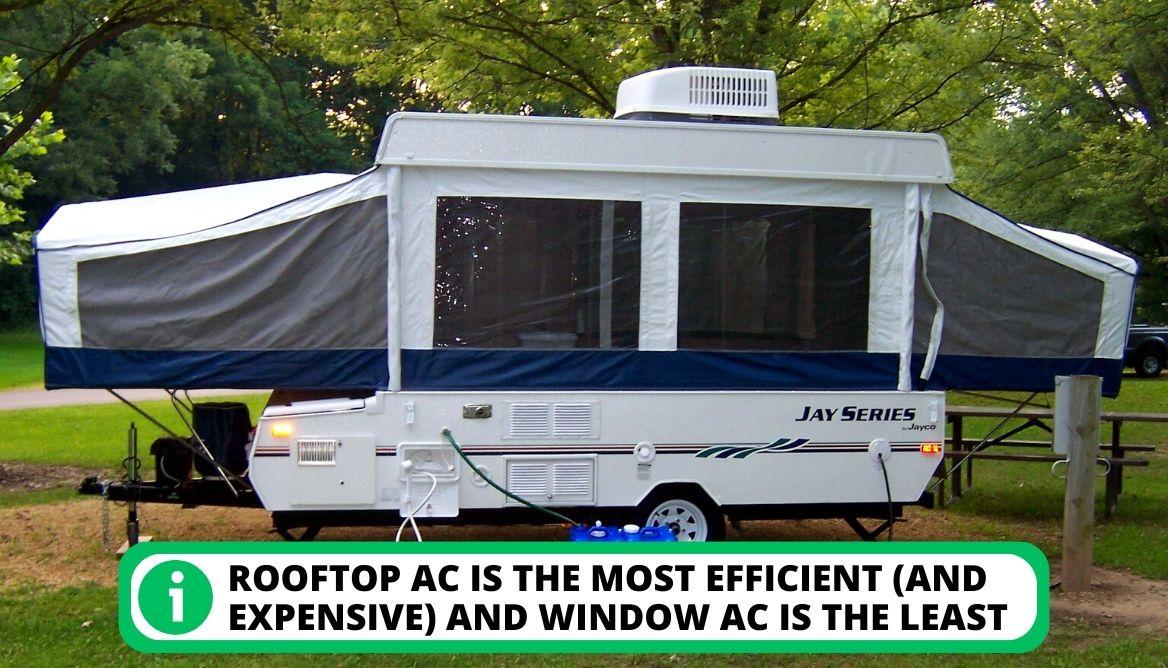 How to Get the Most out of Your AC Unit
Since getting this device for pop-up campers is a big investment, you should also be getting the most out of it. Here are some tricks and suggestions on how to do exactly that:
Parking away from direct sunlight will keep the AC unit cool and increase its efficiency.
Insulating pop-up campers from the inside will improve the cooling effect.
Maintain your camper AC regularly to ensure optimal performance.
Make sure the air filter of your AC is clean at all times.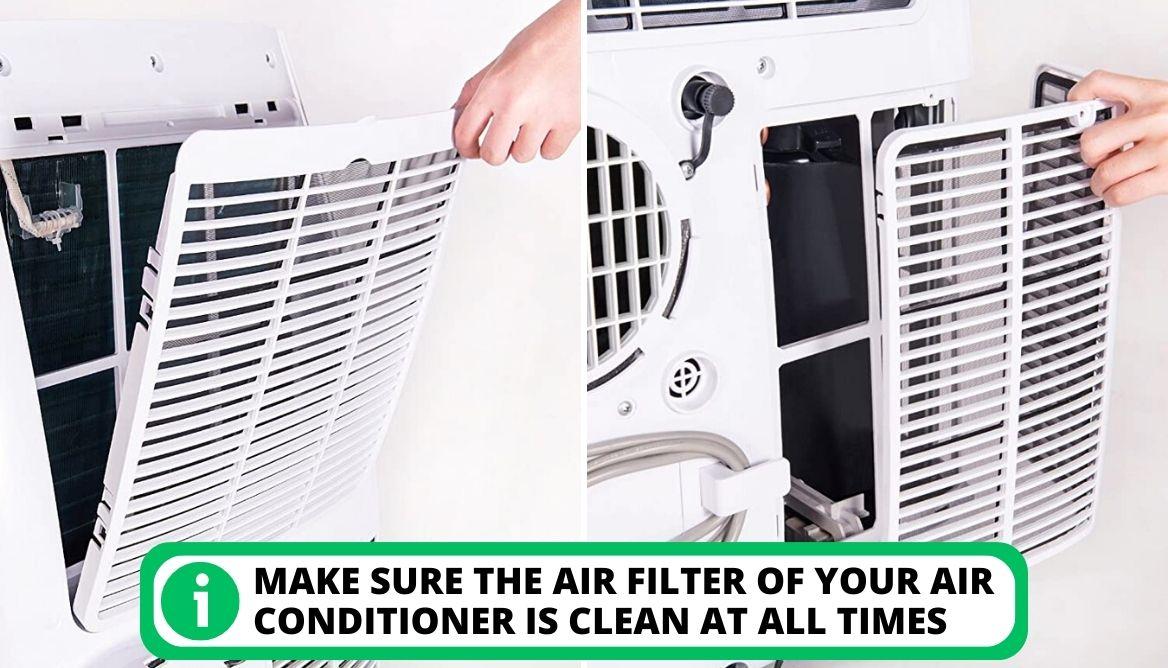 Our Top Choice
After thorough research, we came to the conclusion that the best out of all the AC units is the Coleman Mach 3+.
It has the highest cooling power out of all the products.
Once you have set it up there is no need to reinstall or move it around.
It has great energy efficiency for a rooftop unit.
It has extremely good durability and will be sure to last you a long time.
FAQ
Can you add an air conditioner to a pop-up camper?
Yes, you can add one to your camper. It can either be installed on the roof, in a window or you can get a movable one.
What size AC do you need for a pop-up camper?
It is recommended that you get an AC that has a cooling power of 20 BTUs per square foot. So you will require an AC with at least 8000 BTU.
What AC does Jayco use?
A Jayco camper uses a Dometic IBIS 4 air conditioner.
How do I keep my pop-up camper cool?
You can keep your camper cool by installing an air conditioner in it.
What brands made Jayco?
Thor Industries owns and makes Jayco.
Conclusion
An AC unit is very important for a pop-up camper as it allows us to rest more peacefully in hotter weather as well as prolong the stay. These devices also come in 3 types, rooftop, portable, and window-mounted.
Some important considerations to look for buying a camper AC are your budget, its energy efficiency, and its cooling power.
Which product did you like the most and why? Let us know in the comments below.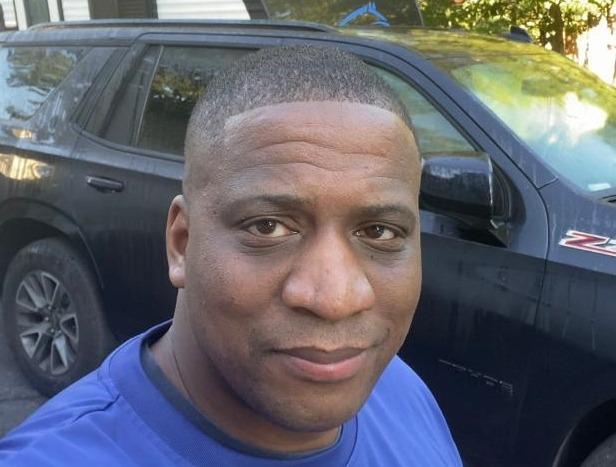 I`m a current Law Enforcement Officer working within the Counterterrorism Bureau in New York State. I have been Camping for over 20 years. My styles of camping include tent, car, truck, van, and RV travel trailer. I have a YouTube channel where I teach all types of camping with an entertaining method: https://youtube.com/@TheSmallsRVAdventures